Easy media review and approval: get feedback and draw on video in sync with colleagues and clients.
Try Review for free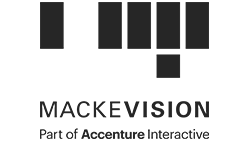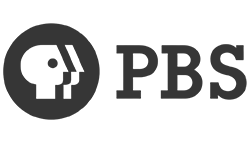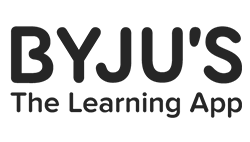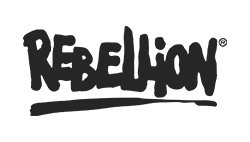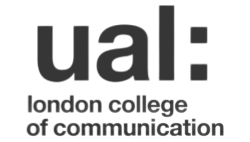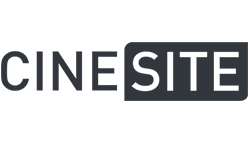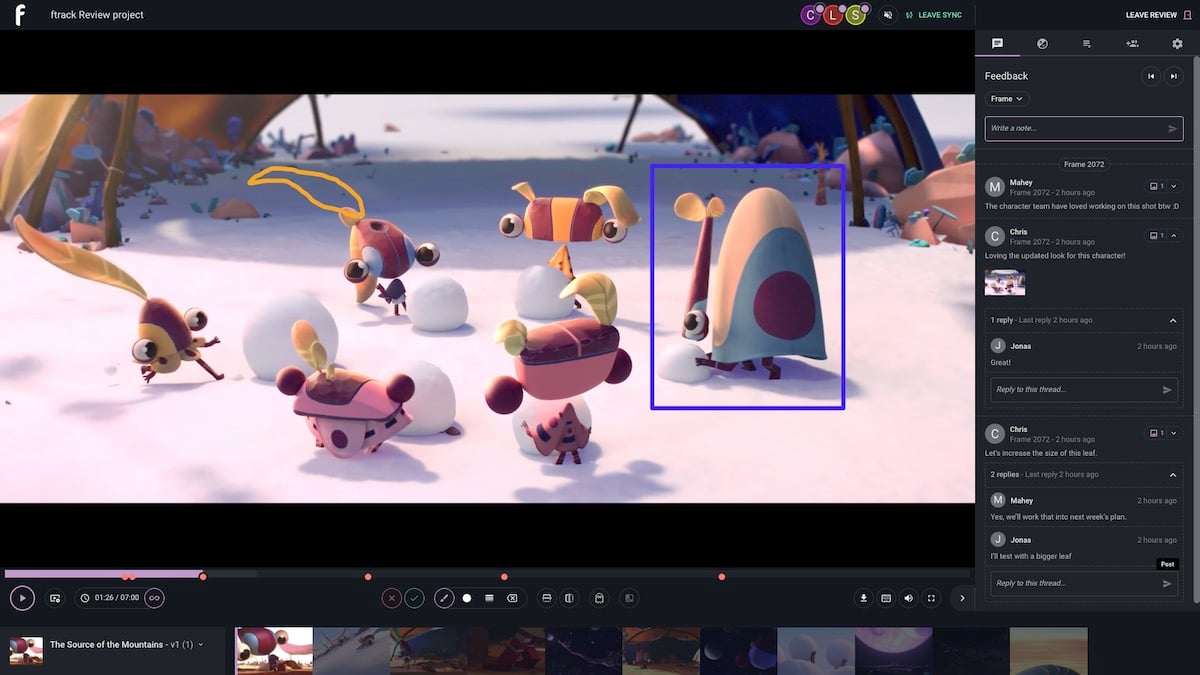 无论是离线还是在线互动同步,都可以通过ftrack Review的一体化、自由流畅的媒体审阅界面来审阅和批准项目。简单、有效,且加快审批进度。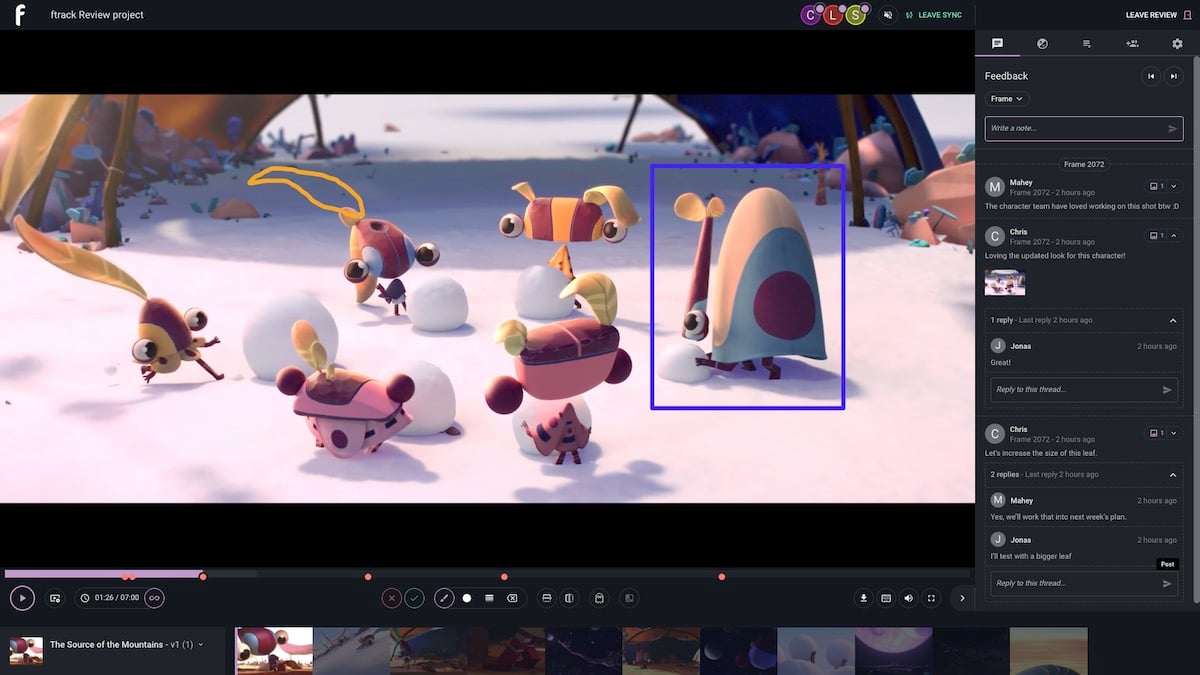 Interactive review and approval
Whether offline or in full interactive sync, you can review and approve projects via ftrack Review's all-in-one, free-flowing media review interface. Simple, effective, and proven to speed up sign-offs.
只需与其他人共享一个链接,他们就可以加入审阅,在媒体上添加详细、精确到帧的备注。无需安装,就能拥有超简单、超清晰的反馈。
Simply share a link with others, and they can dive in and start adding detailed, frame-accurate notes on your media. There's no installation and no nonsense – just super simple, ultra-clear feedback.
比较模式
将两个媒体版本并排比较,或叠加版本调整透明度进行比较。
PDF报告
生成带有截图的审阅反馈摘要,与团队分享。
重影
使用重影来显示几帧的备注--当你想表达运动或时间的时候,就可以用这个方法。
管理项目
轻松地创建和编辑播放列表,管理版本,控制其他人在媒体检阅项目中能看到什么。
Your media review toolkit
Compare mode
Compare media versions or reference side by side or overlaid with transparency to see what works best.
PDF summary
Generate a summary of review feedback with screenshots, to share with your team.
Ghosting
Use ghosting to show annotations over several frames – perfect for when you want to convey motion or timing.
Manage projects
Easily create and edit playlists, manage versions, and control who sees what across your media review projects.
Delivered with help from ftrack Review
"凭借友好的用户界面、直观的设计布局以及突出了所审阅内容,对我们自己和我们的客户来说,审片从未如此简单。"

John Valentine

Blue Zoo动画工作室
实时同步地在视频上绘图
审阅媒体、勾画想法或在视频上作画–无论同一办公室内还是在不同的时区,会议参与者们都可以在同一时间看到同一帧。没有掉帧,没有滞后,只有轻松、自由的审阅。
你可以通过Review Pro提升你的审阅体验–获得更高的分辨率,还可以邀请更多的人来参与同步。
Review files, sketch ideas, or draw on video – whether you're across the office or in a different timezone, you and your session participants will see the same frame at the same time. No dropped frames, no artifacts, just easy, free-flowing review.
You can boost your review experience with Review Pro – access increased resolution and invite more teammates to sync.
了解Review Pro
内容是最重要的资产,这就是为什么Review高度安全,符合TPN标准,还经过严格的审核。你可以配置工作空间,以便只有正确的人可以访问项目。
ftrack Review的设计从基础开始就是为了让创意者的创作更轻松。有了Review,反馈迅速而清晰,在审批前需要的迭代次数更少。
从一个界面获取所有所需的内容。管理检阅库,获得所有检阅的动态,为团队分配角色。ftrack Review使检阅管理更简单轻松。
Your content is your most important asset. That's why Review is secure, TPN compliant, and rigorously audited. You can configure your workspace so only the right people have access to the right projects.
ftrack Review is designed from its foundations upwards to make life easier for creatives. With Review, feedback is fast and clear, with fewer iterations needed before final sign-off.
Access everything you need from one interface. Manage your review library, get a breakdown of all review activity, and assign roles to your team. ftrack Review makes review management simple.