We're pleased to announce that ftrack will be in attendance at FMX 2019 from 30 April – 3 May 2019 as a conference partner.
FMX is Europe's premier event for animation, VFX, games and immersive media and stands as one of the world's most-loved creative technology meetups. Speakers this year include the creative teams behind Spider-Man: Into the Spider-Verse and Solo: A Star Wars Story.
Meet the ftrack team
We'll be available for meetings throughout the FMX 2019 conference.We'd love to meet up to chat about ftrack and where the product is heading next or to answer any of your ftrack questions.
To schedule a meeting with the ftrack team, please use the calendar below.

Presentation by Trixter
Tuesday, 30 April – 3pm
Mannheim Room
Remus Avram from Germany's excellent visual effects house Trixter will be taking to the stage to discuss some of the studio's (very exciting) recent work and to reveal how ftrack helped things along.
Trixter is based out of Munich, Germany and has contributed VFX to such projects as Lost in Space and the majority of the Marvel Cinematic Universe releases. Upcoming projects include Captain Marvel and the Sonic movie.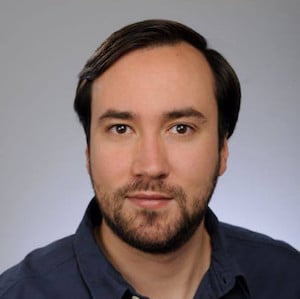 Remus Avram
Core Technology Engineer
About FMX
FMX is one of the world's premier conferences to meet with the most influential players working in the creative field today. The intimate yet international scale of the event offers professionals and students from the digital arts community a great platform to mingle, network and share insights about art, technologies and business.
Location
Haus der Wirtschaft
Willi-Bleicher-Straße 19
70174 Stuttgart
Germany