We spoke with Chris Allen, executive producer at The Mill, to find out how the ftrack Review launch has set the studio in good stead for future collaboration.
How did you become an Executive Producer at The Mill?
Like most people, I started off as a runner. Originally I wanted to work in production, with the ultimate aim of becoming a director. I began my career at MPC, and once I had my foot in the door I started to move up the ranks.
I've been in post ever since. It's been great and I'm very lucky to have worked on some amazing projects with some really great people – and seen some of the world while doing it.
I've recently wrapped on a very cool project that features some Hollywood A listers but sadly I can't go into any detail until it goes live later in the year! It was quite technical and needless to say ftrack was vital in managing the project throughout.
What attracted you to the ftrack Review?
It all originated with ftrack Studio, which was already deeply integrated into The Mill's pipeline when I joined the company. It's been vital on every project, as there is such a large, constant flow of information shared between everyone on the team.
As we are a global company with multiple sites, any one project is often being worked on by teams in different time zones, so it's crucial to have a tool like ftrack Studio keeping everyone in the loop. It provides instant visibility in an instant from the state of a single shot up to the project as a whole.
ftrack Review attracted me as it acts as the perfect complement to the broader production management capabilities of ftrack Studio. It elegantly upgrades ftrack Studio's media review and approval functionality, making ftrack a real contender for this kind of solution in the creative industry.
ftrack Review is fresh, simple and easy to use. The ability to jump on a session and provide feedback directly on media from my desktop or phone is great for The Mill, where accessible, centralised, clear communication is vital to hit the quality level we're known for. ftrack Review helps us to get there.
What specific features of ftrack Review are particularly useful to The Mill?
All of it?! The ability to annotate notes over picture has always been a requirement in the creative industries, especially in VFX as you need to be extremely clear about what you're reviewing on a shot and what the intentions are, otherwise things slow down. The automatically generated post-session PDF also helps here – it's great for providing everyone with a snapshot of where things are at and making sure everyone knows what needs to happen next.
The most attractive thing about ftrack Review, however, is how easy it is to use. It's perfect for clients who aren't able to attend physical review sessions; everyone involved can see the state of play of a project from anywhere in the world.
Would you recommend ftrack Review to other studios? 
100% – it's a great addition to ftrack's offering. ftrack Review is super easy to use, highly functional and provides complete visibility on all aspects of a project. Clients love it too.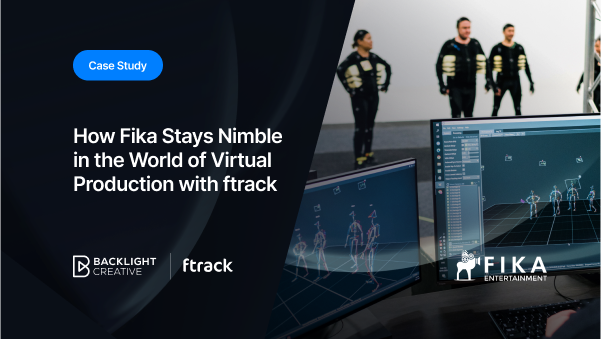 Fika Entertainment is an Australian-based virtual production studio with a focus on animation production and VFX content that is accessible, fast and cost-effective. The company is passionate about helping clients…