We are pleased to announce that ftrack is now a member of the Academy Software Foundation (ASWF). We are proud to be among other major industry players who have come together to support and develop the open source visual effects community and to help create a more stable and reliable platform for the advancement of the art.
Fredrik Limsater, ftrack CEO, comments: "At ftrack we are firm believers in the open source model and its importance in the growth and advancement of software development in the movie-making industry.
"As such, we're very proud to join the Academy Software Foundation and play a part in its vital initiative. The visual effects industry is built on collaboration – we make several ftrack components and extensions free to use, share and modify, and actively encourage customization of ftrack via our API with this in mind. The more our users can benefit from inventive new approaches to production tracking, the better the projects they produce and the more the industry can thrive. We're excited to align with the ASWF in this goal and work to support a better, stronger open source community for all."
David Morin, Executive Director of the ASWF at the Linux Foundation, comments: "We are very excited to welcome NVIDIA, ftrack, and Red Hat as new members," said . "These companies have a wealth of expertise across graphics, open source, and project management that will be beneficial to our communities and our projects as we continue to grow."
Please connect with us at [email protected] if you'd like to learn more about our open source tools. You can also head over to our Developer hub for access to information, resources, tutorials and more.
About the Academy Software Foundation (ASWF)
Developed in partnership by the Academy of Motion Picture Arts and Sciences and the Linux Foundation, the ASWF is the result of a two-year survey into the use of Open Source Software (OSS) in the motion picture industry. The survey found that almost 84% of the industry uses open source software but faces various challenges in its use.
The ASWF has set itself the mission of eradicating these challenges. It intends to increase the quality and quantity of contributions to the industry's open source software base via a number of initiatives. These include a neutral forum for open source software developers to share resources and collaborate on technologies for image creation, visual effects, animation and sound; a common build and test infrastructure; and a clearer path to participation in the open source ecosystem.
Other members of the ASWF include DreamWorks, Unreal Engine, Sony Pictures, The Walt Disney Studios and Weta Digital, as well as ftrack technology partners Google Cloud and Foundry.
About the Linux Foundation
Founded in 2000, the Linux Foundation is supported by more than 1,000 members and is the world's leading home for collaboration on open source software, open standards, open data, and open hardware. Linux Foundation's projects are critical to the world's infrastructure, including Linux, Kubernetes, Node.js and more. The Linux Foundation's methodology focuses on leveraging best practices and addressing the needs of contributors, users, and solution providers to create sustainable models for open collaboration. For more information, please visit us at LinuxFoundation.org.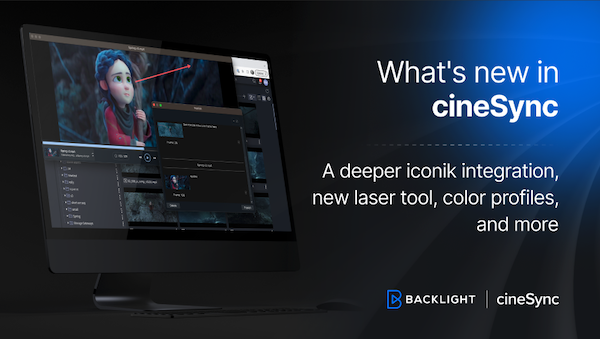 cineSync's latest update brings flexibility and precision to your cineSync experience, making it easier to connect your review sessions with media management and storage in iconik, introducing color profiles to…