We're pleased to announce that ftrack Studio 4.2 is available today!
We developed ftrack Studio 4.2's features and fixes with a focus on customer feedback, UX improvements and making client review easier and more intuitive than ever before. Here are some of the new features you can expect from the update:
An easier and more accessible client review experience
A 150% increase in storage
Simplified creation of private projects
New filters to quickly search your timeline
Existing ftrack Studio users will see these new features rolled out in the coming weeks with the first batch receiving the update today.
You can read the full ftrack 4.2 Studio release notes here.
We're running a webinar all about ftrack Studio 4.2 in June 2019. It's a chance for you to talk to the ftrack dev team and learn how these new features can help your team to run more efficient projects. Head to the signup here!
UPDATE: Watch the ftrack 4.2 webinar below!
Release highlights for ftrack Studio 4.2
We've overhauled ftrack Studio's client review
Media review and approval in ftrack Studio now features the same technology as ftrack Review!
Timeline markers, new annotation tools like undo/redo features, multi-page PDF support and on-the-go mobile reviews are just some of the new features you can enjoy. We've also updated the post-session client review export PDF, making it easier than ever to follow up on action items.
Storage increased by 150%
Work with more! Cloud storage for thumbnails and clips has increased from 100 GB to 250 GB per workspace.
Need more storage? Unlimited storage can be added at 500GB increments for $30 per month or $300 per year. Please get in touch if you'd like to know more.
Quickly search your timeline with new filters
Easily drill down to specific departments and tasks in the timeline view using new planning filters. Want to only see what the animation department is getting up to? Or see when a specific artist's vacations are? Or find out how many tasks are currently unassigned? It's now super easy to make these things happen with filters.
We hope that the new features available in ftrack Studio 4.2 further simplify your day-to-day creative work. If you have any feedback or questions about the release, please do not hesitate to get in touch. You comments will help to further refine and improve ftrack as we move towards the next version.
Enjoy! ?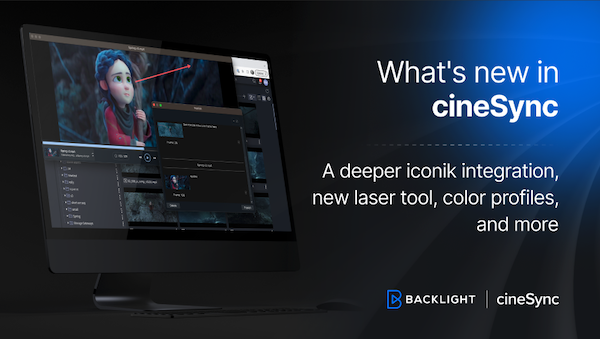 cineSync's latest update brings flexibility and precision to your cineSync experience, making it easier to connect your review sessions with media management and storage in iconik, introducing color profiles to…