We're very excited to unveil a first-look preview of our upcoming integrations with real-time animation and game development tools Unity and Unreal Engine!
Here we'll take a look at what's to come from these exciting new developments.
ftrack Studio integration with Unity and Unreal Engine
Epic Games' Unreal Engine and Unity Technology's Unity are two of the world's most widely used cross-platform game development and real-time animation engines. Unreal and Unity massively simplify the creative process via their real-time animation workflows. By pairing this with ftrack Studio's project management and production tracking platform, users can further streamline and optimise the way their productions are tackled and accomplished.
Working via a native ftrack Studio panel in Unreal or Unity, artists and animators can import, version and publish assets, communicate on uploaded assets, view assigned tasks and check notes and updates on their work. Producers and supervisors can monitor and optimise all ongoing work on a production, organise team workflow and run online reviews on content.
Magnus Eklöv
Chief Technology Officer, ftrack
"Real-time animation workflows are more common in our customers' work than ever; we're excited to now facilitate them. Our Unreal Engine and Unity integrations make it easier than ever for teams to collaborate, to communicate with their colleagues and to work towards common goals with rapid iterations."
The real-time animation revolution
Real-time technology occupies a pivotal role in animation today. Traditional animation necessitates a strictly linear conveyor belt of production. Creative changes must be made at the start of the process and a lengthy render is required to see the results. Real-time animation disrupts this flow. Creative changes can be rendered on the fly at any point along the "conveyor belt" of production. Animation is no longer a waiting game, but a rapid process with shorter iterative cycles.
ftrack Studio's Unreal and Unity integrations will further optimise this process by freeing up artist time spent on repetitive admin tasks and funneling it into creativity instead.
This work follows the announcement of ftrack Studio's Beta integration with Perforce Helix Core – one of the most common distributed binary storage systems for the game and media industry. ftrack Studio's integrations with Unreal Engine and Unity brings the platform one step closer towards better project management for real-time workflows.
Stay up to date with developments
ftrack Studio's Unreal Engine and Unity integrations will be available for Beta testing in Q3 2019. Would you like to stay up to date with upcoming news and announcements? Simply fill out the form to the right and we'll keep you in the loop with all the latest developments.
Register interest for the upcoming integrations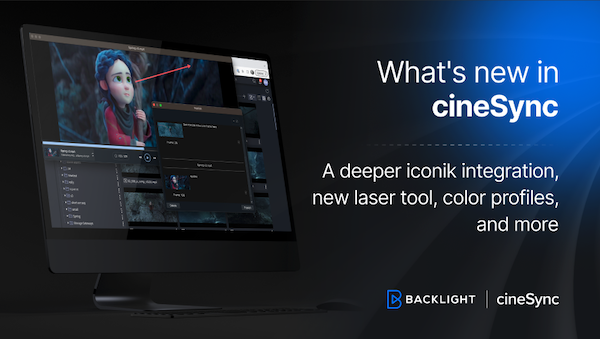 cineSync's latest update brings flexibility and precision to your cineSync experience, making it easier to connect your review sessions with media management and storage in iconik, introducing color profiles to…