Kimberley walks us through her career from compositor to coordinator, her day-to-day at Vancouver VFX studio Artifex, and what excites her about the future of visual effects.
Can you tell us a little about your career in the visual effects industry?
Ever since high school, I knew I was destined for a career in the arts – just not which area I would be in. I had always loved video games and originally aspired to become a video game character artist and, eventually, an art director.
I started out on my journey at Capilano University studying Art History and dabbling in commercial animation. I then transferred my credits over to Simon Fraser University, where I completed a Bachelor of Arts in Interactive Arts and Technology.
After trying for almost a year to get my demo reel out to as many places as possible, I realized that what I had just wasn't enough. I decided to go back to school at the CG Masters School of 3D Animation & VFX, where I completed a one-year diploma.
It was there that I received my first job opportunity as a compositor on a show called When Calls the Heart. We had a small team, so I ended up working not only in compositing but also working on 3D models and coordinating and QCing deliveries.

You've worked in the industry since 2014. How have you developed personally over that time, going from compositing into coordinating?
I have experienced a ton of personal growth and experience in the industry – definitely more than you would expect from someone starting out as a junior artist. I was lucky to make such incredible connections; to meet the people I did and work with the people I did.
When I started as a compositor, I wasn't entirely comfortable in the role and didn't feel confident in my skills. I spent a great deal of time learning from those other artists I knew and my supervisor to improve my skill set. But through that, I also started to learn what it took to coordinate a show and how budgets worked.
The more shows I worked on and the more teams I worked with, the more I learned about what I enjoyed doing versus what I didn't. It took a few years, but I ultimately recognized that I preferred to be on the administrator's side of the deadline, rather than the artist's.
I made sure that I took the time to find ways to optimize the shows I worked on and learn budgeting and scheduling skills from my producers and supervisors. I started to make a move into the world of coordination.
What attracted you to working at Artifex?
I worked with an in-house production team for two years before joining Artifex. As fun and educational as that experience was, I felt that it was time to make a change. I wanted to find a studio where I could grow as a coordinator and learn from a more experienced team.
I had heard about Artifex from classmates and co-workers and knew that it was a great place to be. Needless to say, I was pretty excited when I got a call from the studio!
Working at Artifex is excellent. It's a very comfortable environment where everyone is positive and works hard, together. Even though we all have different roles to play, you don't feel that division between worker and employer. Everyone is on an equal playing field; everyone is equally respected and supported.
Artifex is also one of the rare studios where your hours are steady, and you have full-time staff. Also, no matter if we're sending out a draft to a client or a polished final piece, each shot has a high level of quality. They never leave the studio unpolished; we all strive to produce the best VFX we possibly can for our clients. 
What are some of your favorite projects that you've coordinated at Artifex?
Two projects that stand out for me are Weird City and Project Blue Book.
Weird City is a unique mini-series created by Jordan Peele & Charlie Sanders. We were very excited to work on this project. Not only was it the first show we worked on for YouTube but also one of the first TV shows on YouTube, full stop! We knew it would have creative challenges and high-quality tech specs, but it would also showcase work that would reach a broad audience.
Project Blue Book was the first show we got to work on for A&E and the History Channel. We had so much fun creating UFOs and aircraft. The show really pushed our skills in 3D and matte painting in particular, with ambitions for feature film quality visuals. I personally enjoyed this show because it was brought to us by a supervisor and VFX team I had previously worked with. It was nice working with familiar faces!
What are your daily responsibilities at Artifex as VFX Coordinator?
As a VFX Coordinator, my role is to make sure our artists have what they need to get their shots done.
On the creative side, that means things chatting with artists and Artifex's various departments to make sure assets have progressed. ftrack helps a lot here. I attend dailies with the team every day, and input notes from our supervisor into the platform. I also assist in assigning shots or moving workloads around in ftrack to make sure everyone stays busy.
On the client side, I spend a good chunk of my day QCing Quicktimes for delivery and prepping emails to clients, as well as reviewing client notes and inputting those into ftrack too.
What about ftrack drew you to the platform?
I spent a lot of time working with spreadsheets as I worked my way up to a coordinator position. I also had the opportunity to use a variety of project management platforms. I found that out of all the options, ftrack made my life the most comfortable. It presents all the information I could possibly need in one centralized place.
I like that we can use ftrack for our dailies review. Seeing all the new versions that artists have uploaded is especially helpful, particularly when we need to compare back to previous versions.
ftrack's browser-based review tools are also very useful in this regard. I can open any version of a shot and add annotations directly onto it, which then automatically upload to the notes section.
I also find the dashboards workload report extremely helpful. When working on large projects, it's great to see what's being worked on and where. It gives us analytical insight into who needs more work or who has too much work, and we can adjust accordingly.
We recently worked on Kim Possible, for instance, which necessitated close to 200 shots. That's a large project for a small studio. ftrack's workload report and Gantt charts were massively beneficial here. We were able to work our way through shots and ensure that no one was overwhelmed with their tasks.
I would definitely recommend ftrack to other coordinators just for its ease of use. It's great having a tool – everything is in one place, easily accessible, and readable.
What excites you about the VFX industry today?
Looking back on VFX – even just a short 10 years ago – there have been so many significant changes. New tools for making fur more realistic, better motion capture tools and facial replacements, digital set replacement based on miniatures and matte paints… I love seeing how innovative the people are in the industry and how every year, these fantastic tools arrive to make films more immersive.
Things will only get better and better. I foresee a point where it will be hard to tell if what you are seeing is real or digital. We're almost there today…
Want to try ftrack Studio and see how it can optimise your studio's efficiency?
Try a free 7-day trial of ftrack Studio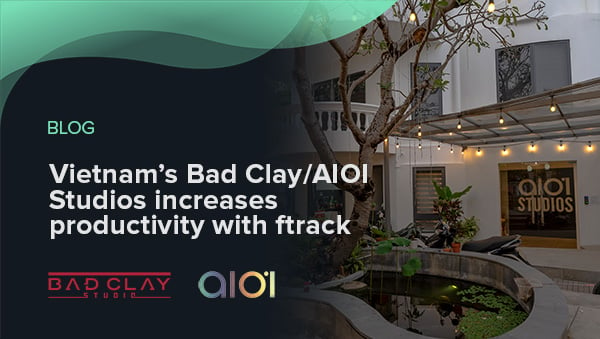 The Vietnam film industry has grown steadily over the last decade, with a considerable increase in film production. We caught up with Thierry Nguyen, founder of Vietnamese post-production studio Bad…