Nuke Studio is a powerful tool for compositing workflows, while ftrack Studio enables scheduling and asset tracking across productions. Taken alone, they're vital tools in the production process. Together, via a deeply native integration, they create the harmony required of any facility between collaborative workflows and technical capability.
Here's a look at ftrack Studio and Nuke Studio, our integration, and how it can benefit any compositor working in the industry today.
What makes for a professional compositor?
A keen eye for detail, excellent artistic judgment, and superlative technical ability are necessities of any compositor working today. Of that, there's no doubt. However, professional compositing also requires a set of skills that you can't acquire through 10,000 hours spent with software alone.
If an individual is to produce exceptional professional work within the constraints of often chaotic production schedules, they must nurture a less technical, but no less important skill set: that of teamwork.
Compositors must be excellent collaborators who work well within distributed departments. They must be accomplished communicators who can effectively discuss goals with VFX supervisors and project leads. They must be historians, capable of recording and understanding previous work performed on a shot and what that means for the next steps.
Collaborative and organizational skills are as crucial to the success of a shot as technical capability. That's why ftrack Studio and Nuke Studio work hand-in-hand, enabling closer teamwork, speed, and efficiency across the compositing process.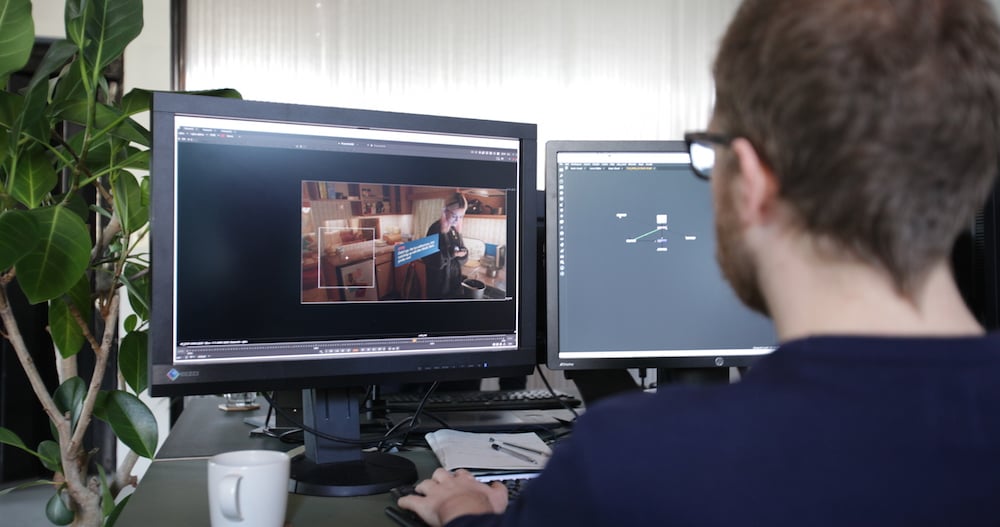 Two studios, one workflow
Today's creative projects are like intricate watches with more moving parts than ever before. Each of those parts is a tiny, yet essential, cog. If just one fails to do its job, the mechanism fails.
Tracking and managing each of those elaborate elements is a challenge on any project. That's particularly true of short-form creative campaigns, where quality expectations continue to rise as deadlines and milestones contract.
Nuke Studio alleviates these problems on the creative side. By pairing the compositing power of NukeX with the multi-track editorial timeline of Hiero, Nuke Studio offers a powerful toolset with which to solve creative problems and deliver quality work. To return to our watch metaphor, Nuke Studio represents the tools and implements that make the placement of cogs significantly simpler.
ftrack Studio's project management, production tracking, and media review platform solves the organizational side. With ftrack, feature film, commercial, and animation producers can create broad-stroke production plans, discuss the history of assets, and provide feedback on work. It's the blueprint that details how to construct the watch.
Together, these "two Studios" form a complete equation for the consummate compositor. ftrack Studio supports collaborative teamwork; Nuke Studio empowers technical capability. And the ftrack Studio/Nuke Studio integration harmonizes the two.
ftrack Studio's integration with Nuke Studio is more than functional. It's a seamless, native approach designed to feel as if only one product is in use. Tasks are not only undertaken within Nuke Studio but also tracked, managed, and discussed via the same interface.
It's easy for compositors to set up ftrack projects within Nuke Studio. They can then manage offline edits, update changes in ftrack, and version up all from one, centralized interface, meaning shots get through the pipe with fewer hold-ups.
Here's a quick look at what this means for your compositing and editorial workflow:
Built-in exporter: Simplify the process of iterating and collaborating on a project with your team. Select projects in Nuke Studio, customize task attributes (such as output type, resolution, and quality) and export/repopulate into ftrack for tracking.
Export and publish EDLs and audio: Publish a range of useful media for team collaboration. There's a great deal of flexibility around formats when publishing proxies and plates for conform, too.
Rebuild editorial tracks for review: Set criteria and quickly build tracks from ftrack, then update offline edits for review or export. Workflow can be further fast-tracked by tagging clips with status or tasks directly from within ftrack.
Automatic versioning: There's no chance of working on the wrong asset: clips and tracks automatically version up within ftrack. ftrack notes also catalog the history of each asset. Compositors know what's complete and what's needed next.
Output reviewable media: Export media for review and discussion in ftrack – visual annotations and timestamped comments mean less confusion, clear-cut communication, and rapid iteration.
ftrack Studio's integration with Nuke Studio comes ready-made out of the box and the plugin is free to install. It's already production-proven, so you don't need to use up internal dev team time or hire an external resource to make it happen.
That said, if more functionality is required, ftrack Studio's integration with Nuke Studio is open-source and deeply customizable. The plugin provides a starting point to create something more deeply integrated with your specific studio pipeline. Every facility is unique, after all.
There are no restrictions when it comes to further customizing the integration. If you wish to add new features or workarounds that aren't available out of the box, you can. It's easy to do so – especially as Nuke Studio and Hiero share the same API.
Even if you don't intend to develop further, or don't have the resource to do so, ftrack continually maintains and updates the plugin as new versions of Nuke Studio are released. It's one less thing for your studio to consider.
See how Steelhead customized its ftrack integration with Nuke Studio
Individually, Nuke Studio and ftrack Studio present powerful workflow efficiencies. Artists can create beautiful work, and supervisors, producers, and coordinators can track, manage, and deliver to deadline.
In combining the two, however, studios gain access to a far more fluid production process. Compositors are empowered to not only create work but insert themselves into the production pipeline. They become part of the story of that production. And it's proven time and again that production teams deliver far more efficiently when they're consistently connected.
With ftrack Studio and Nuke Studio working as one, compositors become more than just a technical resource. They become a part of that most vital entity in successful productions today: a team.
ftrack's integration with Nuke Studio is entirely free to download and use with a subscription to ftrack Studio.
Optimize your post-production workflow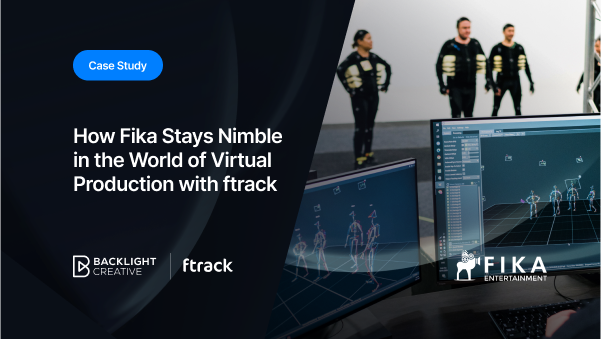 Fika Entertainment is an Australian-based virtual production studio with a focus on animation production and VFX content that is accessible, fast and cost-effective. The company is passionate about helping clients…