We're pleased to announce that ftrack has completed the assessment process for the Motion Picture Association and Content Delivery & Security Association's Trusted Partner Network, the media and entertainment industry's leading security authority.
As creative pipelines grow more collaborative and dispersed, security becomes an increasingly critical consideration. That's why we work hard behind the scenes at ftrack to ensure that any assets or materials entrusted to us remain entirely confidential.
As such, we are pleased to announce that today ftrack has completed the assessment process for the Trusted Partner Network (TPN) – the industry-standard authority for security in the media and entertainment industry.
This news follows on shortly from ftrack's successful audit by cybersecurity experts Bishop Fox.
What is the Trusted Partner Network (TPN)?
The TPN is a global, industry-wide film and television content protection initiative, created as a joint venture between the Motion Picture Association (MPA) and the Content Delivery & Security Association (CDSA). These leading associations developed the TPN to outline requirements and best practices that help to prevent leaks, breaches, and hacks of content in the media industry.
The TPN standards set forth by the MPA and CDSA are incredibly high and are used as a barometer to measure security capability in an industry susceptible to high-profile attacks. Major creative studios rely on TPN best practices to guard their work against any potential breaches.
What this means for ftrack and its users
ftrack's completion of the TPN assessment is the culmination of several months of dedicated work. We understand that our customers' creative output is their most-prized asset. We will spare no expense in ensuring its absolute security. The TPN assessment is just one more step on the road towards this goal.
"We designed ftrack as a place for creatives to collaborate; our TPN compliance allows our users to do so with more confidence than ever. After all, our customers' content is everything, and their creatives cannot do their best work when they're also worried about what to upload and where.  ftrack's TPN status is a significant milestone for us, both in terms of giving our users peace of mind and in further developing the ftrack roadmap."
Our TPN compliance assessment follows on from our Bishop Fox cybersecurity audit and launch of Private Projects inside ftrack. In the coming months, ftrack Studio and ftrack Review will offer two-factor authentication login, further protecting the platform against external threats.
We will continue to strengthen ftrack's security in our ongoing effort to achieve our mission: to make ftrack the perfect solution for creatives who need to collaborate.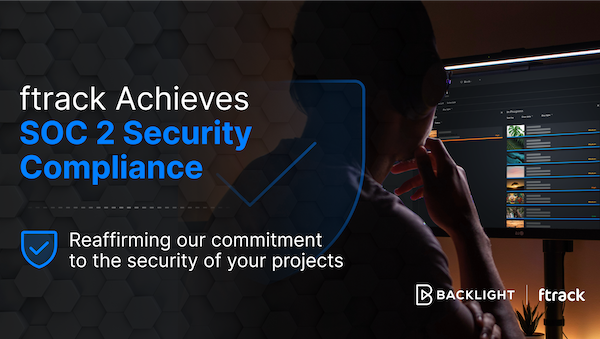 We're pleased to announce the successful completion of ftrack's independent SOC 2 audit, reaffirming the commitment, consideration, and care we continue to give to the security of your projects. For…