We're pleased to announce that the first official release of ftrack Studio's integration with Perforce Helix Core is now freely available for all ftrack Studio users.
The ftrack Studio integration with Perforce Helix Core makes it easy to carefully plan, organize, and tackle everything from the most complex of video game productions to manufacturing, finance, sotware development and more. Using the plugin, you can utilize Perforce as a storage system for projects tracking inside ftrack Studio. Simply publish your asset versions to ftrack Studio, then collaborate, communicate, and develop on them using ftrack Studio's in-depth planning and production tracking tools.
Use Perforce as a storage system for ftrack Studio projects
Store, retrieve and share assets using the Perforce version control system
A simple GUI for user-based settings
Manage video game projects using the tools you know and love
A closer look at ftrack Studio's integration with Perforce Helix Core
Perforce Helix Core is used by technical teams all around the world to store code and digital assets in one central repository, or, as Perforce calls it, a "single source of truth". This centralized and automated approach means less time wasted on manual workflows and more time spent on coding and creating. That's something we can get behind here at ftrack.
We've been working since the start of the year to tightly integrate ftrack Studio with Perforce Helix Core and leverage the versioning systems of both to create a fully integrated workflow. We're pleased to say that the ftrack Studio integration with Perforce Helix Core is now complete, available, and ready for use in your next project.
The ftrack Studio integration with Perforce Helix Core avails itself of the power and benefit of both tools. Working together, they forge a simple path through demanding tasks like video game development or complex automotive manfacturing.
You can download the Perforce integration and start tracking and managing your projects via ftrack Studio today.
Why we created this integration
The world of creativity has grown more complex than ever before, whether that's creating triple-A videogames, developing software, or working in engineering. There are more assets and more pieces to consider in any project. And this trend necessitates a more carefully managed approach to development.
We've had more customers come to us looking for solutions that help to make these processes simpler, while connecting with the tools they already use for version control, such as Perforce's Helix Core.

Lorenzo Angeli
Pipeline Solutions Architect, ftrack
"We designed ftrack Studio's integration with Perforce Helix Core to help support and facilitate the continuing trend towards complexity in industries like video game development and manufacturing. The plugin brings all the benefits of ftrack's artist-friendly collaborative production tracking platform closer than ever to these dynamic and exciting industries. ftrack Studio makes it easy to schedule development, to manage the creation of assets, and to help artists and producers to work more closely as they collaborate, update, and improve upon work as it runs through Perforce Helix Core."
With this integration, we intend to support smoother development workflows, and as a result, the production of ever-better, more impressive experiences and products.
As with all of our integrations and plugins, we are completely open to any and all feedback about your experiences with the ftrack Studio integration with Perforce Helix Core.
We'd love to know what you like about the integration, what you don't, and what you'd hope to see added in the future. The more we hear from you, the more we can work to address your needs and optimize the product for real-world production pipelines. Please don't hesitate to get in touch with your feedback!
Try ftrack Studio's Helix Core plugin
Access a free trial and see how the new Perforce Helix Core integration can faciliate smoother workflows.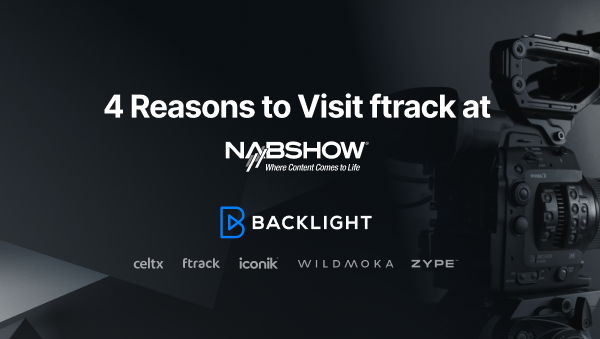 Are you heading to NAB 2023 in Las Vegas on April 15-19? If so, you won't want to miss Backlight's booth W3157, where you can see ftrack and our…