ftrack Studio 4.4 is here! We spent a lot of time over the last few months talking to creatives and project managers using ftrack in production. We wanted to know how ftrack could do more for them. These results of those discussions are now available in ftrack Studio 4.4! Check them out below, along with a variety of other new features and improvements.
Helping Producers work faster with new ways to interact with ftrack
Cross-project views improvements
Media review updates
Russian localization
Filter on latest versions using the API
We're rolling out ftrack Studio 4.4 this month, so keep an eye out for the changes as they come through! Let's dive in and see what ftrack Studio 4.4 has to offer!
New features in ftrack Studio 4.4 – watch the video
Helping Producers work faster
We've worked with producers at studios all around the world to understand how they use ftrack daily and what we can do to improve that experience. These conversations have resulted in numerous feature enhancements across the ftrack tasks spreadsheet, each designed to help producers produce better work, faster. The features support increased efficiency within ftrack and optimize how producers prepare, plan, and execute their creative projects.
Here's a breakdown of what the new task spreadsheet features include:
Expand/collapse task columns

– Easily expand and collapse task columns. This is useful for views where producers want to switch between or turn on/off details quickly.

Support multiple tasks of the same per type

– Added support for multiple tasks of the same type when producers view the task columns.

Latest version as a column

– View the latest published versions as a column in the Tasks spreadsheet, both on tasks and objects

'Group by' on more attributes

– Group on more task attributes, including custom attributes too.

Save sort in view

– Sort can now be saved into a view. This allows for easier sharing of views where the sort order is important.

Avoid moving objects by accident

– A confirmation dialogue now appears if an existing task, shot, asset build, or other object is drag & dropped in the spreadsheet.

Expanded summaries

– Summarise custom attributes for objects other than Tasks in column headers.

See more information

– Column cells will now wrap over multiple rows, allowing you to view more text.
Cross-project views improvements
We've made improvements to the cross-project views interface to support and augment the features introduced. These include:
See latest versions of a task, shot or other objects in the cross-project view
The ability to filter based on the latest version when viewing Versions
The ability to see and filter based on worked hours
Easily compare worked hours versus bid hours
See project attributes for a task
Filter on the latest versions of an asset via the API
ftrack 4.4 supports filtering on the latest versions only using the API.
Previously, if a user were interested only in the most recently published version of an asset, they would need to fetch all versions of the asset and filter the response afterward. This was a cumbersome process. Users can now simplify and speed up queries by looking only at the most recently published version from the first step.
The new notes board feature allows users to get an overview of notes with their context. E.g. to see notes for departments animation, lighting and rendering in separate columns next to the corresponding shot. This feature is currently in public beta and must be enabled under Experimental features in system settings.
Improved on-premise hosting for Enterprise
We're rolling out ftrack Studio 4.4 in the coming weeks. Cloud-hosted plans will automatically get upgraded in batches.
For those on self-hosted Enterprise plans, be sure to update to get access to all of the latest features.
As always, if you have any feedback please don't hesitate to let us know. We consider all feedback as we build out our product roadmap and plan new features for the future.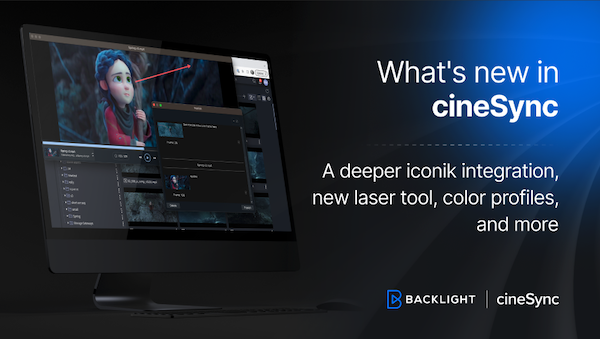 cineSync's latest update brings flexibility and precision to your cineSync experience, making it easier to connect your review sessions with media management and storage in iconik, introducing color profiles to…