The sudden surge in remote work is one of the most disruptive repercussions of the COVID-19 pandemic so far. For those more familiar with office work, it can be difficult to acclimatize to the new status quo. But all is not lost! Below, we offer some tips on making the most of this unique situation, provided by our expert remote ftrack colleagues, who have been working from home for years.
The spread of the coronavirus has affected many aspects of our daily lives, from hand sanitizer availability to international travel restrictions. One of the most disruptive daily changes, however, is the sudden surge in remote work, as many companies mandate that employees work from home under social distancing initiatives. (ftrack included.)
Working from home is a sought-after perk for many, but it has its downsides, too. It can be harder to focus (great mental fortitude is required to spurn the lure of Netflix), some homes lack dedicated workspaces or required IT infrastructure, and mental health can suffer, as isolation recommendations around COVID-19 become a downer for those who see work as an opportunity to socialize. And hey, some people just prefer heading into the office!
With a few tweaks to your day, however, WFH needn't be a strain. We have some dab hands at remote work at ftrack, who have worked remotely for years and fine-tuned the process into something of an art form. We asked them to offer some tips to those acclimatizing to the new remote status quo. Read on to see if you can forge some new working habits that keep you productive while supporting positive mental health outside of the office environment.
(Just before we get started, we'd like to let you know that we are currently offering our remote review and approval software ftrack Review for free to help keep your creative projects on track.)
Create a productive working environment
If you can, make a quiet space exclusively for work
Social distancing means libraries and co-working space aren't an option, so make a headspace for work at home. Stephen King once wrote: "When it comes to writing […] most of us need a place of our own […], and it only needs one thing: a door you are willing to shut. The closed door is your way of telling the world and yourself that you mean business." King's advice applies to WFH too. If you can, find somewhere where you can close the door and, ideally, lock it.
If your place isn't big enough, set aside a specific space exclusively for work, with noise-canceling headphones in place of a locked door. It must be clean and with minimal clutter. Make that your space for work and work only. When you're there, your psyche will know it's time to get down to business. Pro tip: don't start opening your laptop in bed. That's a slippery slope to confusing rest with work and developing unproductive habits.
Mr. King again: "There should be no telephone in your writing room, certainly no TV or video games." Turning on the TV might seem a good idea. You can kill two birds with one stone; get some work done while bingeing your favorite show, right? Wrong: that stone will lock in on the TV-gawking bird and barely scrape the other attempting to get its work done. There's a reason they didn't show Friends reruns in the office. Distracting TV can wait until the workday is over.
Invest in the right tech (not just Wi-Fi)
Wi-Fi is an obvious requirement. A spotty or unreliable connection can be highly harmful to at-home productivity, whether it's dropping out during video calls or losing access to work on the cloud. But there are other essential tech considerations, too: those noise-canceling headphones, a second monitor and a keyboard and mouse if you're working with just a laptop and, it's not technically "tech", but your back will thank you for a suitable, ergonomic desk chair.
Create a schedule (and stick to it)
Plan out your day (including breaks)
The more disciplined you are with time management, the more you'll achieve without tumbling down Facebook or YouTube rabbit holes. Block out chunks of time for specific work tasks and rest and stick to them: the schedule will keep you focused and reduce interruptions. We find that the Pomodoro Technique is particularly effective in this regard. Whatever approach you choose, just remember that the breaks are as important as the work. Time away from your computer boosts both productivity and wellbeing.
Keep regular working hours – know when to start…
Is there anything more tempting than a longer lie-in? Perhaps not, but it's best to keep a regular Mon-Fri routine. Try to wake when you usually would and use your commute time for a short walk or personal headspace time, then make sure you're at your workspace for the start of the day. These are your "work hours", and the more consistent they are, the more focus you'll have.
…and know when to log off
In an office, there's a definite end to the day as people log-off, unplug, and head home. You don't have that full stop at the end of your remote working day. Even if you keep receiving emails and chat notifications from colleagues in other time zones, it's important to log off and take time to yourself. Don't let work bleed over into your "you" time. Boundaries are important in our "always-connected" culture. Separating work time from home time is a must. This goes for your lunch hour too. Make sure it's spent away from your desk to get the full benefit of it.
Leave your jogging bottoms in the cupboard
Comfortable loungewear should be a Friday treat. From Mon-Thurs you should not only keep your office work routine but your office customs too. We're not suggesting that you dress in a suit, but wearing your day-to-day casual wear will encourage the mental headspace for work. (And you'll appreciate the jogging bottom comfort so much more when the day is over!)
Keep in touch with your colleagues
Let your team know what you intend to work on during the day, send an update at midday, and round-up just before you log off. It gives oversight on priorities and progress while ensuring you and your colleagues continue to feel like a team. "My tasks" in ftrack Studio make it easy to see what work needs to be done, to communicate that progress to supervisors and coordinators via note updates, and to manage priorities in a way that is shared with and visible to others.
Make sure to build in check-ins via video conference, too. Team members unfamiliar with remote work may feel isolated; video chat helps to maintain a human connection and introduces a little social time back into your WFH schedule.
Collaborative software and cloud-based apps are your friends
Slack, Zoom, Microsoft Teams, Google Suite, Discord – use whatever helps to keep your team in touch and supports uninterrupted workflows. ftrack Studio, ftrack Review, and cineSync all help to smooth over the cracks that emerge during this bout of remote work.
Email alone isn't enough – essential information gets lost in chains, iterations and versions become confused, and progress quickly flounders. Products like ours (and others) offer a different approach: an accessible-to-all digital hub that centralizes collaboration and decision-making. Of course, cloud collaboration software doesn't solve all issues raised by remote workflows, but it does make your team more productive as they navigate the changes to their work schedule and environment.
Don't forget about self-care
Take some time to yourself. Run a bath. Kill a Striga…Ok maybe not that last part.
Over-communicate with friends, too
We tend to label Whatsapp, Facebook Messenger, and other group chat services as distractions. However, used judiciously, they can support mental health. Check in on a group chat while you're taking scheduled breaks, just as you would join a watercooler conversation at the office. Keep conversations going so you don't feel isolated. But try not to check during your allotted work periods! One funny YouTube link, and you can quickly go off the rails.
Go out (if you're not self-isolating)
Taking walks and getting fresh air are fantastic ways to clear the mind and reset. Just make sure to practice social distancing and remain two meters away from others if you're out and about.
Stay healthy and don't overeat
We're feeling somewhat hypocritical for this one, as we write while simultaneously snacking on an overly large bowl of pistachios.
It can be really difficult not to wander to the kitchen throughout the day. If you have the willpower, don't. Keep a bowl of fruit to hand instead, or commit to blocks in your schedule to eat healthy, nutritious meals rather than snacking whenever you feel like it. Also, establish a fitness routine if you can. Exercise benefits all aspects of life but offers particularly excellent benefits for those stuck indoors throughout the day. (We've been trying yoga to negate some of that pistachio intake. Much recommended!)
Share childcare, if you're able to
Childcare is a significant issue for those who don't currently have support during the closure of schools and nurseries. For those with young children, you'll know just how impossible it is to work with a needy toddler around. If you can, juggle childcare with a partner, perhaps in four-hour shifts or shorter one-hour bursts. It will make for a disrupted schedule, but it's better to break things up than entertain a toddler while also running a Skype call.
Make the most of your flexibility
The following may run counterintuitive to some of our earlier advice, but we must acknowledge that everyone is different. Perhaps you're more productive in the evening than in the morning, or maybe continuous small breaks rather than a longer midday rest helps you to produce more work. If so, remote work is an excellent opportunity to feel out the schedules and approaches that work for you, rather than those dictated by an office schedule. If your job allows for it, try a result-only work environment approach. See what works and makes you the most productive.
It's worth remembering in this troubling time that there are many life-enhancing benefits to WFH. You're not tied to one working location, it's easier to fit in life admin tasks that you've put off, and you can share more of life's important moments with your family. In today's climate, it's best to focus on the positives as we all acclimatize to a new way of life.
How ftrack is helping during this time
As the world reacts to COVID-19, it is more critical than ever for studios to adopt cloud collaboration tools and move beyond email as the primary means of internal collaboration.
As studios lean more heavily on remote workflows, we at ftrack are working hard to fully support and ensure uptime across ftrack Studio, ftrack Review, and cineSync and make the transition to remote work as smooth as possible. All three solutions create successful, collaborative digital spaces for busy teams, ensure team alignment, and improve communication, even when working across vast distances.
We've also made ftrack Review free for all until May 31, 2020!
If you need to establish remote or WFH workflows with ftrack or cineSync, we can help you get up and running. Check out the ftrack remote hub below.
See the ftrack remote hub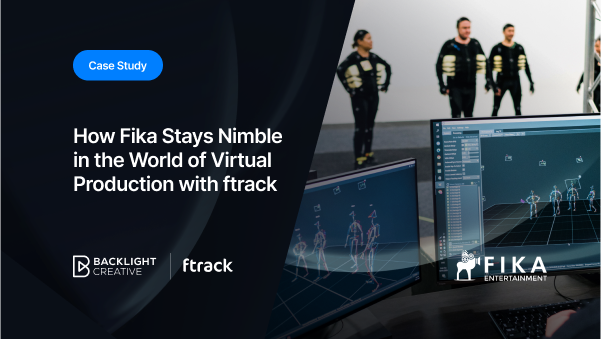 Fika Entertainment is an Australian-based virtual production studio with a focus on animation production and VFX content that is accessible, fast and cost-effective. The company is passionate about helping clients…