Below, we take closer look at Task Columns and how they can help you to maximize your use of the ftrack Studio interface. Let's dive in!
In March, we released ftrack Studio 4.4, a new update that encourages faster and more intuitive interaction with the ftrack Studio interface.
One of these new features is the ability to collapse Task Columns, making it easier for producers to view, navigate, and utilize their tasks in ftrack Studio.
Let's take a closer look at Task Columns and how they can help you to maximize your use of the ftrack Studio interface.
Creative projects containing 100s or 1000s of deliverables become unmanageable if those deliverables lack structural clarity. If producers/coordinators do not have a clear overview of a project's status, it can be a challenge (if not outright impossible) to obtain an understanding of progress and to direct it to the finish line.
The Task Columns feature in ftrack Studio provides the clear overview that producers and coordinators need.
Task Columns present information about all ongoing tasks and deliverables in an ftrack Studio project, using a compact and intelligible design. As an ftrack Studio user, you can configure the Tasks Spreadsheet with Task Columns to present your Shot, Scenes, or Asset builds in one compact view, alongside all the necessary tasks to complete them.
You can also access all attributes set on your tasks via Tasks Columns, including Statuses, Assignees, Time Logs, Bids, and Custom Attributes. If you want to change an attribute, you can do so directly in the Task Columns view.
In ftrack Studio 4.4, we introduced a new feature to Task Columns – collapsible Task Columns.
Collapsible Task Columns enables users to hide currently inessential task information, making it easier to navigate Tasks Columns and find the required information. The increased clarity introduced by Collapsible Task Columns means quicker access to information, faster workflows, and more efficient reporting.
Another important feature introduced in ftrack Studio 4.4 is the ability to see multiple tasks of the same type within Tasks Columns: a useful feature when your department needs to duplicate single blocks of work into several separate tasks. It's now much easier to understand and manage that progress with all "duplicate" task types displayed in Task Columns.
Highlights of Task Columns in 4.4
Gain a quick, compact overview of your project.
Easily understand status and progress on all tasks.
View and edit task attributes on one page.
Save your favorite configuration into a view and share it with your team.
Collapse and expand columns to see more information as required.
View multiple tasks of the same type via one interface.
Discover first-hand how ftrack Studio can make life easier for producers and coordinators.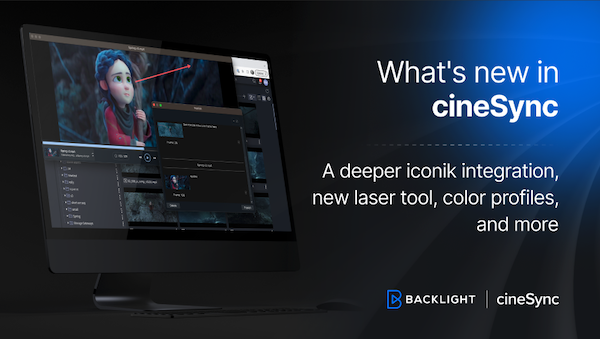 cineSync's latest update brings flexibility and precision to your cineSync experience, making it easier to connect your review sessions with media management and storage in iconik, introducing color profiles to…