We're pleased to announce the availability of ftrack Studio 4.5.
With more people working remotely, we wanted to make review and approval more collaborative. That's why we're excited to announce synchronized media review in ftrack Studio 4.5. Now, all review participants can see the same frame at the same time ?‍????‍?
Sync in ftrack Studio joins many other new features that help creatives to focus on what matters most: the art.
New features in ftrack Studio 4.5
Real-time synchronized media review
Side-by-side media comparison in review
Improved media resolution and UI features
Review Pro add-on
Improvements for producers
Clone workflow schemas
Performance improvements
Set Actions height and width
Real-time synchronized media review
Synchronized media review in ftrack Studio puts collaboration at the heart of every interaction. Any actions performed in a review session – such as jotting down feedback, sketching on an image, or jumping to a different video frame or PDF page – will display on all participants' screens simultaneously, in high resolution, and with full-speed playback.
Synchronized media review in ftrack is powered by the same technology as the Emmy- and Academy Award-winning cineSync. Synchronized reviews are included for all ftrack Studio workspaces for up to two simultaneous participants, or more with the Review Pro add-on.
Learn more abut synchronized review
Side-by-side version comparison
Side-by-side comparison enables users to juxtapose two different versions of an asset in a review session. Whether working with a video, an image, a PDF, or something else, Compare Mode makes it easy to see what's changed, what hasn't, what works, and what doesn't – and then communicate it in sync.
Improved media resolution and UI features
Higher-resolution proxies mean better-looking reviews than ever. We've made the following updates to your media review experience:
Increased default video resolution: 1080p
Increased default image resolution: 8192×8192 px
Ability to select between resolutions
Improved image quality with lossless encoding and preserved transparency
Improved fullscreen mode
Improved UX for file download
ftrack's Review Pro add-on boosts review cycles by enabling more people to provide simultaneous feedback on higher-quality media. If you would like to add the following to your ftrack Studio review experience, then please get in touch:
10 maximum simultaneous sync participants (increased from two)
500 GB total storage (increased from 250 GB)
2160p (4K) maximum video resolution (increased from 1080p)
Improvements for producers
In ftrack Studio 4.4, we introduced numerous new features designed to help producers work more intuitively with the platform. That work continues in ftrack Studio 4.5, which delivers several updates to the tools producers use to prepare, plan, and execute creative projects:
See Links as an attribute in the Tasks Spreadsheet alongside status
Access more task attributes in the Versions page
Edit asset parent attributes in the Versions page
View week numbers in timeline views
ftrack Studio 4.5 allows duplication of existing schemas, making it easier than ever to get up and running with new projects. Simply clone a workflow schema from a previous project, rather than tackle the tedious process of setting one up from scratch, and get going!
You can clone a workflow scheme from your system settings. ftrack Studio 4.5 also includes support for creating and updating workflow schemas via the API.
ftrack Studio 4.5 introduces several performance improvements designed to speed up project management and increase your studio efficiency.
Common API queries are now faster than ever before. Expect improved query performance when filtering on task names, and improved query performance for custom attribute values.
ftrack Studio 4.5 with synchronized media review is available now. If your workspace has not updated, please get in touch for direct support from the ftrack team. You can perform synchronized media review with up to two simultaneous session participants. To add more simultaneous session participants, you can purchase the Review Pro add-on.
These are just some of the highlights available in ftrack Studio 4.5. We hope you will enjoy exploring the full gamut of updates and tweaks. As always, we would love to hear your questions, comments, or suggestions. We take all feedback under consideration and use it to make ftrack Studio even better with every new iteration.
Thank you – and enjoy!
Try synchronous media review
You can try ftrack Studio 4.5 today for free. See how synchronous media review can transform your the way you approach your feedback cycles.
Try ftrack Studio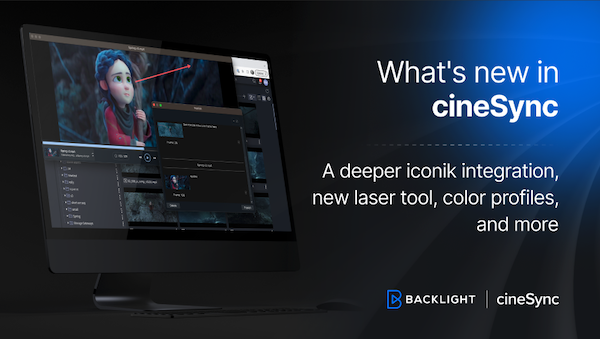 cineSync's latest update brings flexibility and precision to your cineSync experience, making it easier to connect your review sessions with media management and storage in iconik, introducing color profiles to…