Paul Butterworth is a VFX supervisor veteran, with credits on everything from X-Men and Prometheus to Captain America and Iron Man. We caught up with Paul to learn how the industry is adapting and reacting to new remote models in a pandemic-embroiled world.
Can you please discuss your experience over the years?
I'm fortunate to have worked full-time in the film and television industry for the last 28 years. I have worked my way up through the ranks from a 'fresh-out-of-art-school' graphic designer and illustrator, to compositing advertising commercials, to working as a commercial director and visual effects supervisor on advertising projects, long-form television series, and feature films.
I have so many favourite projects as I love the people I collaborate with and the work I'm doing. Some standout projects, however, were all-out fun, challenging, and memorable.
The first was Prometheus. We developed the ghostly engineer holograms, the holographic user interfaces, and the Orrery star map. Prometheus was also my first foray into stereo photography, which was in its infancy technology-wise. Designing semi-transparent, volumetric, and readable elements was a challenge.
Guardians of the Galaxy Vol. 2 also jumps to mind. We had to 'grow' Ego's Cathedral using 'fractals'. The fractal effect was hard to art direct and render with fidelity, so we developed new tools and ways of working to create them.
More recently, I worked studio side on The King for Netflix. I enjoyed taking on a period film, having worked on so many sci-fi projects for Marvel over the past decade.
Has there ever been a prior situation with a similar impact as COVID-19 on VFX?
I can't recall a situation with similar impact to what we're undergoing, but there has been increased volatility in the VFX industry over the past decade due to state and country tax incentives. These incentives have the advantage of drawing film and television work to a new area, but often rob other countries of employment. Establishing a VFX ecosystem can take a long time, both technically and staff-wise. So, setting up a facility is getting riskier by the week as the location is incredibly important. The impact on people is considerable, too. I have so many industry friends who continually relocate to other countries, with their families in tow, just to work on the same project.
Second, to this, the US writer's strike of 2007/2008 had a smaller but significant impact with delaying work going into production. Luckily, the company I worked with had a healthy income from television commercials, which covered the loss of film work.
VFX breakdown from Paul's recent project for Netflix, The King © Netflix 2019
Do you think the industry is well-equipped to tackle its new challenges?
I think we have the equipment and software necessary for working remotely. Moreover, there are some exciting developments in virtualized technology, collaborative software, remote storage and high-capacity remote rendering. These solutions offer potential, if made affordable.
As a creative, the idea of working and creating at home is attractive. My home is my 'safe space'. I'm more likely to take creative risks if I can 'fail' as many times as possible to obtain that 'creative thing you haven't seen before.'
Connectivity and security are critical issues, however. Network speeds are woefully slow, and managing productivity and positive working habits between remote creatives and technicians is proving to be a significant challenge. Moreover, clients require stringent security systems in place for you to be able to access their property. Such security measures are challenging to set up for many domestic configurations.
How have you personally seen productions adapt to these changes?
Three Thousand Years of Longing, the current project I'm working on is caught in the middle of the COVID-19 situation. We have exotic locations overseas, remote cast members, and multiple creative teams preparing for the project, so communication is our big challenge.
It's considerably more natural for the production team to be within earshot of each other. We all miss the simple call-out on a question that can help move the production along. We now have to rely on scheduled meetings, email, and message systems to keep the production on track. Sometimes it feels as if this technology cannot replace a functional office space and impromptu face time with colleagues.
Nevertheless, we are adapting, and we are making it work. In its current phase, the production is relatively straight forward to plan, bid, design and communicate remotely. The challenge for us will be collaborating on a stage with a film crew and practising social distancing without negatively impacting performance spontaneity. Doing so will prove especially challenging on the large crowd scenes where we have several hundred extras in a room.
Once we have the rushes, we can go back to hiding remotely and safe in our VFX caves!
What do you consider the most important considerations when setting up a remote workflow?
Casting is vital when managing a team, whether the team is remote or just next door. I'm always looking for talented individuals who bring something new to our group and are keen to work in a team as opposed to being the 'rock star'. I spend a lot of time getting to know my teammates and encouraging them to explore, to fail, and to feel safe in presenting unpolished concepts, as I find this builds trust. I don't need to 'police' their responsibilities nor timetable their efforts if I can inspire the team to make mistakes and get excited about the work. If they're motivated, they're often over-delivering.
Second to this, I establish good habits early on with regards to regular short meetings with a clear agenda. After every session, the team walks away with an achievable task list.
Lastly, I make sure I give credit on the spot and in person where I can. It's essential for people to feel appreciated, especially among their peers.
Is remote the future model for VFX? Only time will tell, but you can learn a little more about what creatives think in our 2020 remote survey.
What tips could you offer other VFX supervisors currently navigating remote VFX production?
VFX has been somewhat 'remote' for a long time, particularly on the more global projects. Vendors, especially here in Australia, often work with studio VFX teams in Los Angeles, as most of the VFX work is from offshore. We are used to video conference calls, using secure transfer facilities, and practising clear communication when taking a brief or pitching an idea.
What advice can I offer? The question's a tricky one as every VFX supervisor has different superpowers. What I will say is, never underestimate simply picking up the phone and checking in on someone you know in the creative industry. Everyone feels isolated. The arts and media industry, especially here in Oz, has been abandoned. A lot of wonderfully creative people are going through a tough time, so give them a call.
Will the industry come out of the COVID-19 situation a changed entity, or will we see a return to the "norm"?
We find ourselves in a precarious situation, but there are some worthwhile lessons to take from it. Personally speaking, for the first time in my career, I have a better work-life balance. Hopefully, we can move toward a situation where we can divide our time more equitably between the office and working from home. Furthermore, saving two hours a day commuting is not only saving time for me but also will have a significant impact on reducing the impact on our environment.
One of the most common phrases I hear uttered around on the internet is 'I don't want things to go back to normal'. I agree; let us learn from this and evolve.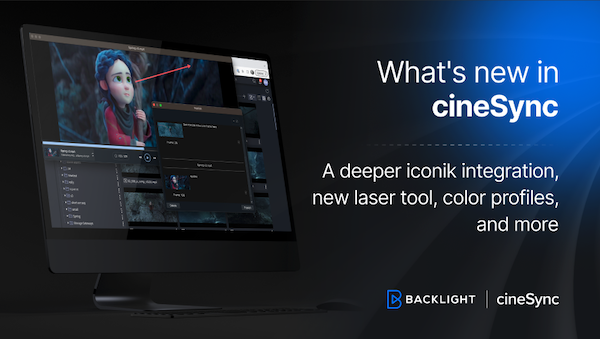 cineSync's latest update brings flexibility and precision to your cineSync experience, making it easier to connect your review sessions with media management and storage in iconik, introducing color profiles to…