If you're looking for someone with extensive experience in episodic visual effects from pre-to-post, look no further than Adam Chazen. Adam worked on HBO's Game of Thrones from season one onwards, first as VFX Coordinator and later as VFX Associate Producer. (He went on to win seven Emmys for his efforts, on nearly every season of the show.) We caught up with Adam to discuss his experience as a VFX Producer and, importantly, why visual effects production should be considered from day one of pre-production onward.
Can you please tell us a little about yourself and your past experience?
I'm originally from New Jersey. I made the move to Los Angeles in 2008 for my first job as a PA at Pixomondo, where I worked my way up to VFX Coordinator. At Pixomondo, I gained a comprehensive knowledge of the day-to-day activities and inner workings of a vendor-side visual effects house. A few years later I worked as a VFX Coordinator on Warner Brothers' 2010 film Yogi Bear, where I got to see things from the client-side and became interested in producing.
In 2011, VFX Producer Steve Kullback brought me on to Game of Thrones, and that's where I would spend the next nine years of my life! I worked as VFX Coordinator on Game of Thrones for a few years before moving up to VFX Associate Producer.
Since Game of Thrones, I've worked on The Matrix 4 and The Righteous Gemstones for HBO. I'm also currently working on a Netflix series in Pittsburgh, PA.
In 2019, the Game of Thrones team earned its seventh Emmy for Outstanding Special Visual Effects – it was also the seventh awarded to Adam for his work on the series. Pictured here from left to right: Jo Bauer, Steve Kullback, Adam Chazen, Sam Conway, Mohsen Mousavi, Martin Hill, Ted Rae, Patrick Tiberius Gehlen, Thomas Schelesny.
How important is it that visual effects are considered from the outset of a project, even from pre-production?
It is critical. Visual effects are not an end process that takes place when all the preparation and filming is complete. If visual effects are to fit seamlessly into a scene and immerse the viewer, vendors and production must collaborate from project conception onward. VFX is a day one process.
Consider a show like Game of Thrones. Every episode contains a plethora of visual effects both large and small, from full-on dragons to gore enhancement and set extension. Whatever the shot, you can bet the creative process is infinitely more complex than however easy the vendors made it look on screen. Such complexity requires multiple conversations and a tightly collaborative approach from the moment you start thinking about the scene. How many arrows will a sequence need, and how many could be supplied digitally by a vendor? What lighting conditions are best for the creation of a high-quality, seamless CG dragon? Productions must think about these things early and often. I want to restate for emphasis: visual effects are not solely an end process!
On Game of Thrones, this process could have been challenging due to the increasingly global nature of visual effects creation: vendors contribute from multiple locations all around the globe. They can't always visit the pre-production office or come to set during the shoot. It's essential to keep them in the loop regardless. Thankfully, today's remote tools and collaboration software ensure everyone knows what they need to do and how they'll need to do it, wherever they happen to work.
Game of Thrones VFX vendors have contributed from US, Canada, UK, Germany, India, and more.
Is post-production becoming a more global experience, in your experience?
Production is becoming more global in all aspects. In my world of visual effects, we're lucky to work with vendors from all over the world. We used to joke that, "The sun never sets on Game of Thrones visual effects," as there was always someone, somewhere, creating something for the show.
Over the years, it's been great to see increasingly more boutique vendors receive the opportunity to create and deliver fantastic work. With all of today's content, there's so much more work to be done. Finding those up and comers to come on and show what they can do is a fun process. And we're free to select the best vendors regardless of their location. Tax breaks alone don't define who delivers: the quality of work plays a huge role too. And with today's technology, we can select the best teams with the best talent wherever they happen to be.
How important is it to have a VFX producer on set during production?
In my experience, wherever possible a VFX producer needs to be on set. The more information a VFX producer can learn and experience directly and early on will help to expedite post-production when it rolls around.
If a show contains visual effects, you can guarantee it will have hundreds of moving parts. These moving parts must be considered, itemized, and organized. With a VFX producer on set, they can start coordinating those elements and predict bottlenecks very early on. That is hugely beneficial to the overall process.
In terms of budget, an on-set VFX producer can see what's being shot and determine if the production lives within its means. If things are going over budget, the producer can decide if more money or less up-front work is the solution. Being aware of and monitoring this expenditure – and considering how it will ultimately impact on visual effects post-production – from an early stage is more advisable than the alternative: realizing changes were necessary when it's already too late to make them.
Speaking personally, my typical responsibilities as a VFX producer on-set require me to make sure the director and VFX supervisor receive everything they need to create the shots they envisage. I'm often sourcing equipment, arranging green screen needs – generally helping out with whatever is required to guarantee an easy creative process when it comes to creating the visual effects.
On Game of Thrones, how did you ensure efficient communication with the vendors who would ultimately produce the visual effects, while working on-set for production?
Once upon a time, this would be tricky. Thankfully we've solved the issues preventing efficient communication.
Vendors aren't always on set with us and can't join us in a trailer for a quick feedback session, but it is easy to feed them with information like concepts, storyboard, previs, dailies and more, thanks to the tools and technology we now have available. Take cineSync, for instance. We can sync up and watch material with one another in real-time. Even if I were in Northern Ireland and the vendor in Germany, we could discuss the material as if we were in the same room and sat around a single screen.
cineSync is fast and fluid enough to keep the creative conversation moving smoothly without interrupting the flow of ideas. If we were shooting something that day and the vendors VFX supervisor couldn't be there, we could take photographs or film the shooting stage and share that material with the vendor via cineSync. We could then discuss a shooting approach that would result in the most high-quality visual effects when the vendor came to work on the footage.
Working with cineSync on-set gives the vendors a better understanding and a closer connection to the material. And that connection always results in better work.
How much did you involve vendors from the pre-production element of Game of Thrones?
As much as possible! Even during pre-production, we're reviewing previs, vendors are performing RnD tests, there are creative discussions and ideas are going back and forth. These processes teach us how we're going to shoot for visual effects and side-step any issues we might encounter. And again, this upfront work gets us way ahead of the game when it comes to post-production. We have a solid idea of how we want a scene to play out, or how we want a creature to look. As we have these discussions during pre-production, we're able to work toward a shooting approach geared toward the efficient and high-standard delivery of those visuals when it comes to post.
Video review is crucial in all of this. We can jump on a cineSync session and collaborate on those RnD tests or previs, and ensure everyone knows what the constraints might be, or what's expected from them, or how the shot will fit into the overall narrative. Video review is key to making those conversations effective as we discuss work with vendors in countries all over the world.
Communication via cineSync, and across the board, really is critical. From the very get-go, you must make sure all departments are on the same page, and there aren't any "surprises" waiting around the corner. No one on a shooting crew likes surprises. And I mean no one!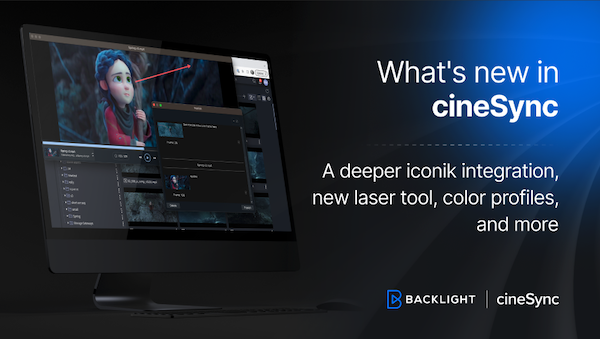 cineSync's latest update brings flexibility and precision to your cineSync experience, making it easier to connect your review sessions with media management and storage in iconik, introducing color profiles to…