VFX Producer and Supervisor Allen Maris discusses his work on projects like Ad Astra, Robin Hood, and His House; COVID-19's impact on VFX workflows; and the skills VFX producers need to make it in today's ever-evolving industry.
Allen Maris, VFX Producer and Supervisor.
Can you please tell us a little about your career as a VFX producer?
I started in the visual effects industry as a production assistant 23 years ago on 1998's Blade, and I've remained on the production side of things for my entire career. I've worked as a VFX producer on shows such as The Chronicles of Riddick, Charlotte's Web, Prometheus and Godzilla. I've also supervised a few smaller shows, but 2019's Ad Astra was my first official VFX supervisor credit.
Ridley Scott's Robin Hood in 2009 remains a great memory. We filmed battle scenes featuring hundreds of extras and horses, shooting nine cameras at a time with a helicopter circling overhead. Working at such a scale was what I imagined doing when I was a kid, so achieving that dream alongside such an iconic director was amazing.
What are the biggest challenges facing the VFX industry (other than COVID)?
Tax credits are beneficial in many ways, but they also concentrate work into certain cities. We see increasingly more situations where facilities face too much work in one city and not enough in another. Consider MPC shutting down its Vancouver office because a 25% rebate wasn't enough to sustain it. Furthermore, studios expect continually larger rebates and cheaper budgets from visual effects facilities, all on a tighter schedule. And productions are being forced to split work to a larger number of multiple vendors, which adds a tremendous amount to the workload.
Do you find global work is now the norm?
Yes, global work is the standard practice as crews chase rebates. International projects will run without problems if you have a solid facility crew, and they understand the creative brief. Software like cineSync is crucial in this regard, as it helps to communicate the brief with precision.
Even when you're lucky to work with a local vendor, no one wants to waste half a day in Los Angeles traffic. cineSync reviews still tend to be remote with only the occasional in-person session, even on local projects.
2019's Ad Astra, on which Allen worked as VFX Supervisor.
How do you go about selecting the right facilities for a project?
Unfortunately, the selection is immediately restricted based on the studio and where it needs the work completed to qualify for the rebate. From there, selecting facilities is based upon the department leads at the vendor, my history with those people, and the vendor's capabilities. If I've never worked with a vendor, I start reaching out to friends to learn about what they can achieve.
How do you make a project cohesive when working with multiple global vendors?
Communication from myself and my team is critical. All the vendors are our partners in making the movie; they rely on us to communicate and keep them updated, and I rely on them to get the work done. I keep a regularly scheduled time for reviews with vendors, even if it's a light submission, to maintain the relationship and line of communication. The more you can talk and discuss ideas with your vendors, the more their output will align with your project aims and ambitions.
Furthermore, when you're working with multiple vendors, you should always take advantage of each vendors' skill set, rather than giving a vendor work in which they're inexperienced. If you try to fight a vendor's weaknesses, you'll have a rough time. The won't perform very well, the production will get frustrated, and as a worst-case scenario, the vendor won't deliver the work, and you have to pull it to go elsewhere. So, focus on and leverage each of your vendors' strengths.
Allen's recent projects include the Netflix horror His House, Jonathan Butterell's upcoming Everybody's Talking About Jamie and a currently untitled David O. Russell project.
What attributes does a VFX producer require to be successful in today's industry?
The internal traits necessary for a VFX producer are attributable to any other creative role. Be kind. Be open to learning new things. Step back and approach problems from a non-traditional way, or go big and ask the questions that seem too crazy to suggest. Doing so may arouse new ideas, get people thinking in a new direction, and helps to solve the problem.
From a more external standpoint, it's important to remember that filmmaking is a collaborative process and that it works in both directions. Treating vendors like machines only present to execute a production's creative mandate will produce only hostility and shoddy work. So, be open to vendors' ideas and include them in the creative process.
And finally, when it comes down to it, don't drive a vendor out of business to save a few dollars. When the next year rolls around the studios won't remember you saved them $50k for beating up a small vendor, but all those employees will remember if you caused them to lose their paycheck.
Have you ever experienced something as disruptive to the industry as COVID?
I don't think the modern world has seen anything of this far-reaching magnitude in modern times. Thankfully, many vendors were able to adapt to remote work quickly, thanks to the technology and pipelines implemented in response to the globalisation of visual effects. Many vendors I know were able to adapt pipelines into zero client setups for their artists around the world.
What must be considered when setting up a remote workflow?
The obvious things are often the most important: ease of use. Keep things as similar as possible to the usual workflows, but accessed from home. If workflows are slow and cumbersome, everyone will become quickly frustrated and unproductive. Make sure your artists can access and produce work in as familiar a way as possible.
Communication tech is also essential. I use Slack when I'm producing or supervising to keep the team on the same page and to keep them from feeling isolated. I also make considerable use of cineSync, of course!
Do you think the industry will emerge from COVID-19 a different beast?
The pandemic will open a lot of eyes to the possibilities of remote work on the production side, and possibly some remote work for artists at the vendors. Production doesn't come to a halt just because people are remote and out of the office, after all. In past weeks I've seen editors performing remote reviews with directors, studios developing projects with no one in the office and VFX vendors working remote from the client.
In many ways, this has been going on for many years but on a smaller scale. Entire facilities working from home adds additional work for vendor management, but it's unlikely the client will see a hugely negative impact.
Eventually, I think we'll find an equilibrium between the new and the standard. Many will return to the office environment, but we'll see more people working from home full-time or part-time. How people work depends on the individual and their preference. If working from home suits an employee, studios will be more open to supporting that approach.
Overall, we're more prepared, in terms of technology, workflows, and culture, to dive back into a fully remote model, or scale back whenever the worldwide situation requires it. We're more ready to tackle these situations as they occur.
Connect your remote teams
Learn how cineSync, ftrack Review, and ftrack Studio can keep your team connected, even when they can't be in the same room.
Going remote with ftrack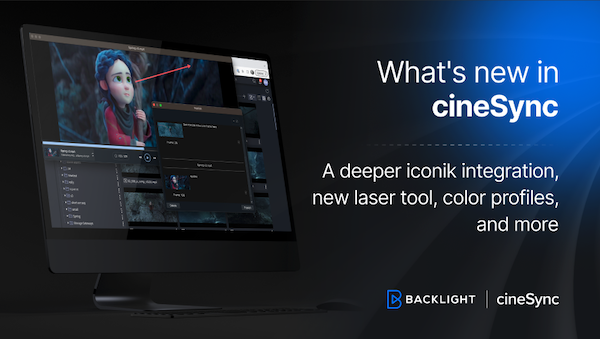 cineSync's latest update brings flexibility and precision to your cineSync experience, making it easier to connect your review sessions with media management and storage in iconik, introducing color profiles to…