For this latest ftrack Review update we've improved workflow and annotations, added easy URLs to invite collaborators, and redesigned the user interface for increased accessibility.
You will see these updates reflected in the platform from today onward. You'll notice that, as a result of these changes, some things have moved around a little in the ftrack Review interface. You will still have access to everything you did before–the changes just make everything that little bit easier.
These improvements are just the first stage in a series of planned updates based on customer feedback—if there's an ftrack Review update you've requested that isn't reflected below, we will be adding it soon!
URL review invitations – invite guests by sharing a link.
Streamlined user experience – fewer steps when creating projects and reviews.
Upload and import improvements – upload media from directly inside a review.
An intuitive vertical playlist – easy media management from inside reviews.
Improved annotations – better performance for more detailed feedback.
Scroll down to see these features in action.
Simplified URL invitations
Copy a unique review link with one click and share it with an invitee! You can paste the link in IMs, calendar invites, Slack messages, or wherever else you wish. Sending a URL link is the simplest and quickest way to join a review. You can also add a passphrase to the review, so only those with the access code will be able to enter and comment on media after following the link. (You can still invite collaborators via email, should you wish to do so.)
Shareable review URLs are also available in ftrack Studio 4.6.8 for external client reviews, making it easy for invitees without an account to jump in.
Upload and import from inside a review
Upload or import media from directly within a review session. You can upload multiple files at once—with progress indicators and the ability to cancel uploads if needed—or import assets from your existing library of previously uploaded media. Overall, it's super easy to update your review at any time.
An intuitive vertical playlist
ftrack Review's vertical playlist is available from the review session's bottom-right corner. The vertical playlist displays all media with full file names and allows media reordering via an easy drag-and-drop interface. You can also delete unnecessary files from within the playlist. The vertical playlist complements the existing horizontal playlist, so you can still use and manage your media files from there.
Expect more development on the vertical playlist in the coming months!
Streamlined user experience
ftrack Review's project and review pages are super accessible. Projects and reviews can be created with just a few clicks, getting you into the review almost immediately so you can add your comments and feedback. You can also easily jump into existing projects and reviews with a single click.
Improved annotation tools
ftrack Review's annotation tools are faster, more precise, and more responsive than ever before! With these updated tools it's easier than ever to sketch concepts and accurately communicate visual ideas.
If you have any questions about the updates you can check out our updated quick start guide, or feel free to contact us at [email protected] at any time. You can read the full list of updates via the release notes.
As mentioned, this is just the first of an exciting wave of features coming to ftrack Review, so be sure to keep your eyes peeled for more ways to simplify your review sessions and make them more effective.
– The ftrack team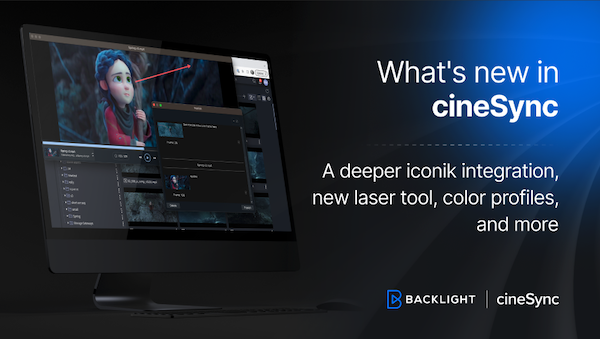 cineSync's latest update brings flexibility and precision to your cineSync experience, making it easier to connect your review sessions with media management and storage in iconik, introducing color profiles to…