Boulder Media is one of Ireland's largest animation studios: a powerhouse that produces BAFTA-, IFTA-, and Emmy-award winning projects for Cartoon Network, Disney, the BBC and eOne. Working here is an animator's dream. But what does it take to achieve such success? Boulder's Animation Lead Mitchel Wilmot and Compositing Lead Nadia Cardoso are here to tell us.
"Traditional drawing skills are super important," begins Mitchel. "The best animators I've worked with always draw, even if it's just doodles or rough sketches . Even though we animate digital rigs, drawing still imparts invaluable skills, whether that's problem-solving, figuring out anatomy, or sketching in movement. And this goes for leads and supervisors as much as it does for the animators themselves! As a side note, I would state that you can always use reference when sketching—don't feel like you need to draw everything off the top of your head. Using reference when drawing doesn't mean you're a bad artist—indeed, it's often the best approach."
2. Always communicate with your team
"Get your personality out there, talk with people, and get to know your team—it always pays off," says Nadia. "In animation, there are usually many daily deliveries and deadlines. We regularly check in with other team members and have meetings before and after large projects to ensure everyone is on the same page and working toward the same goals.
"We also use ftrack for communication," she continues. "Before ftrack, we used spreadsheets, which meant I didn't have any easy way to discuss a frame in a retake meeting. Now I can pull up the frame, draw on the part that needs changing, and type notes for the artist directly in ftrack, explaining what we need to do. Communicating in this way makes sure no one is left behind and that there is an easily accessible database of information, which is absolutely necessary in animation. After all, you won't reach the finish line in time if you don't work as a team."
3. …and always communicate with other departments!
Effective communication is all the more powerful when it extends across departments. "You can save so much time by reducing silos and asking other departments for help," says Mitchel. "For example, when we've got a new character on a show, our riggers ask the animation department to test their rig as early as possible and make sure it works—any feedback on improving the rig saves time in the long run. Usually, once animation receives the rig, everyone is delighted, and notes are rarely necessary. Rigging/animation is just one example, but all departments can benefit from discussing work, sharing early ideas, and aligning on what they want to achieve.
"ftrack Studio helps with this cross-department communication—it connects all of our departments and makes sure everyone stays in sync."
4. If you're a lead, prize trust over micromanagement
Trust is fundamental to Boulder's success—especially now, given the entire studio is working from home. "Early in my career as an animator, I had a lead who was constantly on my back about tiny retakes," remembers Mitchel. "I got swamped with work as I second-guessed myself and became very stressed. I learned from the experience that micromanagement doesn't work—freedom and trust are far more effective in gaining good results from your team. After all, you can't hide bad work in animation—the results are up on the screen for all to see. No one wants bad work on show; they want to do good stuff! So believe in them and guide them in the right direction, rather than stress them out by trying to fix every little thing."
Nadia agrees that quality issues don't always stem from artists: "If someone is making frequent mistakes, remember the problem may not be with them—it could very well be your approach. Try to stay calm and refrain from putting too much pressure on your artists. Speak with them instead, learn how they like to work, find out what it is they need from you to be more successful—and then give them your trust."
5. Explore time-saving scripts
"A few scripts we use at Boulder save us a huge amount of time," says Mitchel. "One script is Toon Boom Harmony's Pose Copier. Pose Copier lets you create templates of different movements, like types of mouth movement. The animator gains immediate access to all the various mouths they can use for a character—this saves time and creates consistency in character performance!
"We also use Toon Boom Harmony's Master Controllers. Master Controllers provide near full-3D control of your character, as you can move many parameters at once—this is especially useful on intricate rigs."
"Fostering young talent is crucial for both the success of your studio and the industry at large," says Mitchel. "Nurturing young talent and helping the next generation get a foot in the door helps the industry grow while exploring fresh, new ideas.
"At Boulder, we regularly take on new talent straight from college for work experience. After a few weeks, we decide whether to take them on board permanently—and the vast majority always impress. Employing a mix of experience levels in your team will create balance and generate new ideas. Veterans always have quick and experience-based problem-solving solutions; newcomers often have fresh ideas we may not have thought of before."
7. Avoid burnout—both across your studio and on a personal level
"Many of us have been guilty of breaking this rule in the past," says Nadia. "Animators have more job security than ever as everyone is watching TV in lockdown, but this also means a lot of animators are at risk of feeling like they owe more hours to the job. Work-life balance should always be a critical consideration."
"Burning out is never acceptable, so putting policies in place to avoid such exhaustion is critical if you're running an animation studio." agrees Mitchel. "We're cognizant of this at Boulder: we prize our animators' health above all else and ensure no one is ever in a situation where they're doing daily overtime."
"When I first started at Boulder, I sat by a more experienced animator and asked him questions every day to soak up knowledge," says Mitchel. "I must have bugged him non-stop for about two months—but I'm glad I did it. (And I'm sure he didn't mind, really!) A big part of animation is problem solving and flexibility; these skills come through learning new solutions, processes, and tools. And as animation continues evolving, you must learn to keep up!"
Mitchel suggests one beneficial way to upskill is by learning about the pipeline processes surrounding your department. "Working in 2D? Learn 3D. If you're a rigger, learn about animation. You can do a better, more efficient job by understanding what's come before your work and what's happening after. Boulder offers a lot of internal courses, so I recently put myself down for a rigging class.
"You can never know too much," he continues. "Learning might even change your whole career: we had an animator who loved drawing; she's now a brilliant storyboard artist!"
Watch Chris Lynch, Boulder Media Pipeline Manager, discuss going remote with Cloth Cat Animation, Fourth Wall, Blue Zoo, and Bomper.
9. Be ready to take the lead
Work hard and progress through the ranks, and there comes a time when receiving a promotion means relinquishing creative duties to manage a team. Mitchel says animator should make sure they're ready for such a move when it comes around: "I got to a stage in my career where I was ready to move into a lead position. Sometimes, however, animators jump the gun too quickly—it can get them down because they got into animation because they loved working on characters! Suddenly they're managing a team rather than working on key scenes themselves. I would say that animators should think hard if this is what they want from their next step. Moving into a lead position is a big move; you have to be sure you want it."
For Nadia—who moved from her native Portugal to Dublin ten years ago to work at Boulder—the most important, all-encompassing rule for working in animation is to have fun, even when it doesn't feel easy.
"Having fun can be challenging if you feel homesick or if you have a deadline coming up," she says. "Remember you're not alone, and you can always talk with someone if you feel stressed. In the end, it's all worth it. When I first started at Boulder, I never believed I would work on a project like DC Superhero Girls, which was developed by The Powerpuff Girls' Lauren Faust! Working for a show created by Lauren was a dream come true—and absolutely, undeniably fun!"
Boost your animation projects
Try ftrack Studio and discover how it can increase the efficiency of your next animation production.
I'd like to try ftrack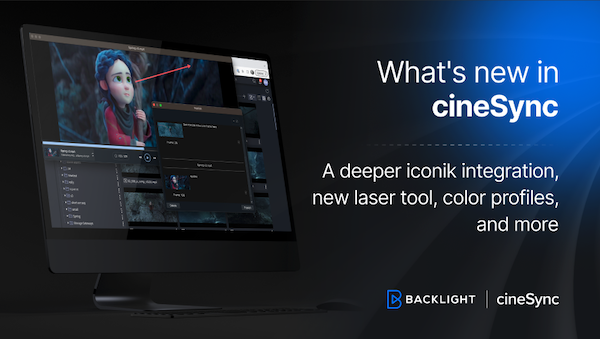 cineSync's latest update brings flexibility and precision to your cineSync experience, making it easier to connect your review sessions with media management and storage in iconik, introducing color profiles to…