What is the role of a VFX producer in post-production? Below, we cover the ins and outs of working as a VFX producer, how you can set yourself up for a role in the industry, and how ftrack Studio can help.
In a typical short-form production or visual effects-heavy feature film, a client will hire a visual effects studio to take on anything from a handful of shots to hundreds or even thousands. This post-production period is a critical yet time-intensive period of a project. Despite the "post" label, the work involved in visual effects can begin during pre-production (especially in today's age of virtual production) right through the shoot itself.
The role of a VFX producer in the post-production process is to guide this work through the studio pipeline. The position is varied and involves many aspects. Key characteristics of a successful VFX producer include a business-savvy mindset, strong leadership skills, the ability to multitask, and creative insight. Additionally, a solid foundation in technical knowledge can help a VFX producer play an influential role with key stakeholders throughout a project.
Below we'll dive further into the various aspects of what it takes to become a VFX producer and the steps you can take to become one. Here's what we'll cover:
The roles in a production management team
To understand the responsibilities within a VFX production team, we'll first dive into the four prominent roles in the department. Each role is connected to the others and provides a direct route for progression.
VFX Coordinator
The eyes and ears of any project. A coordinator may have started as a runner or in an admin role. Day-to-day tasks include checking shot schedules, notifying artists of any changes, and dealing with a production's administrative side. Coordinators effectively run the studio floor and are the main point of contact for all artists. They feed information on resource availability directly to the VFX Production Manager to ramp up or down on a show.
VFX Production Manager
Responsible for overseeing an entire show. They work closely with heads of departments and VFX coordinators to ensure efficient use of resources. A VFX production manager might typically have worked as a VFX coordinator for several years and will be attuned to their responsibilities. The VFX production manager role is growing increasingly popular due to the volume of today's large-scale, sequence-heavy productions.
VFX Producer
A client-facing role that bridges studio and client. VFX producers are involved in the bidding process (although depending on a project's scale, bidding could be a dedicated position), budgeting, establishing person-hours on a project, and scheduling each production phase to meet handover deadlines. VFX producers will regularly check in with the VFX Coordinator and Production Manager but not with artists on an individual level.
Executive Producer
Executive producers act in a business development capacity and seek to win projects for studio delivery. Executive producers are typically senior figures within the studio—they will have established long-lasting relationships with clients over the years. It's often the case that an executive producer is a studio co-owner. As such, executive producers tend to get more involved in the sales and marketing aspects of the business.
What does a VFX producer do?
A VFX producer's most important responsibility is to ensure their studio completes projects on time and to a high standard. With the help of production managers and coordinators, the VFX producer will strive to complete the project by the set deadline and within budget while managing the available resources.
Performing a VFX producer's duties is no mean feat. Watch any movie with VFX, and you'll see a list of credits toward the end where creatives receive their deserved praise. (If it's a Marvel movie, the list can scroll for some time!) Often, what you see is just a fraction of the number of people who worked on the production. The job of the VFX producer is to manage all of these artists and their respective work/assets; that's a big task.
To complicate matters, plans rarely work out linearly. Given the complexities and often unpredictable nature of the real world, large-scale projects can't be tackled via the waterfall approach of pre-production > production > post-production; there's a lot of overlap between each stage, which necessitates the ability to react and make rapid changes. Thankfully, this is where agile workflows can help save the day, especially when delivering hundreds of shots for a project. For this reason, VFX producers employ production tracking tools to track artist availability, tasks, assets, and versions and manage the incredible complexity of projects with thousands of moving pieces.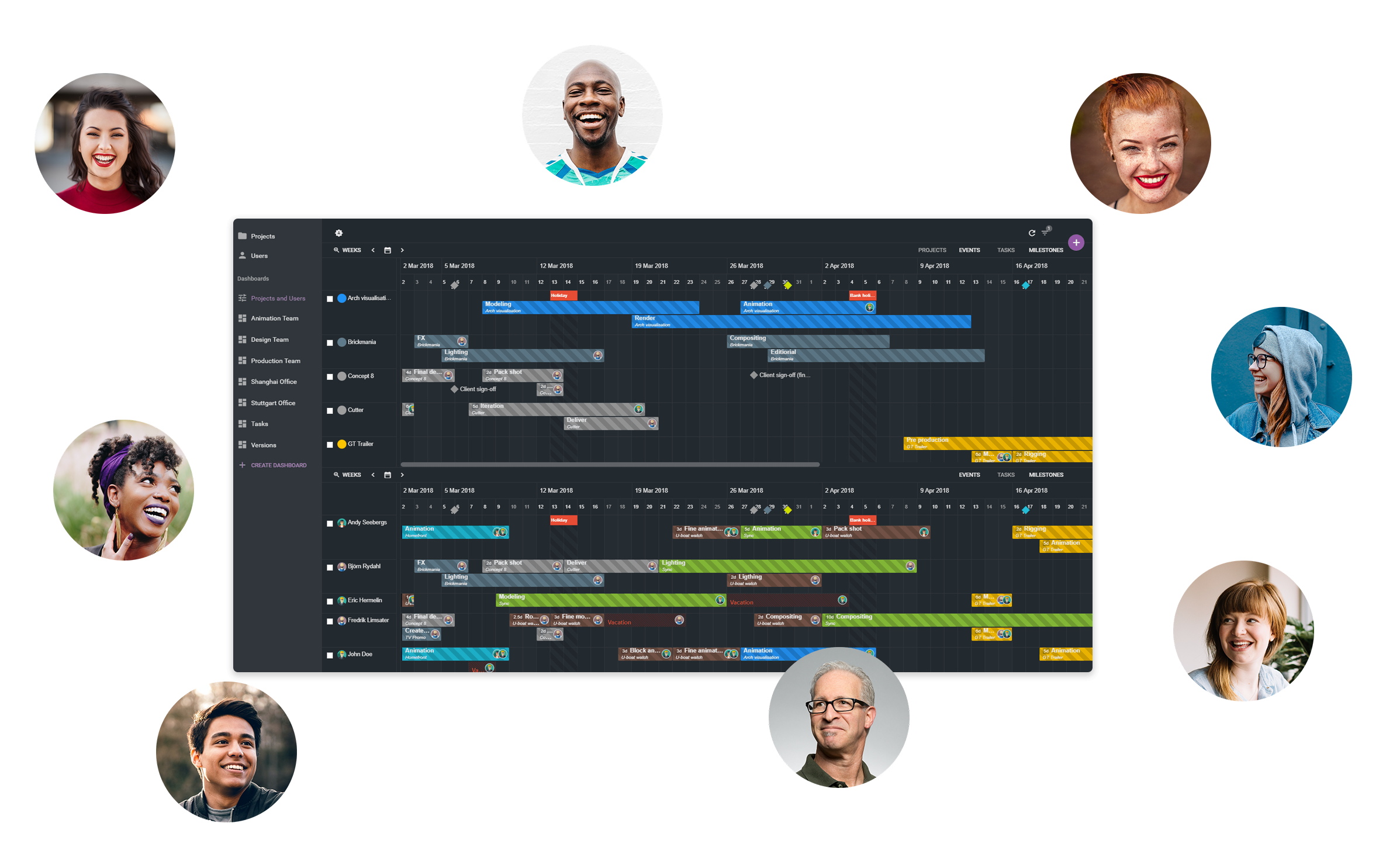 What to expect as a VFX producer
A VFX producer must select the tools, resources, and environment to help teams prosper and facilitate project completion on time and within budget. A VFX producer must exercise tight control over these aspects of a project to ensure everyone is working to the best of their availability and has the time they need to produce great work. VFX producers must exhibit sound judgment and decision-making skills in a high-pressure environment. Sometimes they must decipher production priorities with swift precision to ensure project progress never ceases, even when challenges rear up mid-production.
The role of a VFX producer is by and large about people, however, and that means solid people management skills are a must. Creative studios are bursting with personalities and egos. As a result, VFX producers will be called upon to make decisions that adhere to the budget and schedule but impact the people delivering the work. For this reason, negotiation and mediation skills are vital when steering projects in the right direction while keeping everyone happy.
VFX producers often work under a great deal of pressure to align a smooth production process with the business side of the studio, and each department will look towards the producer for their expertise and judgment. All of this might make the role sound stressful, but chat to any VFX producer, and you'll find the job is often incredibly rewarding.
Budgeting and scheduling responsibilities
In the VFX business, time is money. Therefore, drafting accurate time estimates alongside detailed budgets based on a studio's project involvement is a crucial part of a VFX producer's role.
A VFX producer will continually monitor budget throughout a project and make changes to production as and when necessary. And changes to initial plans will frequently occur, e.g., requests for additional shots. As a result, VFX producers must adapt quickly, adjust budgets accordingly, and schedule team time to seamlessly absorb changes into the production plan. A flexible and pragmatic mindset is required to react to such changes and make sure budgets and schedules stay on track.
The essential skills that make a good VFX producer
How to become a VFX producer
A VFX producer plays an essential role in any VFX studio—they act as the connective tissue between creative departments and bridge the gap between studio and client to create high-quality content that aligns with the director's vision.
Production tracking plays a crucial role in almost everything a VFX producer does. And with the sheer volume of media generated by today's streaming and on-demand services, organization and the ability to empower quick turnaround are necessities. As such, learning to use a platform to communicate with different departments, track time spent on tasks, access the latest assets, provide feedback, and work towards milestones is a necessity in today's complex VFX projects.
As such, there's no better time for students to learn the intricacies of managing a project from start to finish than working on a collaborative school project.
Learning how to become a VFX producer isn't taught at many schools, and there is no straightforward route. A good approach is to take a degree in animation/CG/VFX; this will be a solid platform to build upon as you seek a role as a production coordinator. Picking up production tracking know-how while studying for a degree can also help career prospects and differentiate your resume from other graduates when landing that first gig.
We're pleased to announce the successful completion of ftrack's independent SOC 2 audit, reaffirming the commitment, consideration, and care we continue to give to the security of your projects. For…