We've redesigned and reimagined ftrack Review to make your review sessions more intuitive, more enjoyable, and better looking! Dive into ftrack Review today to explore a whole new interface, faster and more responsive reviews, and a more free-flowing user experience.
The best feedback comes when those involved can focus completely on the media at hand rather than the tools they're using to collaborate. ftrack Review's latest update delivers a significant reimagining of the platform that makes process disappear behind progress via even more free-flowing, collaborative review.
In ftrack Review's latest update, you can enjoy a newly updated, modern user interface designed for highly intuitive, user-friendly review sessions, alongside a greater focus on efficiency. Browser-based review in ftrack Review now supports more streamlined, fast, and responsive reviews with fewer clicks, even when reviewing large projects with lots of guests and notes. The update also offers new features for the power user, including tools to manage reviews from within the player interface.
ftrack Review's reimagined workflows are available to try today.
Watch a guided tour of ftrack Review's new features ↓
"We've listened to our customers' feedback over the months and have incorporated it into a new ftrack Review update that makes for a simpler and more responsive media review experience," says Rory McGregor, Product Manager of ftrack Review. "Users can now benefit from everything they enjoyed before—including centralized feedback cycles and interactive real-time review—but with the added advantage of a much more effortless workflow. We're excited to see what our users think as we build this next step toward our multi-faceted media review ecosystem at ftrack."
"The latest update to ftrack Review shows ftrack has listened to our needs and quickly implemented much-valued new features," says John Valentine, ftrack/Workflow Coordinator at Blue Zoo Animation Studio. "With a new, user-friendly UI, an intuitive design layout, and more emphasis on what's being reviewed, it has never been easier for ourselves or our clients to view, comment and review material, we at Blue Zoo are excited by what we've seen and what's coming next."
Scroll down to see what you can expect from the new and improved ftrack Review.
An all-new interface designed around the work
Give your media pride of place via a larger media window.
ftrack's new colors introduce more clarity and a more modern look.
Manage your feedback via the redesigned feedback bar—add feedback, view asset information, manage your playlist, share reviews, and more.
Access full-width review sessions—minimize the sidebar to see more detail.
Expand notes to see all annotations, saved frames, and attachments.
View feedback per frame to only see frames with annotations, or as a list to see a scrolling list of all feedback.
Easy access to the approval buttons via the Toolbar.
See the most recent feedback at a glance: colored timeline markers reveal how recently feedback was posted.
An enhanced review experience
Work with speed—enjoy much more responsive notes and faster session loading, even when working with a ton of notes.
Annotate with confidence—your drawings and sketches are now saved automatically to a frame without needing to hit post.
Create context – "Grab" annotated frames to capture their contents and add them to a note.
Just dive in and draw—drawing tools are enabled by default.
Simpler sync—Guests now receive a prompt to join a synced session when it starts.
See annotations over multiple frames with ghosting.
Access compare mode from the toolbar to see what works and what doesn't.
Flip and flop! Invert images and video and compare versions.
Resolution selection, an updated timecode counter, and new volume control options.
This is just the start of a new raft of updates to ftrack Review. We will add many more features to the platform following this initial update, such as a new Presentation Mode that will pull all attendees into a synced session at the press of a button, further improvements to notifications and a daily email summary of feedback. We will also implement the new ftrack UI and other features into ftrack Studio's media review interface in the near future. We'll share more news about these updates soon!
We hope you enjoy exploring ftrack Review's new features. If you have any feedback, please let us know at [email protected]. We'd love to hear what you think of the new interface and how we could improve ftrack Review even further in the future!
Try the new ftrack Review today!
Just follow the link below to sign up and experience ftrack Review's new features.
I'd like to try ftrack Review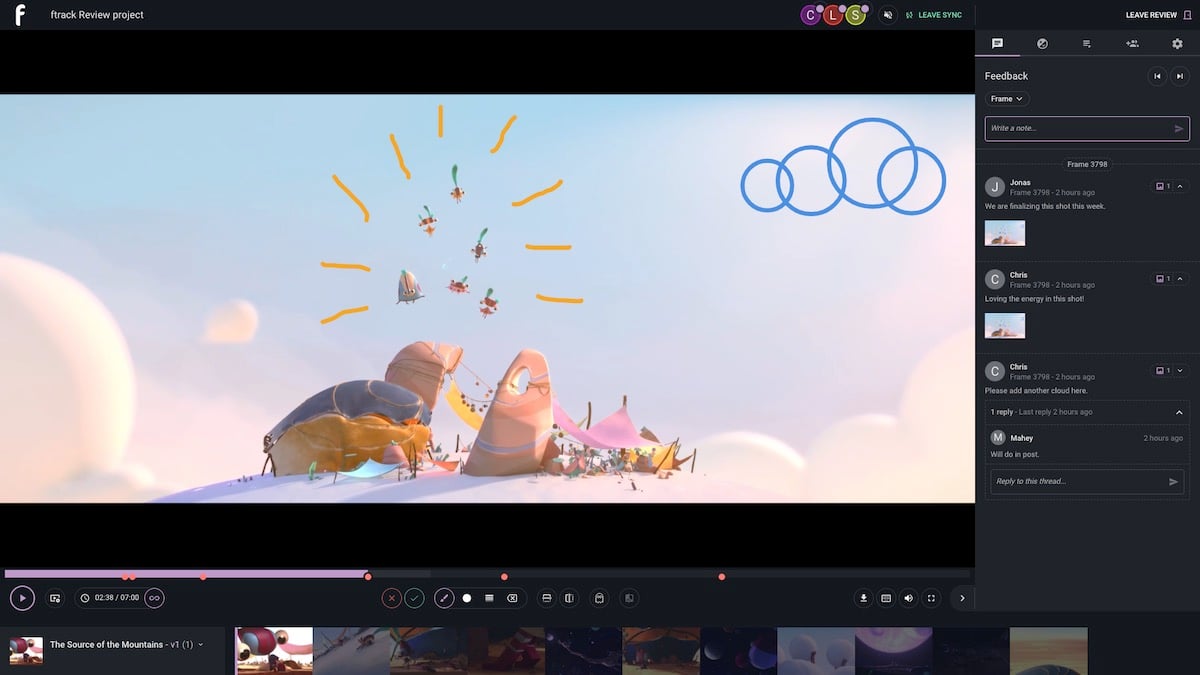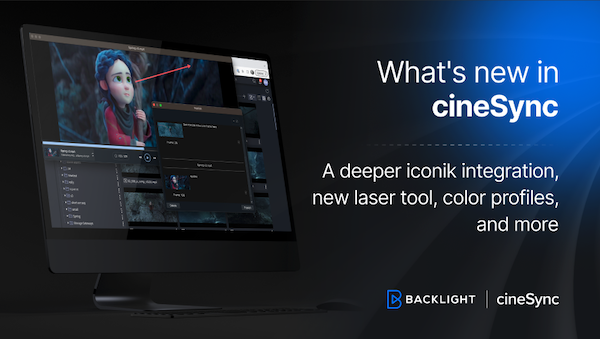 cineSync's latest update brings flexibility and precision to your cineSync experience, making it easier to connect your review sessions with media management and storage in iconik, introducing color profiles to…