Presentation Mode is now available in ftrack Review for Review Pro accounts! Turn your synced participants into passive observers – get into sync fast, gain full control, and ensure a smooth session.
ftrack Review allows for interactive review of video, stills, and PDFs, with two or more individuals able to watch and interact with the same content simultaneously. However, synchronized reviews can get a little confusing if everyone is trying to control the media at the same time or if your guests don't know how to turn on sync.
Presentation Mode deftly overcomes these issues by giving the review session owner complete control over the review. Turning on Presentation Mode automatically pulls all session participants into sync (including those who join after Presentation Mode has been enabled); however, everyone but the review owner will be passive observers only, rather than active participants. Participants can see the session owner controlling the review but will have no ability to control the interface themselves. (Although they can still change volume, go full screen, and approve/require changes.)
Presentation Mode is available for Review Pro users today.
Presentation Mode makes ftrack Review simple, especially for the guests in a review, and eliminates friction and unpredictability in reviews with lots of guests. You gain total control and the confidence that nothing might "go wrong" during a review!
How Presentation Mode makes reviews simple:
When reviewing with larger groups, there's a higher likelihood that someone will press something that could disrupt the review. Presentation Mode eliminates this possibility – no one can unexpectedly/accidentally interrupt the flow!
If you're working with guests unfamiliar with ftrack Review, you can use Presentation Mode to control all aspects of the session without explaining to others how to use the software or how to join sync. With Presentation Mode, your guests don't need to do anything to make ftrack Review work – it's all done for them.
During highly sensitive review sessions, like pitches, it's essential all material is presented in the correct order and that no one can "skip ahead," meaning complete control over the whole session is required. Presentation Mode ensures everything runs smoothly.
When Presentation Mode is enabled, the session participant's controls are replaced with a message stating "(Session Owner) is currently presenting." When Presentation Mode is disabled, all participants remain in sync and can interact normally. At this point, they can also choose to leave sync.
When using Presentation Mode, the review owner can also mute all audio playback for participants (if review audio is not required or desired). "Mute All" avoids those noisy moments when audio simultaneously plays on everyone's machine!
Presentation Mode is available in ftrack Review for Review Pro users today.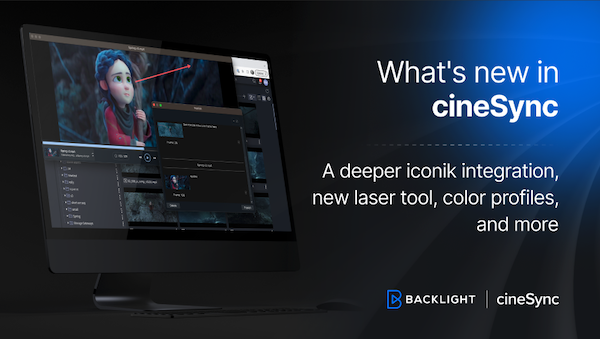 cineSync's latest update brings flexibility and precision to your cineSync experience, making it easier to connect your review sessions with media management and storage in iconik, introducing color profiles to…