Two weeks ago, our team here at Backlight announced the organizational evolution of our company to best serve our customers along their content creation and distribution journey.  We are now two divisions: Backlight Streaming and Backlight Creative
Backlight Streaming delivers leading cloud-native solutions for OTT, monetization and hyper-distribution from the Zype and Wildmoka product lines, while Backlight Creative, provides secure and efficient media management, production tracking and creative collaboration through our iconik, ftrack and Celtx product lines. I welcome the opportunity to steward the next phase of growth and excellence for Backlight Creative building on the momentum and trust established by Fredrik, Mark and Parham and their teams – all of whom have vital roles in our new structure.
When Backlight launched, Fredrik Limsater, ftrack's founding CEO and now Backlight Creative's Chief Customer Officer summarized the heart of our company's vision:
"The power of storytelling starts with empowering content owners and producers, and Backlight is committed to supporting our creative vision as we deliver technology that enables inspiration, collaboration, and project delivery."

Fredrik Limsater, Chief Customer Officer, Backlight Creative
It was a sentiment shared by Celtx's Mark Kennedy who wrote on the Celtx blog:
"Celtx is driven to help media creators and our customers succeed and make the best media possible. Through Backlight's industry leadership, expertise, and resources, Celtx can further invest, innovate, and bring to bear even more value for cloud-based media production solutions for our customers and creators around the world."

‍ Mark Kennedy, GM, Celtx, Backlight Creative
Parham Azimi, iconik's founder, added, in a post of his own:
"Iconik users will soon see that Backlight's support of iconik means greater support and responsiveness and more features packed into every update. We have already taken a huge step towards this by investing heavily in expanding iconik's teams for development, customer success, and sales and marketing."

‍Parham Azimi, Chief Strategy Officer, Backlight Creative
Together, these words paint a picture of a team committed to empowering content creators and excited to accelerate the value their customers can recognize through technology. Every founding team responsible for developing our products at ftrack, Celtx, and iconik, as well as our Backlight Streaming products, Zype and Wildmoka, shares a passion for innovation that delivers fluid collaboration around media and disruptive ways to solve operational challenges.
When Backlight announced its launch in April of 2022, there was a promise from each founder that the pace of innovation would increase with the new resources that were available. I've experienced the excitement as great, new releases for ftrack Review, cineSync (5.0!), iconik (Shield and Agent!), Celtx, and Celtx Gem have been shipped by our teams, month after month, winning awards along the way. A big part of this rapid pace of delivery is having the continued deep backing to invest in hiring amazing talent in our industry.
I'm blown away by our customers' commitment to their craft and how they push the boundaries of media experiences and I see that commitment and curiosity reflected in the Backlight Creative team members' as they work tirelessly to serve those customers on the leading edge.
Some of our Backlight team at our 2023 Go-to-market Kickoff
The source of our drive is clear. We are a team that identifies and empathizes with creators because creativity is a hallmark of our own lives.  I've come to know our people through their passion for producing music, cooking food, writing, photography, film, TV and technology. That creative spark makes all the difference, and has driven the fusion of three teams into Backlight Creative.  I see it present in venues like our lively team discussions as we address customer needs, our Slack channels, and our "Tuesday Team" all-hands meetings and I believe our customers see it too.
Our love for the industries we serve, and the admiration we share for our customers make it easy for us to wake up and come to work together to make something that will have a powerful impact on video industries the world over.
I'm honored to work alongside so many visionaries as we continue to back creators, collaborators and everything video.
Mike Green
CEO of Backlight Creative
Mike Green is the Divisional CEO of Backlight Creative. He has 20+ years of experience in driving growth and success in media and tech firms. Previously, Mike served as Backlight's CGO and held executive positions at Brightcove, Comcast, Collecta, and Kaboose.
We're pleased to announce the successful completion of ftrack's independent SOC 2 audit, reaffirming the…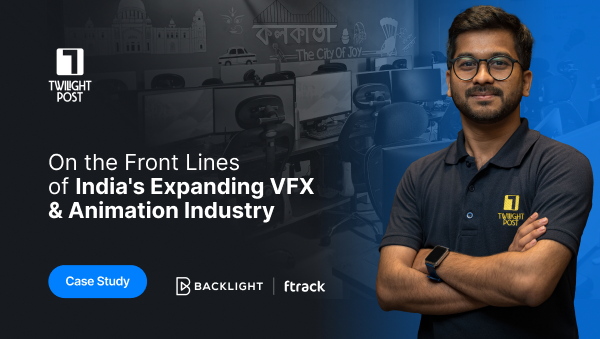 As the world sits up and takes notice of cinematic marvels like K.G.F: Chapter 2…