Learn how Bomper Studio manages its artists' workflows. With production management and task tracking in ftrack Studio, Bomper's artists can stay highly organized and know what they need to do next – which means more time spent getting creative.
Bomper Studio creates a lot, from motion graphics and 3D character animation to video game cinematics, music videos, and short-form animation. Delivering work to customers like the Foo Fighters, Levi's, Bose, and Volvo requires everyone at Bomper to stay in the loop and to work methodically to simplify tedious production tasks.
As such, the company relies on ftrack Studio to keep its productions running smoothly. With production tracking and media review in place, the studio's producers can manage multiple simultaneous projects and control the flow of its daily workload.
This is particularly important for the studio's artists. It's the artists who work on the front lines of a project, turning client briefs into beautiful work. By logging into ftrack Studio daily, Bomper's artists, animators, lighters – creatives of all types – can immediately see their next task and what's needed, with all notes, feedback, and historical data on the task.
And that means less admin; more artistry.
Discover how Zach Evans, Lead Artist at Bomper Studio,
tackles his task list with ftrack Studio
How Do You Manage Creative Projects for World-Class Customers?
Carefully and Thoroughly.
In the video above, Zach shares how ftrack empowers him and his team to see the progress of each team member on every particular project, a godsend when multiple projects are in simultaneous production. For Zach, this extra layer of structure and being able to visualize what tasks have been completed keeps the studio efficiently hitting deadlines. Zach estimates that ftrack saves multiple hours each week, so much so that using the software feels like having an extra project manager on the team to handle admin tasks across the studio. 
For Zach, ftrack Studio's ability to save valuable time and energy that's usually spent on tedious admin means he and his team can focus more on the actual work of being creative – that is, the thing they are hired for. 
Zach Evans - Lead Artist at Bomper Studios
If you would like to learn more about how ftrack Studio can help your artists to focus less on admin and more time on getting creative, then get in touch!
Contact us
We're pleased to announce the successful completion of ftrack's independent SOC 2 audit, reaffirming the…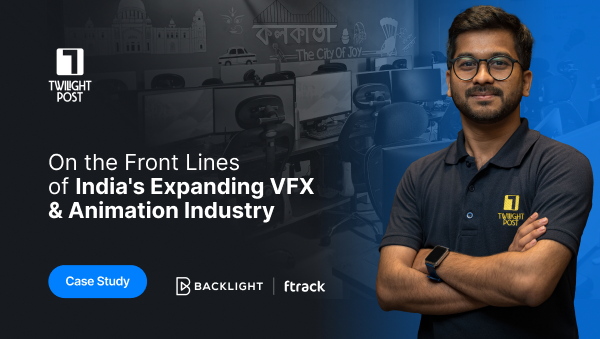 As the world sits up and takes notice of cinematic marvels like K.G.F: Chapter 2…