Over the past decade,
Compagnie Générale des Effets Visuels
(CGEV) has established a rock-solid reputation with work on feature films, series, and a surge of content for Netflix, Amazon, and Disney+. We spoke with the team at CGEV to discover how ftrack has helped them every step of the way.
Compagnie Générale des Effets Visuels (CGEV) is a French animation and visual effects studio founded in 2012 by former employees of DURAN-DUBOI. The studio is prolific, to say the least, and has consistently delivered high-quality visual effects for titles such as Les Combattantes, Oussekine, Simone, le voyage du siècle (Simone: Woman of the Century), and Paris Police 1905.
Knowing it needed a central tool to help manage assets and track productions, CGEV adopted ftrack Studio during its first year in business. It didn't take long for ftrack to become the hub of the company's production pipeline.
Today, CGEV uses ftrack Studio as their central production asset manager. CGEV relies on ftrack Studio to:
Centralize asset management

Automate processes for artists and free up time for creative work

Manage versions and delivery

Publish, track, and evaluate nearly everything they produce
Images above: Screenshots from Les Combattantes, Oussekine, Simone, le voyage du siècle (Simone: Woman of the Century), and Paris Police 1905.
A Rewarding Decade with ftrack Studio
For over a decade, CGEV Studio has relied on ftrack Studio as the backbone of its production pipeline. Since the platform's inception, CGEV has delivered the following through ftrack Studio:
725 projects

170,000 tasks

70,000 shots across 18,000 sequences

More than 600,000 versions published

200,000 notes
How does the studio keep up the pace?
Pierre Billet
Chief Technology Officer at CGEV
French Media Production Balances Creativity and Efficiency
Pierre Billet, Chief Technology Officer at CGEV, says that the studio's impressive productivity is possible thanks to the company's unrelenting focus on efficiency – something that comes with the territory in France. "France is very dedicated to cinema," says Pierre. "There is a portion of public money dedicated to the arts, which enables many projects to exist, which is wonderful, but it also means a good amount of those projects come with very tight budgets. To fit into such a market, studios like CGEV must be cautious about how they use resources and budget – and that means meticulous organization around human resources planning, project tracking, and delivering on quality within schedule."
It's not just the small-budget projects that require next-level efficiency. Pierre adds that there are also larger international and platform-produced projects that come with more resources, but such projects require a "premium" pipeline, more quality control, and more hands-on attention. "If you're working on a huge project with more budget," he says, "it still amounts to the same thing: efficiency is paramount."
3 Advantages of Centralizing the Studio pipeline
In order to thrive in this landscape, the CGEV team built a technically and artistically robust pipeline, ensuring it can handle multiple projects simultaneously without compromising quality. CGEV based its pipeline on ftrack Studio, the centralized production management platform that helps track its many projects, manage thousands of assets, and deliver on deadlines.
"We wanted to become increasingly efficient and build a pipeline that could help us absorb lots of projects in parallel," says Pierre. And CGEV has done this successfully. Having a centralized studio pipeline made this possible, but it also delivered three more great benefits for Pierre and his team.
1. Short Time to Value
Pierre chose ftrack Studio over other options because the platform offers simple "out-of-the-box" functionality alongside the flexibility to add features and pipeline integrations as the studio's operations grew. As soon as CGEV was up and running with ftrack Studio, the team experienced a significant improvement in their organizational capacity, and things have only grown from there.
2. Better Tracking of Versions and Reviews
Version lists are a critical aspect of CGEV's workflow. The team relies heavily on ftrack Studio's versions to prepare reviews and deliveries; in fact, most of the studio's timeline and delivery tools use ftrack lists as the preferred input method. With this workflow, CGEV tracks versions across a project to ensure the right work gets to the right teams as it flows through the production pipeline.
3. Enhanced Production Experience with Custom Actions
More recently, CGEV has started developing custom Actions within ftrack to automate a number of tasks that used to require external software or code. "These custom processes have made it easy to build UI ergonomics suited to CGEV's unique projection workflows and simplify how artists work using the platform," says Pierre.
"The ftrack Studio platform has been instrumental in streamlining our workflow and maintaining a competitive edge during production.

Pierre Billet

Chief Technology Officer at CGEV
Would you like to learn more about using ftrack Studio?
Please reach out to our sales team to learn more.
Contact us
We're pleased to announce the successful completion of ftrack's independent SOC 2 audit, reaffirming the…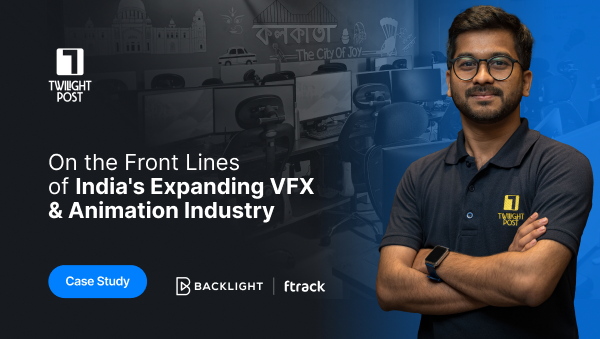 As the world sits up and takes notice of cinematic marvels like K.G.F: Chapter 2…