Content creation and collaboration have become a part of nearly every industry. Scalable and robust project management and production tracking solutions are needed to help companies ensure that their teams can work together, manage tasks, and deliver content on time.
When is the Right Time for a Production Tracking Tool?
As projects become more complex and teams grow, organizations can struggle to manage the rushing avalanche of new tasks, projects, and people. This is where production tracking tools come to the rescue, to dig you out of the chaos and give you a warm cup of peace of mind.
Production tracking solutions are a unique kind of project management solution designed for creative projects like animation, VFX, film. By using a solution designed for the specific challenges of media production, your team will be able to answer key questions such as:
What tasks are assigned to me?

What is the status of the production?

How much of our resources have been allocated?

How can we collaborate more effectively?
If you're planning to introduce your team to a new production tracking tool, it's essential to help them understand how this solution will impact their day-to-day workflow. Here are some key points to consider when onboarding your team:
1. Start with Simple Workflows
Introduce the new solution by focusing on its core features and functions. Avoid overwhelming your team with too much information or advanced features; instead, provide a solid foundation that allows them to explore the software at their own pace. You can always provide training to help your team expand their usage later.
2. Explain How Production Tracking Will Help
Emphasize the benefits of production tracking to your team. Paint a picture of what life will be like with improved collaboration, easy-to-understand, well-defined processes, and centralized project management where they can find any information they need. By understanding the real advantages a tool like this presents, your team will be more likely to endure the learning curve and embrace the new solution.
3. Get Decision-makers Onboard First
Ensure that the main decision-makers are on board with the adoption of your new production tracking software. If they understand the impact it will have on their business, they will be in your corner as you navigate the change that comes with using new solutions. If they are vocal about the benefits, it will help to drive adoption throughout your organization.
4. Test the Solution On a Small Scale First
Before deciding to go all-in with your production tracking solution, allow your team to have the opportunity to test it on a single project or within a specific team. This hands-on experience will help them understand the value of the software and ease any concerns that come with change. If people enjoy the experience, they will also get their colleagues to adopt it into their workflows as well—making the transition that much easier.
5. Define the Goals
Clearly outline the goals you hope to achieve with production tracking and management. This way everyone will know when success has been achieved.
Some goals you could strive for include:
Finish projects faster

Increase efficiency

Better collaboration with colleagues or clients 

Manage your team to maximize productivity

See more real-time data with project dashboards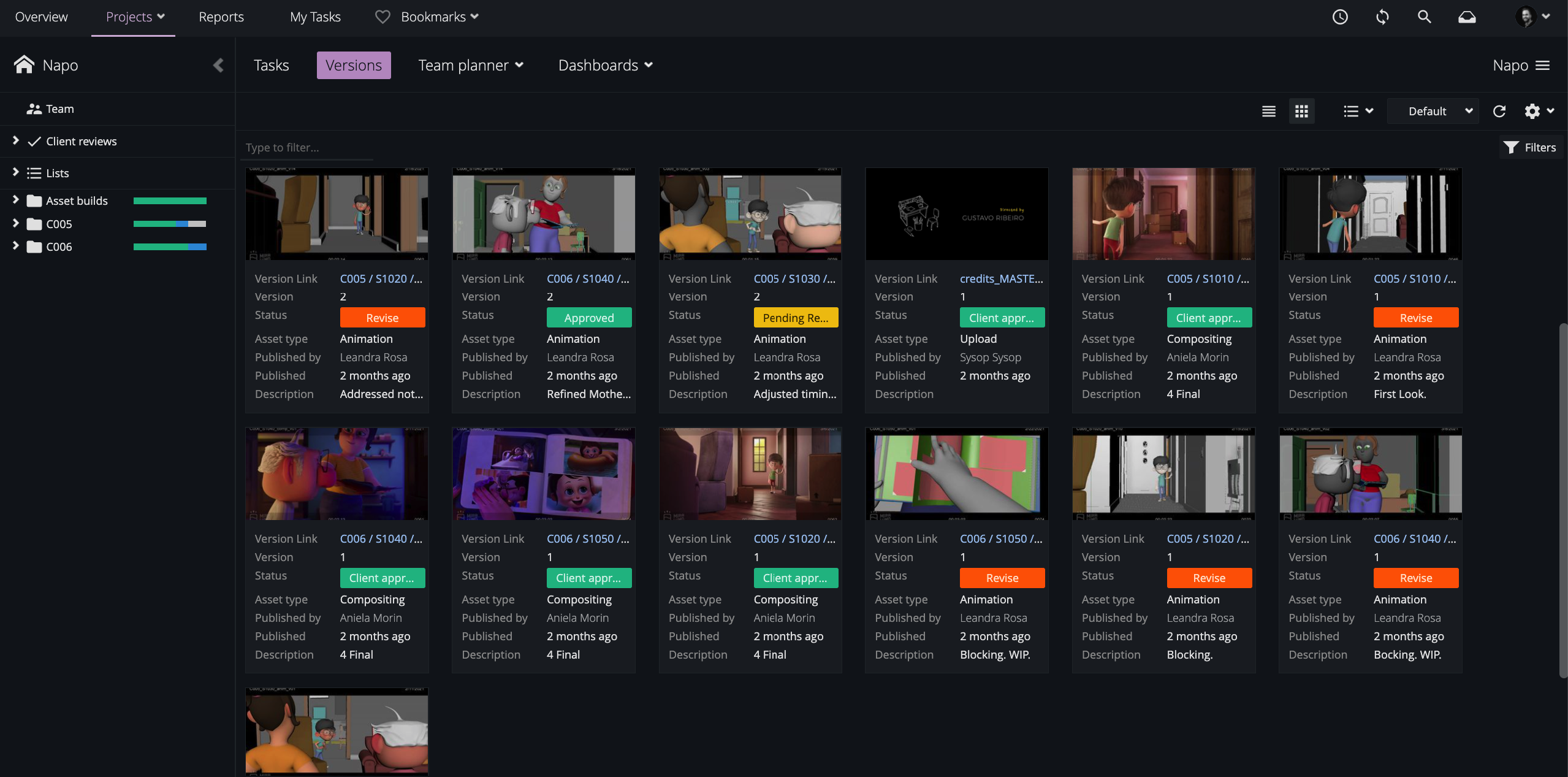 6. Keep the User Experience in Focus
If people don't enjoy using a tool, they may revert back to old solutions or resist the change altogether. Choose a solution that offers an intuitive and user-friendly interface so that your team can quickly learn and use the software in their role. A poorly designed solution will also result in hours of manual onboarding, walking each person through every step of their workflow. 
How easy is it to find and use what you're looking for?

Are there good documentation or tutorials?

Does it feel intuitive or does it require a lot of trial and error?
7. Plan for Integration
Scaling a creation operation with many disconnected solutions is very hard—and counterproductive. Choosing solutions that don't connect with your current tech stack will limit your options for growth in the future. 
Select a project management and production tracking solution that can easily integrate with other existing software to guarantee added value over time and long-term flexibility.
Follow These Steps for Success
In the end, it's not just about the software. It's about the people who use it. Follow these tips to ensure a smooth transition and adoption of ftrack Studio. By following these best practices for adoption, your team will be ready to enjoy all the benefits that come with a production tracking tool.
About ftrack Studio
The Academy Award-winning technology of ftrack Studio is the key to unlocking your team's full potential. It's a comprehensive, end-to-end management platform that simplifies planning, scheduling, and tracking tasks on creative projects. Deliver on deadline with a system that is powerful and user-friendly.