cineSync 5.3 introduces a whole new way to manage your media and share files via the new cineSync x iconik integration. Below, we reveal why combining high-quality, secure media review and collaboration with accessible MAM and file sharing will help companies streamline workflows, maximize revenue, and make clients happy.
cineSync's new integration with iconik's MAM solution:
brings a new level of accessible media asset management and file sharing to cineSync users
extends iconik's media playback functionality to include original, high-resolution content and interactive reviews
streamlines content management workflows
helps improve users' productivity and opens up more time for getting creative
enhances the end-client sign-off experience
The recently unveiled cineSync 5.3 introduces many new features to cineSync 5 with the power to significantly boost your media review workflows. One of the most powerful features is the brand-new integration between cineSync and the media asset management solution iconik, both of which form part of the Backlight suite of solutions for media creatives.
By combining enhanced media management and file sharing with high-quality, high-end media review and collaboration, we're empowering companies in the creative industries with frictionless media management workflows, better-organized projects, and improved client sign-off experiences.
The iconik x cineSync integration is an exciting example of how Backlight's suite of video-first solutions can work together to enhance creative workflows and increase project ROI. As such, we wanted to dive into the integration in more detail.
Please note that both an iconik and cineSync Pro 5 license are required for full multi-user interactive review. Iconik users can access local, asynchronous review via the free version of cineSync's player, cineSync Play.
Let's take a closer look ↓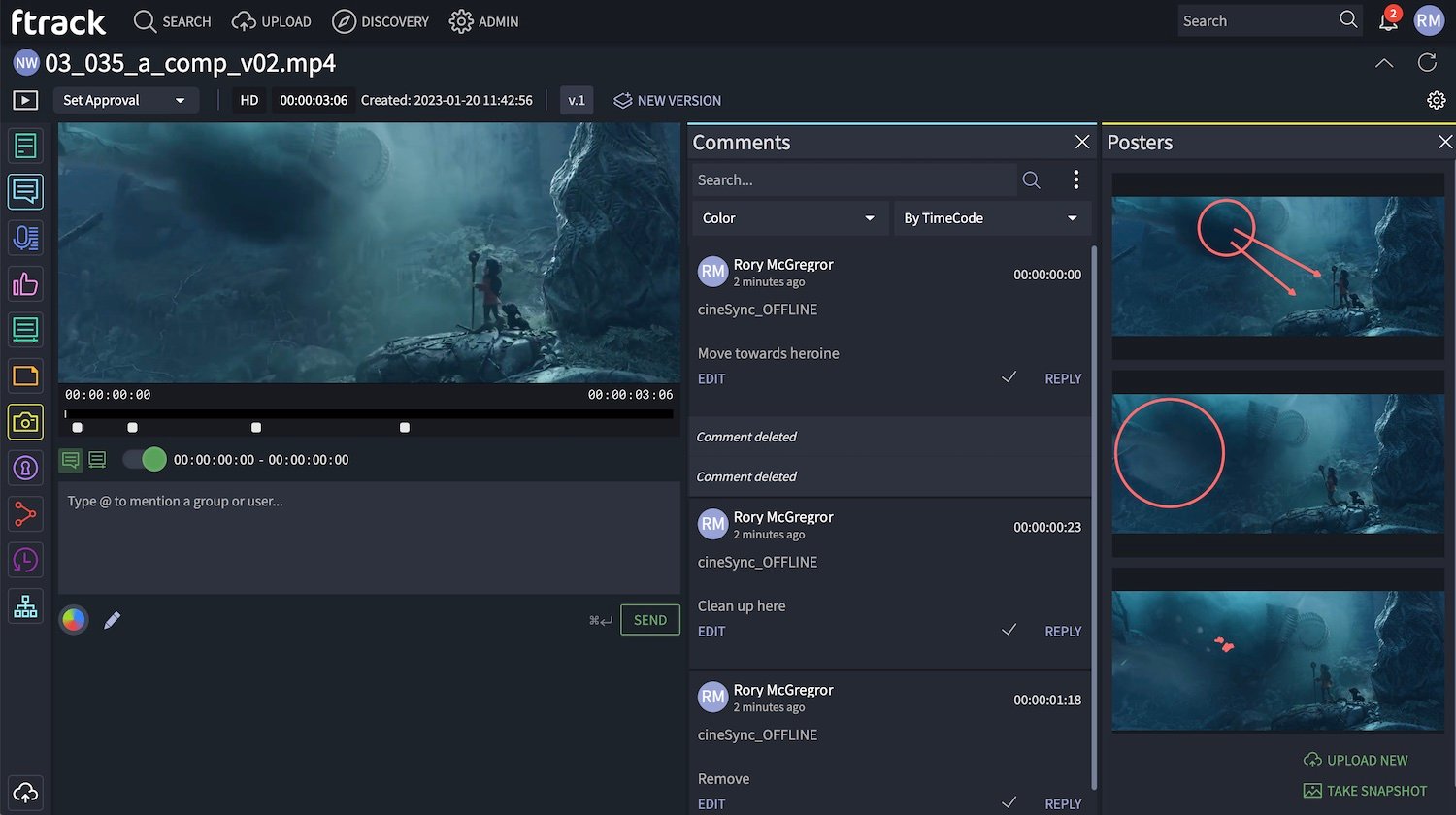 Introducing iconik – disrupting media management at a fraction of the cost some MAM providers require
Iconik is a cloud-native media asset management and collaboration solution that gathers and organizes media securely from any storage. The platform is built for the cloud and brings several powerful features to users:
Super-charged search and recovery tools
Hassle-free media collaboration and management
Global storage management via hybrid cloud
The ability to use your own cloud or on-premise storage
The ability to tag content with AI
Automatic voice-to-text transcription
Super-easy content sharing
Easily discoverable media via powerful search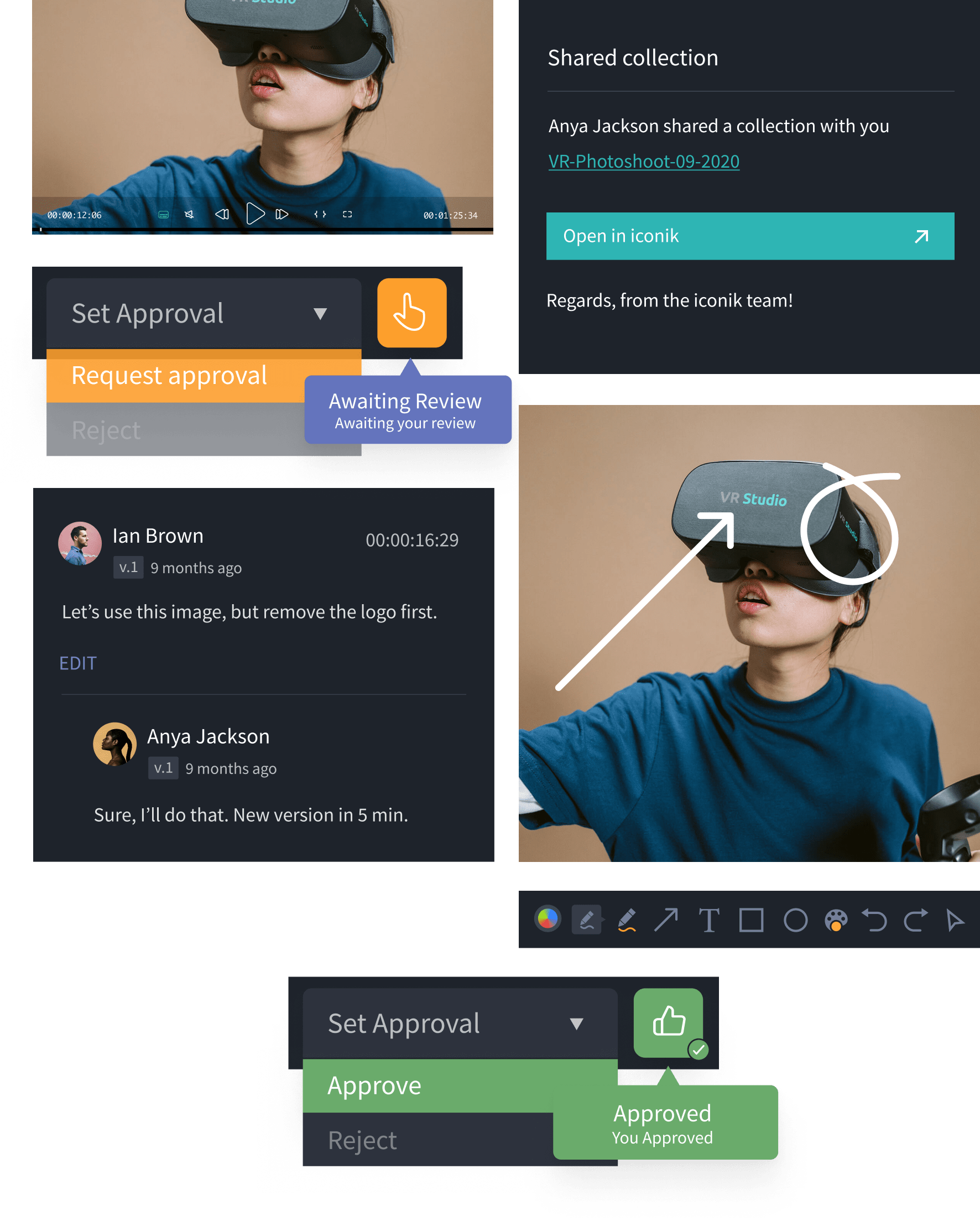 Thanks to iconik's hybrid cloud approach to MAM, you can store media anywhere; iconik keeps proxies in the cloud so users can search and access media from any internet connection. And unlike most MAMs, iconik allows users to connect their existing cloud and on-premise storage to iconik; the platform will index everything in one place and keep proxy files in the cloud for instant search and preview from anywhere, with no data duplication required. Users can access their media wherever they are, all from an elegant, fast, and easily navigable interface.
Although iconik already provides a web-based review tool that enables users to leave asynchronous time-based comments and annotations on proxies, the cineSync x iconik integration takes this review workflow to the next level, enabling:
playback of high frame rate, high resolution, and high dynamic range media in its native file format and original quality
real-time sync with other review participants.
next-level collaborative workflows with a hyper-specific, detailed, and instantaneous review.
""Iconik has allowed our distributed team of 100+ creatives to collaborate in ways no solution allows. Whenever we finish a shoot at any of our 7 studios, it immediately appears in iconik for the whole team to find, whether they are working from home, the office, or out in the field shooting. It's a game-changer!"

Ray Tarara

Producer, Google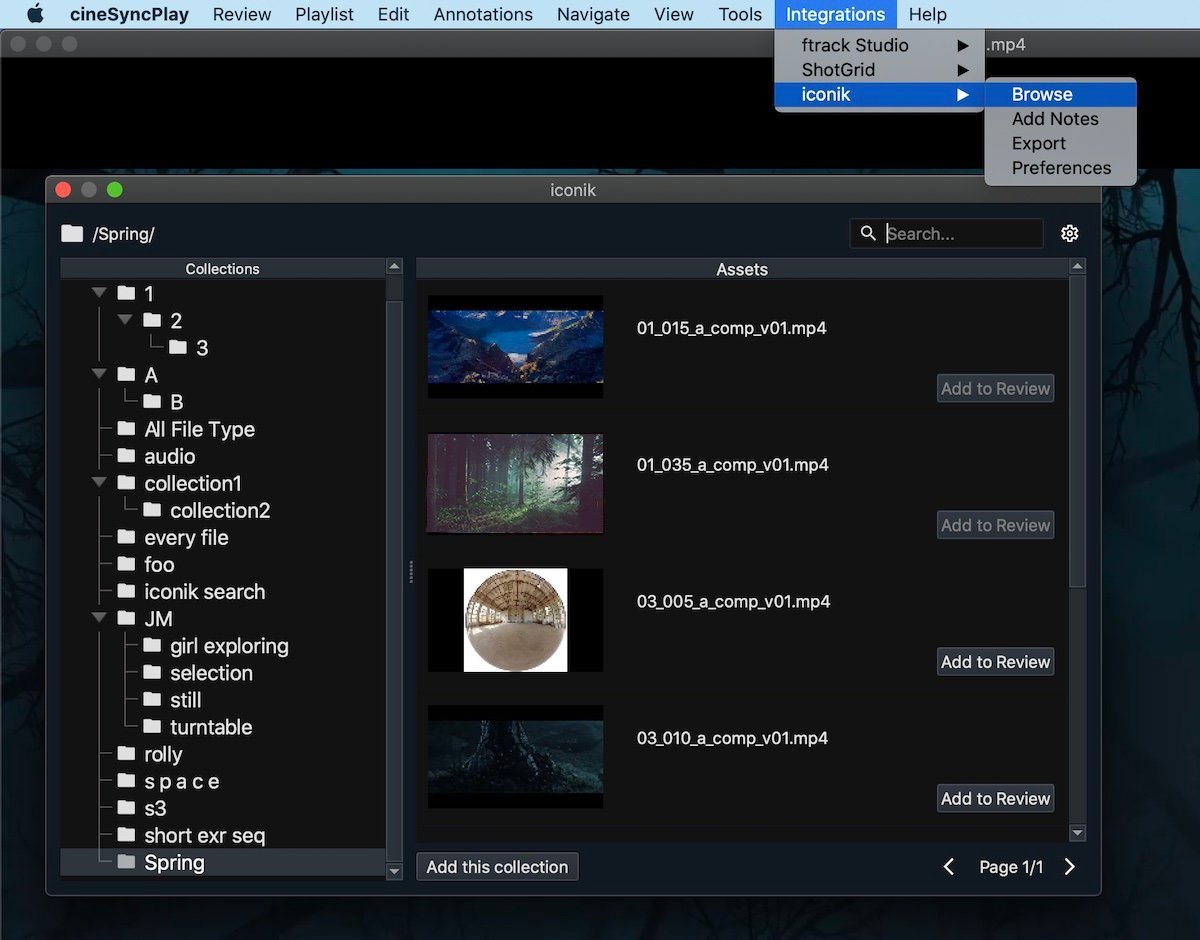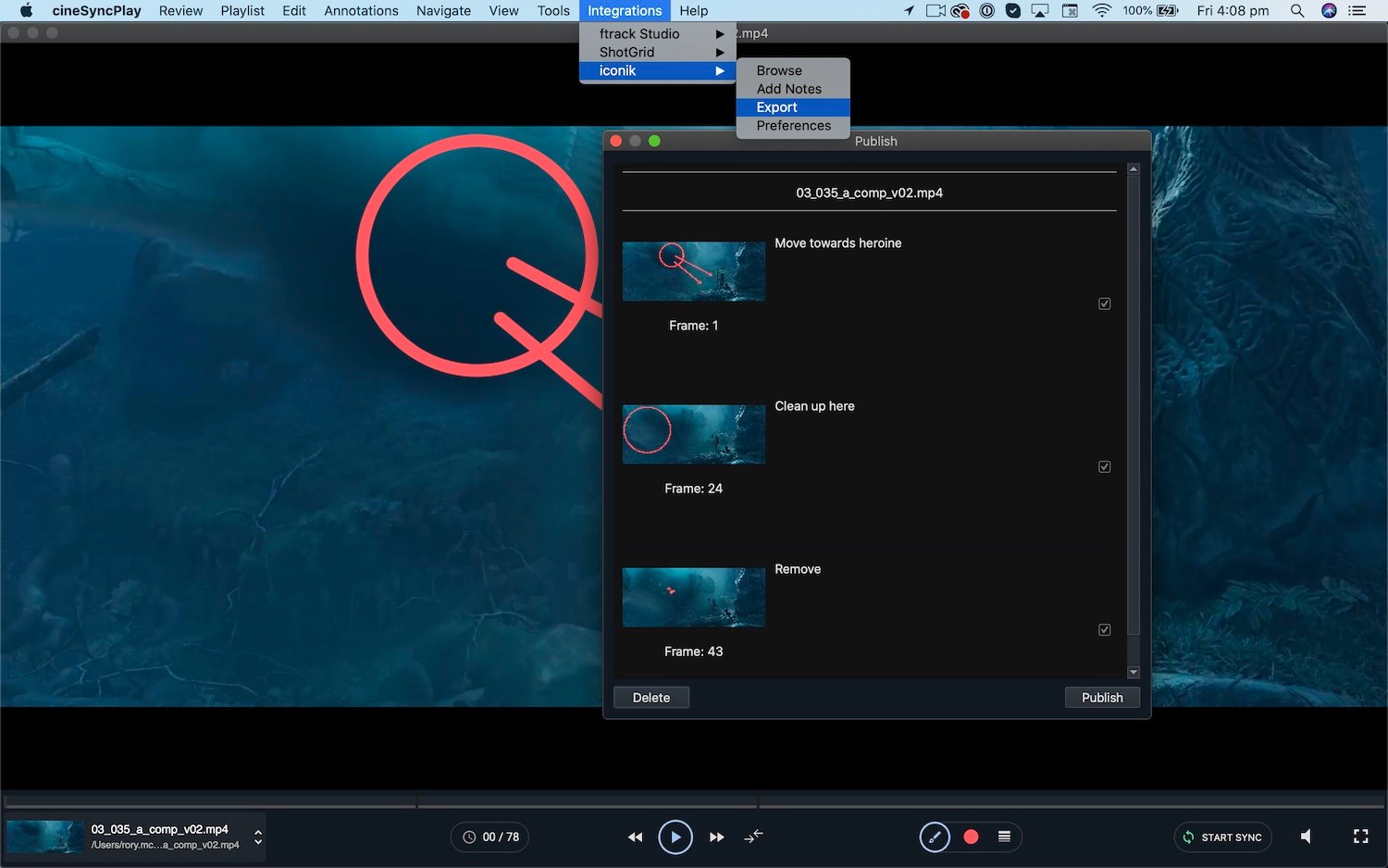 cineSync x iconik helps build robust, trusted review workflows across the creative industries
Poor employee collaboration costs organizations revenue, so we're always looking for ways to keep teams connected. The integration between cineSync's robust media review workflows and iconik is yet another way to deliver more effective collaboration by unifying file management and review collaboration. The cineSync x iconik integration:
Puts high-end, interactive review functionality within a real-time collaborative environment at the fingertips of iconik users.
Offers accessible and secure media asset management to cineSync users via iconik's MAM solution.
Here's a closer look at how the integration works:
Store, manage, and browse project media in iconik's easily searchable interface,
Select media, load it into cineSync, and launch a cineSync session containing iconik-based proxy versions or collections from inside the iconik UI.
For guests joining the review, the media is pulled from iconik, so it loads automatically for them. (As is usual with cineSync, file transfers are encrypted and watermarked for security and can be set to auto-delete from guest machines at the end of the review.)
Whereas iconik's in-built web player allows asynchronous review of proxies, cineSync enables playback of media with the following benefits:
– high frame rate
– high resolution
– high dynamic range media
– native file format and original quality (i.e. not streamed and not proxies)
– real-time sync with other review participants.
As a result, reviews in cineSync can be hyper-specific, detailed, and supported by instantaneous collaboration.
At the end of the cineSync review, all feedback, notes, and annotated frames are exported back to iconik and stored against the correct versions/media for reference, making iconik the project's single source of truth.
By using iconik and cineSync together, team members get access to an asset management solution capable of storing and sharing every asset and file alongside review tools that empower collaboration on high-quality media. Everyone on the team knows the actual state of a project, where all the assets live, and the steps required to advance them to the next iteration. And that means more efficiently delivered projects, happier creatives, and clients who know what they're getting and when.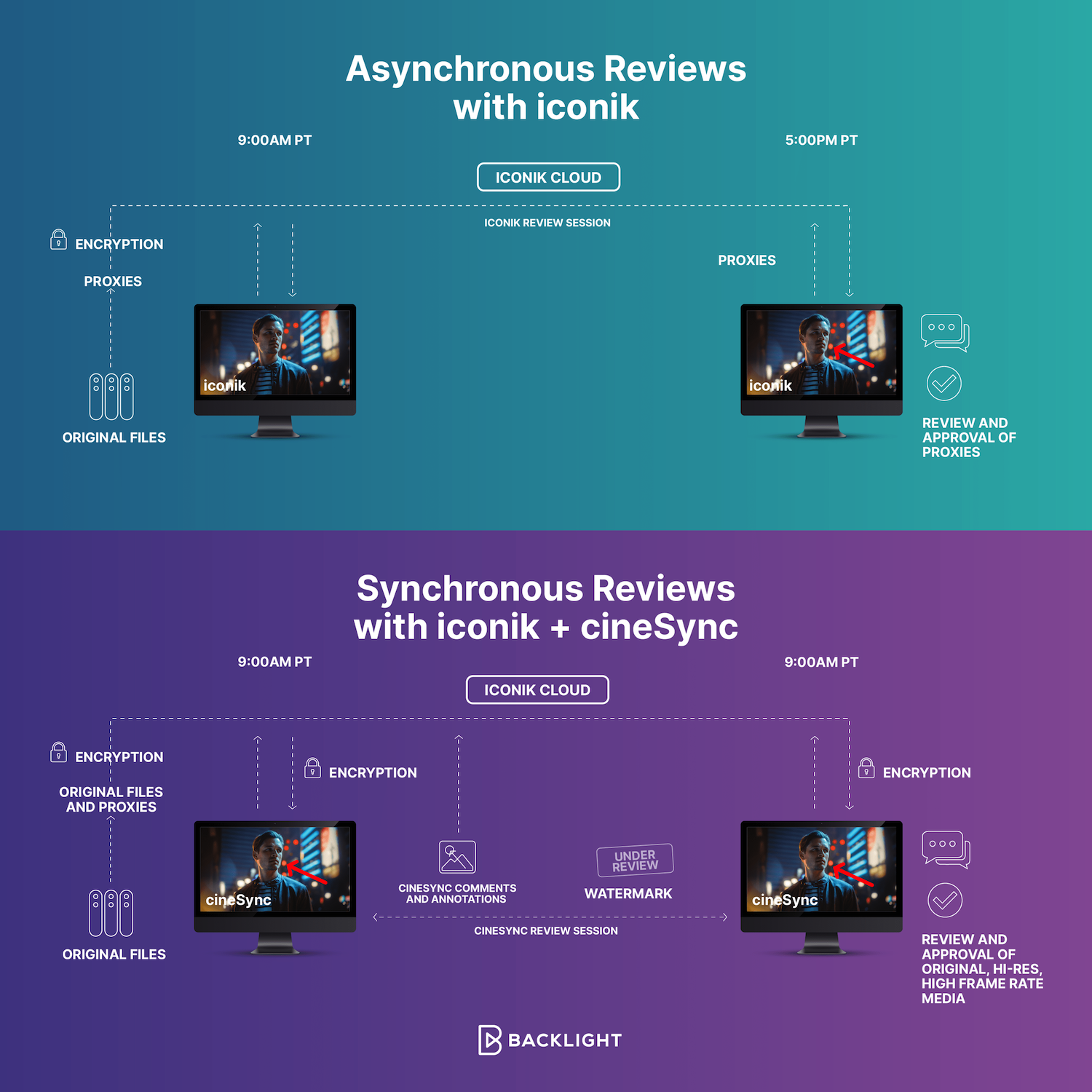 A whole new way of managing your cineSync media
For cineSync users, the cineSync x iconik integration introduces a much smoother workflow for those looking for a new way to store, manage, access, and share their project media with collaborators.
Let's consider this from the perspective of a VFX Supervisor. They could:
Store all versions of a project in iconik
Easily explore project media via a wide variety of search options, filters, and powerful metadata tagging.
Quickly share media with other team members and artists, and manage versions – all from wherever they are, whether the media is stored in the cloud or on-premise.
Select the versions/media they wish to review and load it into cineSync. They can also download collections (folders of versions) from iconik for review in cineSync.
Easily distribute review media for guests in a review, as guests can automatically download from the specified iconik location when the guests join.
All files downloaded by guests can be encrypted, watermarked and auto-deleted after the review, so file transfers via iconik for cineSync reviews are very secure.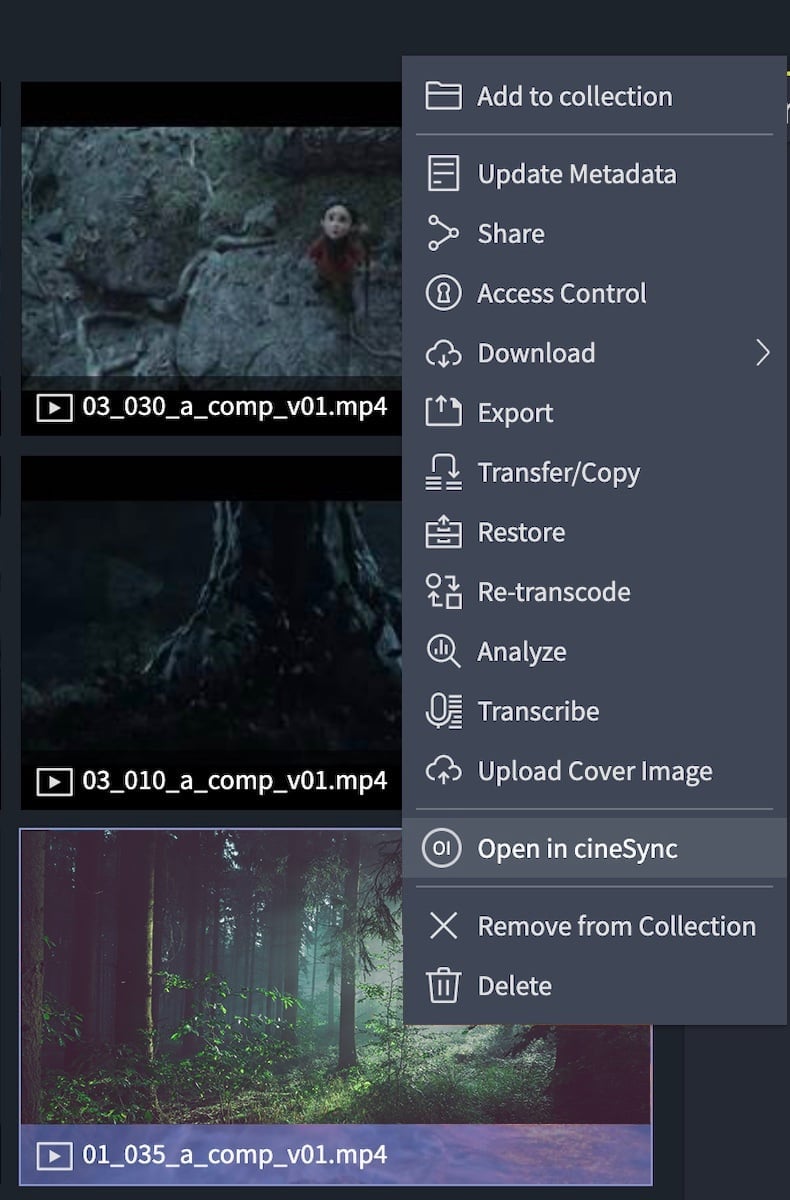 The future of media review and management at Backlight
We're incredibly excited to bring cineSync's one-of-a-kind review functionality to iconik users and facilitate better, more collaborative remote review experiences, while bringing new ways to organize and manage media to cineSync users via iconik.
And this is just the start – media review in iconik is about to get even better. Watch this space!
Do you have any questions or want to provide feedback on this integration? Please contact us using the link below – we'd love to hear from you!
Try cineSync today, for free
Explore the integration today and see how accessible MAM + high-end review can boost your creative workflows.
I'd like to try cineSync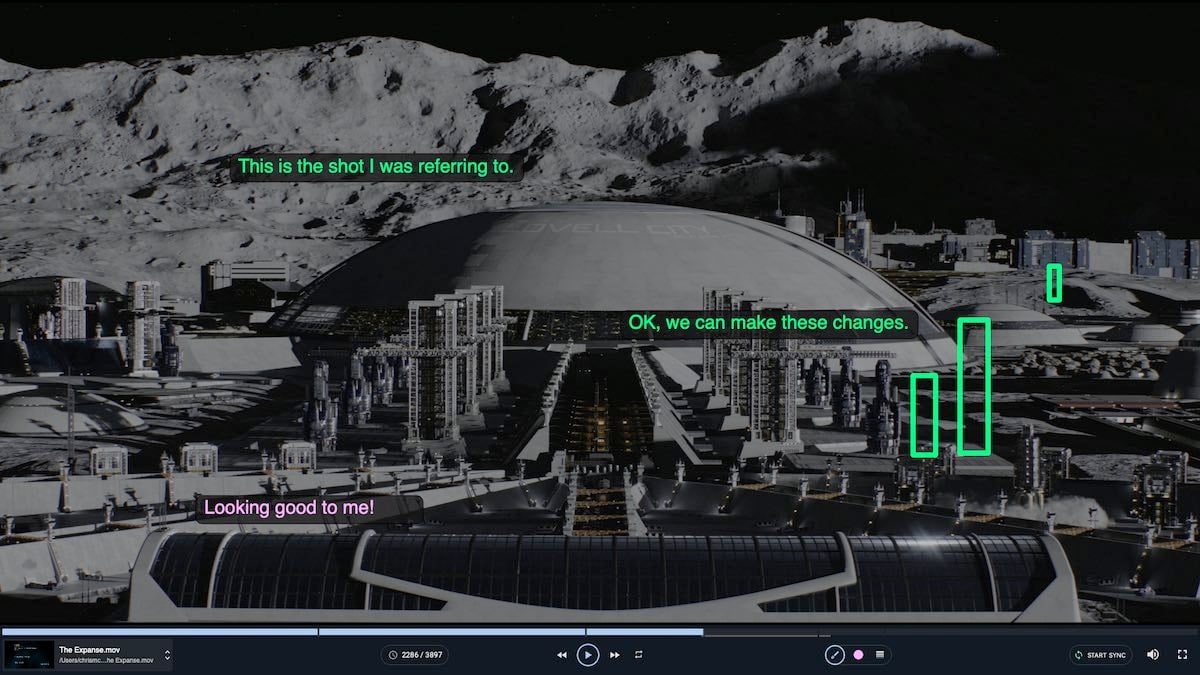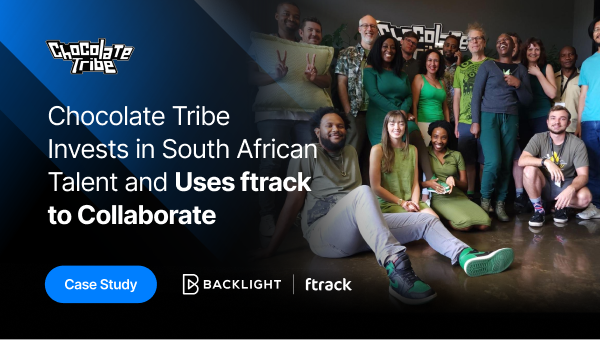 The VFX and animation market in South Africa is about to explode–and Chocolate Tribe has already put the right tools, and team, in place to lead the way. Chocolate Tribe…