We're introducing even more efficiency and precision to your reviews with the latest media review updates in ftrack Review and ftrack Studio! We've fine-tuned our review and approval process, introducing standout features like seamless 'Play All' sequence management, larger file uploads, and even audio-only file reviews – all to make your reviews feel like a walk in the park.
We've added a host of new media review features to ftrack Studio and ftrack Review that will give a boost to your collaboration and feedback processes. So whether you're working in VFX, animating worlds, creating music, designing dynamic soundscapes, or any other creative venture, we've got you covered!
Intuitive 'Play All' sequence management: Dynamically reorder clips and effortlessly swap asset versions in the review sequence on the fly.
Review audio-only files: Expand your review capabilities. Upload, play, and review .wav and .mp3 files with ease.
Upload huge files! Our new multi-part upload feature lets you upload and review media files that exceed 5GB. Size is no longer a restriction.
Let's take a closer look.
"As a VFX Supervisor, ftrack Review is my daily go-to for reviewing and comparing versions of our artists' work, drawing annotations, leaving helpful feedback, and keeping track of vital client notes. It really is a one-stop shop for everything show-related for us here at Dupe, and we're more than eager to explore all the new features coming our way.

Andreas Weidman, VFX Supervisor at Dupe VFX

dupevfx.com
Intuitive 'Play All' Sequence Management: Re-order Clips and Switch Versions On the Fly
Experience our revamped 'Play All' feature; we've added an intuitive method to instantly re-order clips and switch between asset versions on the fly. Want to make live updates to a 'Play All' sequence or swap versions during a review? You can now do so – the sequence and all related notes refresh in real-time, eliminating the need to reload the page.
Re-ordering your 'Play All' review sequence is as easy as dragging and dropping assets into your horizontal or vertical playlist. Need to change asset versions? Go ahead and do that directly via the playlist; the sequence will update live to mirror the swapped asset, with all feedback notes updating in tandem on the feedback panel.
This feature transforms your workflow for context cuts creation, shot sequencing, and version auditioning. For instance, let's say you'd like to compare various versions of a character's animation within a sequence. Now you can integrate alternate animation takes into your playlist during a live session, see these changes dynamically reflected, and engage in a dialogue about what fits best in the sequence – all without a hiccup in your creative flow.
You can now upload, open, and play .wav and .mp3 files directly within ftrack's media review interface. It's as easy as adding an audio file to your review session – your session will auto-generate a visual representation of the audio waveform accompanied by a playhead. You can then engage in discussions as you would with video, leaving time-precise comments on the file, all in real-time sync. (Do note, however, that annotations are currently not supported.)
The review player even captures a snapshot of the waveform at each comment point, ensuring clear thumbnails in note exports and PDF outputs. If you're an ftrack Studio user, you also gain the advantage of exporting comments on your audio files directly back into your project plan.
So whether you're crafting a podcast, recording voiceovers, engineering a soundscape for a short film, or perfecting the master mix for a new studio album, you now have the ability to discuss, collaborate, and provide pinpoint accurate feedback on your audio content – all in real-time sync.
Upload Files Larger than 5GB with Multi-part Upload
Media review in ftrack now supports media files larger than 5GB. This is thanks to our multi-part upload system, which breaks down your sizable media files into manageable portions and uploads these parts in a parallel fashion. This innovative approach bypasses file size barriers while improving upload speed and reliability, especially for your larger files – which means you can expect faster uploads and a hassle-free review experience!
So, whatever your project's size, you can feel confident running it through media review in ftrack.
We're committed to addressing your review needs and enhancing your experience with media review in ftrack. Indeed, many of the features we've highlighted are the direct result of valuable user feedback and requests for refinement.
Your insights fuel our progress and help us shape a better ftrack experience tailored to your needs. So, if you have any thoughts, ideas, or suggestions regarding our media review solutions, please give us your feedback!
After all, you're not just a user of ftrack, you're a vital part of our development journey. We look forward to hearing from you.
Try media review in ftrack today
Start your free trial of Studio or Review and discover how you can boost your media review workflows.
I'd like to start a trial.
We're pleased to announce the successful completion of ftrack's independent SOC 2 audit, reaffirming the…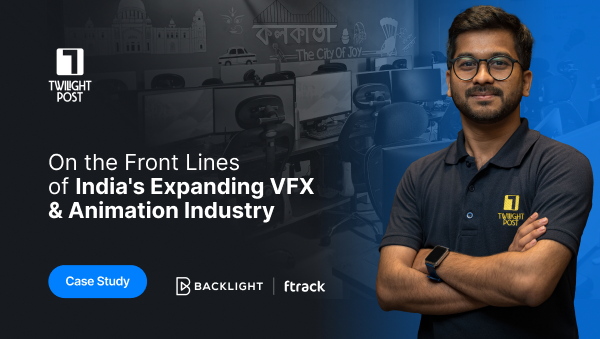 As the world sits up and takes notice of cinematic marvels like K.G.F: Chapter 2…