Secure, high-quality media review
The Emmy® and Academy Award®-winning review solution used by film and television productions worldwide. cineSync guarantees that everyone sees exactly the same frame at the same time.
Play Video
Watch the video
Try cineSync for free
Creative collaboration, wherever you are
The only review platform that presents high-res, high frame rate video in sync with anyone in the world, guaranteed.
Give form to your feedback with annotation tools and sketch in ideas – it shows in sync with everyone else in the review.
No media file ever passes through cineSync's servers. It's why the world's largest studios trust us with their content.
Share ideas, communicate requirements, and move things forward with frame-specific, contextual feedback.
Fast, secure, high-quality review
Frame-accurate, real-time reviews with clients
It's a very efficient way of working. It's all focused communication on exactly that show you're working on and what's in the frame, and there's no time wasted driving across town.

Christopher Nolan

Director, Tenet
cineSync is so much in the DNA of an AAA film production, it's almost impossible to imagine a workday that doesn't involve it.

Jake Morrison

VFX Supervisor, Marvel
We handpicked the best facilities regardless of the time zone. We were going to make it work, and cineSync was going to help us do it.

Karen Murphy

VFX Producer, Blade Runner, 2049
cineSync allows use to work remotely with companies in Germany, England, LA, Canada, and New Zealand.

Chris Townsend

VFX Supervisor, Guardians of the Galaxy Vol. 2
It's just such a useful and intuitive tool. It's so easy to set up sessions; you just set up and off you go. cineSync really does make remote production a viable proposition.

Lindsay Hallett

VFX Producer, Capital T
Utilizing cineSync means that collaboration was totally seamless. It kept us on target.

Jim Gibbs

VFX Supervisor, Atomic Fiction
I've used cineSync as a tool for many years now. It was on The Fault In Our Stars when I first said, 'I really can't picture getting this movie done on time without it!'

Jake Braver

VFX Supervisor, The Stand
cineSync provides instant, real-time communication, and resulting notes that keep everyone on the same page. That's incredibly important.

Eric Durst

VFX Supervisor, Snowpiercer
cineSync makes it all possible. I can't imagine how we would do it without that bit of software.

Kelvin McIlwain

VFX Supervisor, The Fate of the Furious
High-quality remote collaboration
cineSync is capable of 4K playback, 360 latlong review for virtual production, and high frame rates, regardless of bandwidth. Forget the stuttering video of screen sharing or streaming: cineSync just works.
Cross-platform support
cineSync supports MacOS, Windows and Linux. You can work on a Mac while your review guests join via PC or Linux. You'll all see the same content, at the same quality, at the same time, without problems.
Integrate with the tools you need
cineSync integrates with production tracking tools ftrack Studio, Shotgun, and NIM, and files can be safely transferred via our integration with Aspera. You can also use cineSync with iOS, enabling guests to join reviews while on the go.
cineSync also works flawlessly with a Wacom pad, meaning you can let your creative inspiration flow. Try cineSync Play
cineSync Play introduces local frame-accurate playback and review of high-res frame sequences, video, and more to your workflow. Start reviewing today—for free.
Join the beta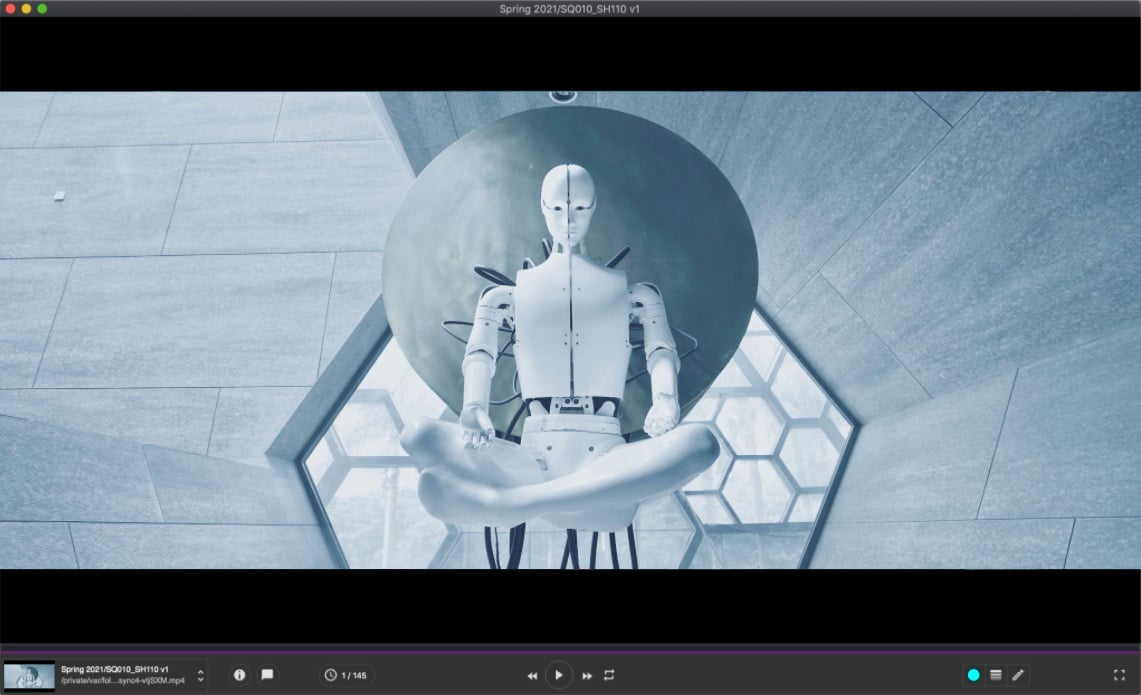 Industry-recognized software
cineSync is the proud recipient of both an Academy Award and an Emmy in recognition of its services to the film and television industry. Watch the Emmy acceptance reel:
Secure by design
cineSync does not store media, and no media file ever passes through its servers. The only information transferred during a session are sync commands – and they're 256-bit encrypted. It's why the world's largest studios trust cineSync with their content.
Learn more about security at cineSync
Download the cineSync ebook
Get your free copy
We'll send you the ebook by email right away.