ftrack Studio
for enterprise teams
Maximize what you can achieve with the ftrack Studio platform across large, distributed teams. Interested in learning more? Let us know your requirements and we'll be in touch.
Play Video
Watch the video Speak with us about Enterprise
Enterprise features
Install ftrack Studio onto your infrastructure and keep data within your network.
1-hour response time for severe issues and access to a dedicated support portal.
An ehanced SLA based around your implementation and use of the ftrack platform.
Implementation consultancy from our expert professional services team.
A second workspace to run tests or try updates without affecting live ftrack projects.
Support from billing queries to onboarding. We'll make sure you get the most out of ftrack.
Be the first to try out new ftrack features and provide direct developer feedback.
Make life easier for your System Administrators by implementing SAML-based SSO.
Control project status changes with Status Permissions and enforce 2FA across your org.
Break up your tasks in the Gantt scheduler into discrete, smaller chunks for better organization.
Hybrid cloud remote review
Review media outside of firewall
Transfer notes back to on-premise
ftrack made the team's work on Robin Hood possible. The key factor is having that ultimate source of data that everyone can refer to.

Michele Sciolette

CTO, Cinesite
ftrack is a no-brainer. It provides a centralized hub for anyone in the studio to get involved with a production at any level.

Hao Luo

VFX/CG Supervisor, Pinta Studios
ftrack presents a way of retaining all the advantages of a small team and applies them to global projects. It keeps things flowing.

Toya Drechsler

2D Supervisor, MPC
Keeping your content safe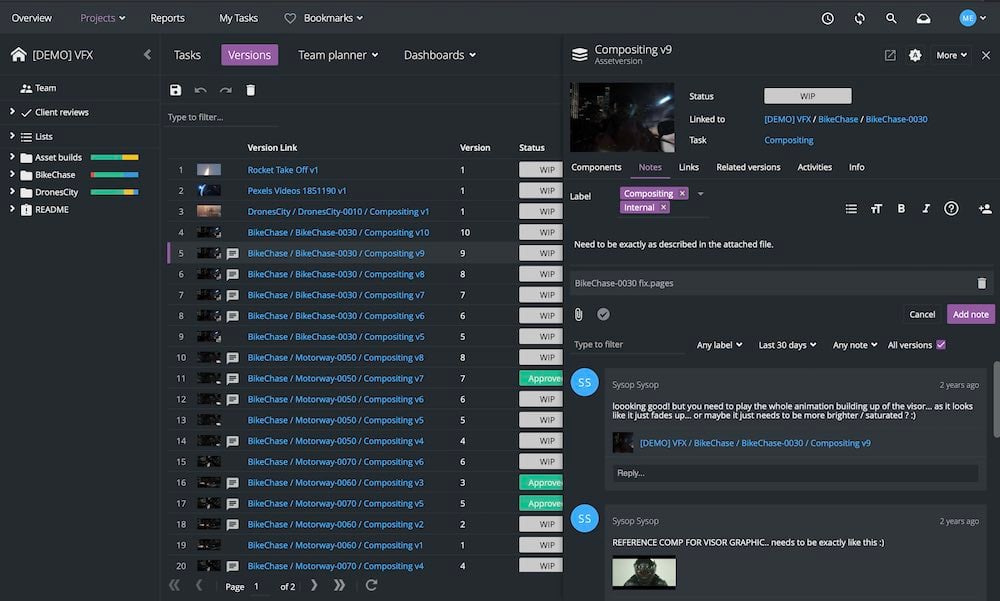 We know your most-prized asset is the content that you create. ftrack Studio is designed from its foundations up to keep it secure. From rigorous security standard compliance to frequent third-party cybersecurity audits, we strive to keep your content safe.
Learn more about security at ftrack