Trixter is one of Germany's most impressive VFX success stories. Founded two decades ago, during the rise of computer graphics in feature film, the studio has since grown into one of the region's most prolific, with credits that highlight cinema's most recent tentpole releases, from Independence Day: Resurgence to Guardians of the Galaxy Vol. 2.
The characters into which Trixter has breathed life are impressive indeed. Marvel icons like Iron Man, Black Panther, Rocket Raccoon and Baby Groot have all be summoned into existence by the talented Trixter team.
And arguably even this roster of Marvel demigods enjoy less popularity than Trixter's most recent project: the team recently swooped in on Spider-Man: Homecoming, creating a variety of superpowered Spidey sequences for his return to the Marvel Cinematic Universe.
Given the scope of the project, Trixter needed a solution that would help in the organization, preparation, and execution of the production's swingtastic sequences. ftrack was chosen as its tool of choice. Initially, Trixter was given 60 shots to work on across the project, but thanks to their efficiency this tally soon expanded to 300 shots of varying complexity.
Discover how Trixter lent on ftrack, using it for the first time ever to welcome home a true comic icon and deliver 300 shots without missing a beat.
Dominik Zimmerle
VFX Supervisor, Trixter
"With ftrack we can tackle complex VFX in truly galactic projects without breaking a sweat."
Marvel-ous collaboration
Trixter VFX Supervisor Dominik Zimmerle oversaw a wide range of tasks throughout the post-production process on Spider-Man: Homecoming, from CG set extension, to standalone animations, and green screen compositing.
One factor drove all of Trixter's sequences: a dedication to the laws of physics. Although Spider-Man exhibits agility beyond the bounds of human capacity, the team nevertheless worked to ensure that the forces of gravity and friction acted realistically upon his movements, thus rooting the film in a sense death-defying momentum.
"We had a great collaboration with Marvel VFX Supervisors Janek Sirrs and Edwin Rivera," explains Zimmerle. "Working together, we aimed for the most realistic integration of VFX that was possible within the context of a shot. That really helped to immerse people into the sequences."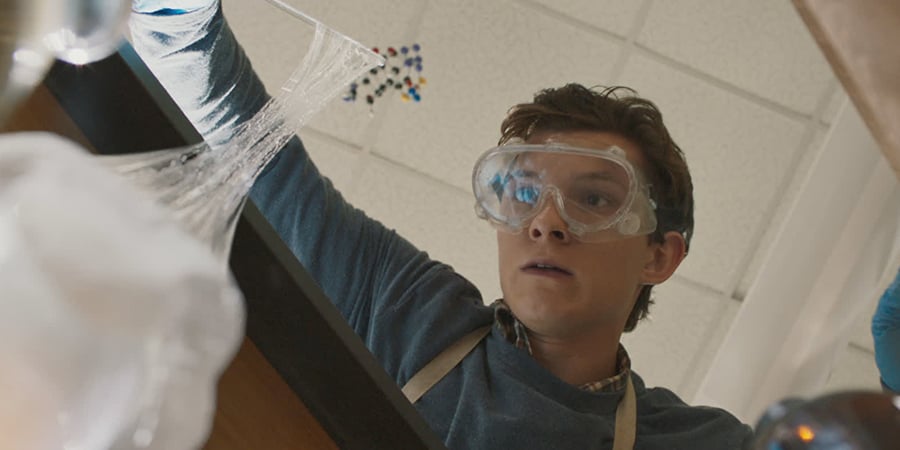 Reviews with Marvel were vital for perfecting such details. ftrack's RV integration streamlined this process, allowing for quick and clean sessions with live note updates, which the artists could then use in their next iteration of a shot.
"This was particularly useful for the first sequence of Spider-Man: Homecoming, which connects to a scene in The Avengers where we see a huge alien craft crash into New York's Grand Central Station," recalls Zimmerle. "This shot needed to show continuity with the original movie – ftrack's review sessions were vital in making that happen. We could discuss and perfect details to get them where they needed to be."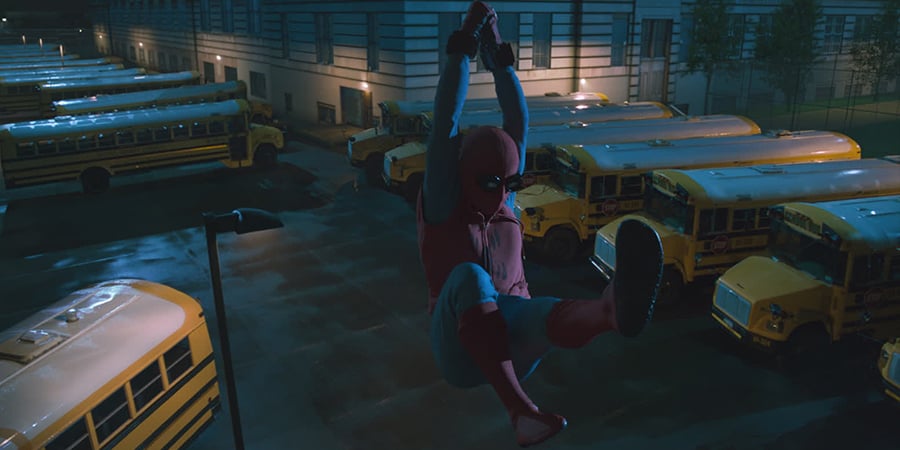 A friendly Spidey's neighborhood
Trixter worked on several other sequences throughout the movie, augmenting environments to broaden the scope of the narrative. These included the encounter between Shocker and Spider-Man in the high school parking lot, Toomes driving to the Homecoming Dance, and a presentation of the high-tech Spider-Man suit at the Avengers' compound.
"Several background workers needed to be animated, and there were a wide array of CG assets that we had to incorporate into the shot," explains Zimmerle. "ftrack was essential here. We needed to combine all of these different assets in one place, while also monitoring the progression of the sequence. Using ftrack's toolset we knew that all artists working on the shot were thinking towards the same ultimate goal."
Trixter has a great deal of experience building virtual worlds, from classic matte paintings to full-CG forests teeming with life, often employing complex effects like fire, water and smoke to add atmosphere to the scene. According to Associate Producer Christine Neumann, ftrack is essential in pulling these environmental elements together into a comprehensive digital background.
"With ftrack timelines and lists we can easily open up dailies in our player and adjust the CG aspects of a background as needed. Supervisors and leads can easily brainstorm with each other too, loading up ftrack and sharing notes in a really easy way. We can streamline internal adjustments before presentation to the client, making for a much smoother sign-off process."
Databases don't miss a trick
Slinging upwards and outwards for a broader look at the project, ftrack proved vital for organizing the vast amount of shots and sequences Trixter was responsible for across Spider-Man: Homecoming. The database archived any client notes or creative decision, making it easy for Trixter to push assets through its pipeline without confusion.
"During rounds, coordinators could easily access the ftrack web interface on their tablets and update shot status immediately," says Zimmerle. "Communication between all departments was tremendously expedited – at one glance at ftrack would show production the current status of the show."
Indeed, it was ftrack's simple, user-friendly approach that sold Trixter on the project management solution in the first place. Settings and view options for the database could be customized in a couple of clicks; the most time-sensitive information could be found for a project at a glance; and team members could instantly get to grips with the software, even if they were new to the studio.
"ftrack requires little introduction to new team members," confirms Neumann. "With the option to share Views between the team, we're literally all on the same page in seconds. It's incredibly useful.
"What's on the surface of ftrack is incredibly useful, but we're digging deeper. We're currently setting up ftrack workshops for the Production Team, getting to grips with features we might have missed out on so far."
Expanding the universe
Spider-Man: Homecoming was the first Trixter production to use ftrack, but the team plans to move forward with the tool for production on its next project: the hyper-colorful Thor: Ragnarok.
"Using ftrack makes it easy for artists to switch between projects and dive straight in using an identical interface," says Neumann. "Having now started on Thor: Ragnarok, we've already benefited from our experience with ftrack and the information it can convey with one click."
The team has already benefited from support from the ftrack team, having requested tweaks to the tool that will make Thor: Ragnarok an even smoother production experience. Specifically, Trixter began using ftrack's Planning tool to optimise asset distribution. Projects could be assigned back and forth between individual departments on an 'as-needed' basis, and overall planning for the company became completely customized.
"Company-wide artist bookings could be entered into the ftrack calendar, so we'd know at a glance which artists were busy on any particular project," explains Neumann. "Thanks to ftrack, we could tell exactly who might become available to help out during crunch time on Spider-Man: Homecoming, and then who might be best placed to move onto Thor: Ragnarok.
"The support from the ftrack team in incorporating our custom needs have been amazing," concludes Zimmerle. "It makes ftrack usage even easier for us and streamlines our approach as a studio, meaning we can tackle complex VFX in truly galactic projects without breaking a sweat."
More Customer Success Stories