Carving out its place among Marvel franchise giants as one of the biggest comic book film adaptations in recent memory, Black Panther blew away the audience with its breathtaking VFX-heavy action sequences and poignant characters. Making some of the film's most memorable moments shine was a task orchestrated by Luma, a VFX powerhouse on the live-action superhero film scene — with recent credits on Doctor Strange, Thor: Ragnarok, Spiderman: Homecoming, and other Marvel blockbusters.
Luma's involvement in Black Panther spanned 16 months with a team of around 150 or so plugging away across studio locations on two different continents. The studio was responsible for bringing several of the film's iconic VFX-heavy scenes to life, including an intense car chase through the crowded streets of Busan, a big casino rumble, and a CIA black site sequence.
Exciting moments pose interesting challenges
The magic of VFX is in its power to help audiences suspend belief and draw viewers deeper into the excitement on-screen. Whether that entails flashy explosions and more obvious visual wizardry or clever use of invisible effects to bring a scene together, there's a ton of work that goes on behind-the-scenes to make these thrilling scenes a seamless experience.
Shot in Atlanta on a large detailed set, the casino brawl sequence was originally intended to be filmed as one long continuous shot, though it ultimately was composed of several longer takes woven together. In that scene, Luma added digital lighting, destruction debris, the ceiling, and virtual characters—including Black Panther when he jumps from the first floor to the second floor.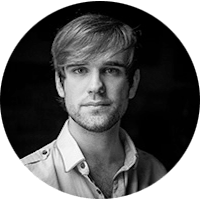 Michael Perdew
VFX Producer, Luma Pictures
"ftrack serves as the backbone for all of our version quality control"
"In the casino, the main challenge was to stay invisible," says Michael Perdew, VFX Producer at Luma. "A lot of the work required extensive plate stitching and retiming, and although it may not be obvious, the set's ceiling and lights were also mostly CG. It was probably the greatest challenge for our comp leads, who spent months wrangling the bespoke bits and pieces and maintaining a never-ending request list for updates of rotos, paint, and CG elements."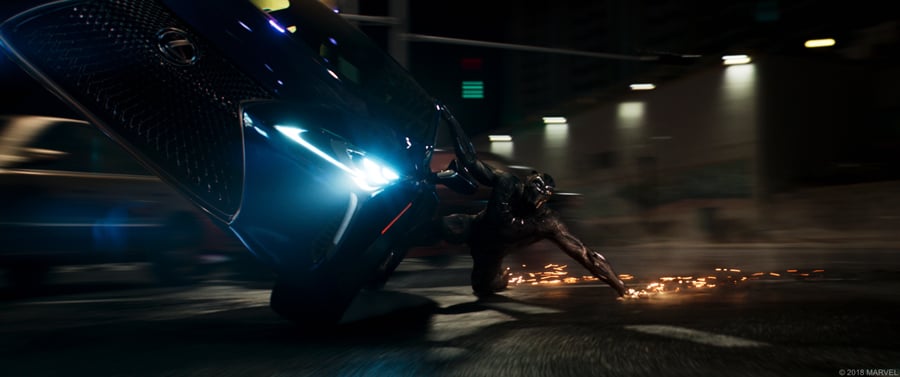 For the challenging and lengthy one-take shot that wraps up the casino fight scene, he says it was imperative to divide and conquer all the specific elements across a strike team of compositors and lighters to constantly keep it organized so that the master shot could be updated quickly.
The film's epic car chase sequence through Busan's crowded cityscape also required a lot of detailed VFX work to pull off. Over 50 CG character replacements for Black Panther were required across the full scene, among a slew of effects.
"The car chase was a whole different beast with several unique challenges," recalls Perdew.
"The epic shot of the Lexus LC500 being destroyed by Klaue required a full CG environment, CG traffic, a destroyed Lexus LC500 with debris, the sonic disruptor FX, and a CG Panther. That was a big challenge."
Authenticity was vital in nailing the car crash sequences, too. Lexus donated the Lexus GSF and LC-500 to the production for scanning, building, and location reference, and Marvel supplied Luma with CAD builds of all the vehicles along with detailed reference photography. The team decided to art-direct all the key vehicle pieces to have complete control of the assets and the timing. "We even researched car accidents to study the way the metal bends and how car engines react on strong impact," he adds.
Keeping on track with ftrack
With tons of moving pieces and shots to track across the production, ftrack played a major role in helping keep the team organized and on-target.
"Aside from standard shot tracking, ftrack became integral as we had to divide and conquer some key shots using both facilities," says Perdew. "We could easily track exports and versions from our FX teams across facilities while also maintaining schedules from secondary vendors."
ftrack proved particularly useful while crafting the car chase sequence, where geography, continuity of the car damage, and the energy on Black Panther's suit were crucial. The team used lists from ftrack to generate automated renders and inform artists what level of damage or energy was needed at that point in the sequence. Then, if the cut changed, the production management team could quickly adjust it in ftrack and get the artists back on track.
"As a producer, I'm always a fan of the shot tracking capabilities and how it's able to be nimble, versatile, and consistent all at once," says Perdew. "From a broader view, though, I think ftrack's most important role is serving as the backbone for all of our version quality control. It's adaptable and powerful for any piece of the pipeline, and it's a great tool for communication especially across multiple continents."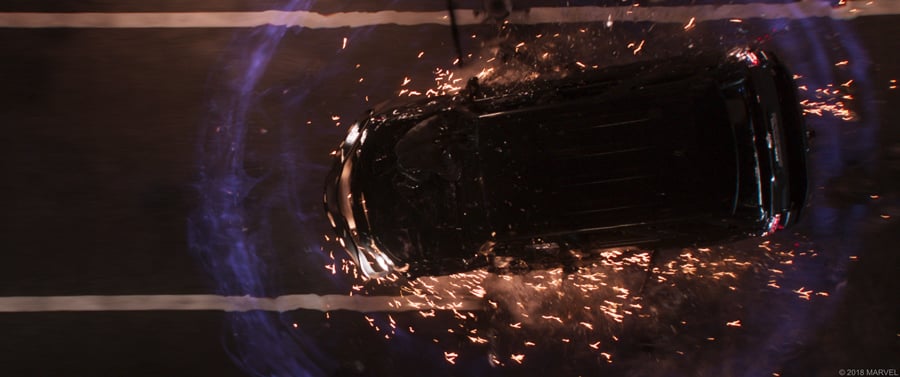 Evolving with ftrack
Over the last few years, Luma's use of ftrack in its production pipeline on different high-profile projects has evolved and expanded significantly as the studio has found even more ways to gain value from its capabilities.
Deadpool was the studio's first major foray in using ftrack, and back then it was being used as a replacement for spreadsheets across the various project coordinators, Perdew recalls. As the teams grew more comfortable and familiar with it, however, ftrack quickly proved invaluable in other areas of the pipeline.
"It eventually fully overtook our shot reporting and tracking duties, so that we could start running more unique status reports back to the clients in subsequent shows," says Perdew. "It seems like a trivial thing, but when you're running multiple shows with producers that each rightfully have their own needs, it's great to be able to accommodate different shot-tracking systems and statuses with the exact same backbone."
With Luma's more recent work on Thor: Ragnarok, ftrack became even more plugged-in on the artist level when the team began integrating it into the studio's automation systems, he explains. This allowed Luma to trigger automated FX simulations, QC renders, and even slap-comp, then publish itself back into ftrack. A creative, ongoing evolution continues with Black Panther and other upcoming projects in Luma's pipeline.
"Moving forward, ftrack has now been fully integrated into our USD-based asset manager so that we can have single artists driving lighting in sequences that can have hundreds of shots, but easily filter to what they need to see at that moment," says Perdew. Additionally, they have combined cineSync with ftrack Connect to create their in-house review queue, "ftrack is now nicely integrating into cineSync to make the coordinator's lives easier; and we have a whole roadmap ahead of us on how to get even more clever by driving further automation, editorial, and client delivery efforts."
More Customer Success Stories