If you have children, then chances are high that you're already familiar with Digby Dragon. The Nick Jr. series has proved hugely popular, posting the UK network's highest ever ratings for a weekday debut and the no.1 most watched show on Nick Jr. UK in July.
Digby Dragon hails from London-based animation studio Blue Zoo Animation, which shepherded the series from start to finish through multiple stages of production with a team of more than 45 employees. Studio and co-founder Tom Box says Blue Zoo "specializes in creating CG character animation full of energy and personality," and although that's definitely true in the case of Digby Dragon, it was still a massive undertaking for the team. Thankfully, with the support of ftrack, Blue Zoo was able to wrangle its huge shot tally, while the added assist from automation and custom development helped make this deceptively complex project wholly more manageable.
Digby's debut
Digby Dragon began life as Sally Hunter's children's book concept, where the illustrator and author dreamed up a comical character that lived in an enchanted forest with other creatures and friends. Hunter brought the premise to Blue Zoo, who saw the potential for a great project.
The writer and studio quickly collaborated, working to transform initial concept drawings into a fully fledged television series. Working with Nickelodeon and Aardman Animation, the show was picked up for a full-season order of 52 episodes at 11 minutes apiece.
Tom Box
Co-founder & Executive Producer, Blue Zoo
That's really what ftrack is – clear, concise information, at your fingertips.
Although Digby Dragon is produced in full CG, the series possesses the endearing look of a stop-motion animation classic, with a grounded and tactile aesthetic. "The craft that has gone into the show is incredible: it has a heritage feel despite being CG," says Box. "The whole show has that very charming British feel to it, with regional accents for all the characters. It was also fully produced in the UK!"
The Blue Zoo team, led by Adam Shaw were involved in the project from first steps to final aired show, including sourcing funding, penning scripts, producing the animation, and handling final audio responsibilities. That's a serious heap of work for any studio, especially as each episode's production cycle spanned approximately six months from storyboards to final delivery. Across a 52-episode season, that meant more than six thousand shots and hundreds of different assets employed across many production stages. "It was a logistical nightmare!" says Box. "Thankfully we had a solution – ftrack jumped out to us due to its strong episodic workflow and its elegant, intuitive interface, which minimizes any training requirements."
"Massively useful"
Blue Zoo started integrating ftrack into its pipeline in late 2014, around the same time it started ramping up full production on Digby Dragon
This made for a much more streamlined workflow, tailored to the needs of the Blue Zoo studio and processes. On a more general level, ftrack helped kept things running smoothly via its "simple and accessible interface": ftrack was used to assign shots and jobs to artists, while keeping tabs on their progress. When the artists are settled down to work, all they needed to do was take on the tasks assigned via ftrack, and then when the task was completed, publish their shots or assets for a colleague to pick up in the next part of the pipeline.
All told, this approach eliminated a great deal of hassle that could otherwise have bottlenecked the production flow at Blue Zoo.
"The aim is to try and automate as much of the pipeline as possible," Box affirms. "We have ftrack set up so when shots move forward or backwards through the pipeline, artists are notified automatically that they need to work on a shot, without production managers having to get involved. That frees up time, and more time means more creativity, and a better end product."
Blue Zoo also found ftrack's search and filter solutions "massively useful" on Digby Dragon. "If any shot needs re-rendering when an asset is changed, we can easily search for all shots rendered with that asset," explains Box. "Even little additions like color-coded progress bars are massively useful," he continues. "It may seem like a small thing, but it gives the team a sense of where they're at with a glance. It's another addition that makes ftrack that much easier and simpler to use. In a busy production environment, it really is the little things like these that count!"
Blue Zoo also dived into ftrack's Actions, using these customizable extensions to automatically create folder structures, thereby ensuring assets were cleanly and consistently organized. Again, when working on an 18-month production cycle – a mammoth project for a children's series – the ability to increase the efficacy of the day-to-day this manner cannot be understated.
"Using ftrack in this way takes the guesswork out of planning as milestones near," says Box. "It saved an enormous amount of time, which is usually spent keeping track of who made which assets and their status or progress across all the whole series, and also within each episode. Rather than having to hunt artists down to query them about what status an asset is in, all of that information is securely held in one central location with no ambiguity.
"That's really what ftrack is – clear, concise, and secure information, at your fingertips."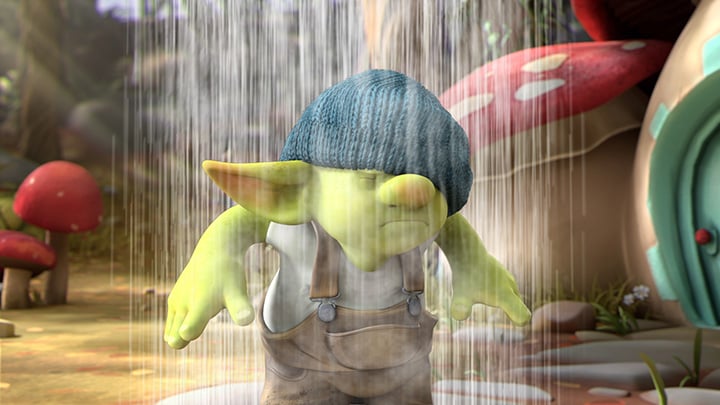 On the right track
And Blue Zoo didn't stop there. The studio has carried out deeper custom work further integrate ftrack into its specific pipeline and needs; for instance, using custom publishing tools to automate processes for shot construction, lighting, and rendering.
"As all of the assets and shots are stored in one database, our tool can utilize this to pull the approved version of each asset, shot, and lighting setup, build render scenes, and send them off to render," explains Box. "If an animation changes, the resulting alembic cache and render can automatically re-run."
Digby Dragon's construction also presented a unique conundrum: the characters were rendered in Arnold due to the ample fur and feathers, while environments were rendered in Redshift to take advantage of the ease of GPU renders.
That approach doubled the render needs, but Blue Zoo was able to make it work thanks to the flexibility of ftrack's API.
"ftrack's ability to add bespoke attributes allowed us to implement this dual rendering workflow into our pipeline and get the project rendered without a mess of data," says Box. "It's great that the tool is open in this way, and flexible enough to support unorthodox workflows."
Although Digby Dragon was Blue Zoo's first project using ftrack, the studio now uses the platform to manage a diverse list of further TV series, including those currently in the works for CBeebies. Blue Zoo also plans to start using ftrack for commercial projects, as the studio produces work for the likes of LEGO and Clarks. And Blue Zoo isn't going to stop there: the studio's apps department is currently hard at work on a variety of games and virtual reality experiences. Once again, ftrack will be used to support this development from start to end.
Following his experience using ftrack with on Digby Dragon, Box is fully confident in ftrack's ability to wrangle projects of any size.
"Any project is only as good as the communication of the team making it; bad communication can make a project hell for everyone involved," concludes Box. "So, having all of that communication in one place avoids ambiguity of missed feedback and tasks. On any project, big or small, that's vital, and ftrack enables it quickly, smoothly and without the fuss. That means we can take on projects like Digby Dragon without worrying about getting caught up in a tangle of data."
More Customer Success Stories