A 26-episode order of animated children's television series to be aired on Polish television channel TVP ABC in the Fall of 2019 is no walk in the park. Based on the charming popular children's book series, GS Animation use cutout animation effects to mimic the book series' illustrations, bringing Basia's world to life.
With a rich culture and wealth of artistic talent, the animation industry is thriving in Poland with Grupa Smacznego (GS Animation) leading the way. Founded in 2004, GS Animation is a boutique animation studio and production company based in the picturesque port city of Gdańsk, Poland. Marcin Wasilewski, Director, and co-owner says, "GS Animation's main profile is 2D TV series production, so these are long-term projects with many assets, tasks, and resources," and it's apparent from their recent projects they've come a long way from their early beginnings in animated short films.
GS Animation has seen successes on the international stage, having delivered Harry and Toto, a 2D TV series for BBC Worldwide in 2008, won numerous awards for Mami Fatale in 2012, and in 2013 their 3D short Lost Senses received the Jury Award at ACM SIGGRAPH.
Complex projects often have simple solutions
Co-financed by the Polish Film Institute, Basia is based on a popular Polish children's book series by Zofia Stanecka and Marianna Oklejak. Basia is the five-year-old protagonist with a mischievous character. She's not perfectly polite, but her charm is infectious. The stories are family oriented, following her childhood adventures living in the city as she explores the world around her, often finding the most difficult questions can have very simple answers.
Marcin Wasilewski
Director and co-owner, GS Animation
"ftrack helped a lot. Without it these projects wouldn't be possible to control."
Before using ftrack, GS Animation relied on XML schema to stay on top of its project workflows. However, such solutions had revealed their limitations as the company grew. "We were using typical XML chart systems," says Wasilewski. "It was before we scaled up as a studio so it was enough to control a small production workflow. For 5-8 people it was okay and there were no other solutions around at the time. Production tracking systems started to come out much later."
"We have about 20 people in-house, and 10 freelancers working on Basia," adds Wasilewski. Thankfully, with the support of ftrack managing the flow of data between internal and external staff, GS Animation was able to deliver its first batch of episodes and is still in production as it powers through the 26-episode order.
GS Animation isn't a large facility at about 30 employees, but no matter the size ftrack provides the essential tools to manage a project of any scale. On a project like the Basia animated TV series, where tight deadlines are part and parcel of the work, ftrack proves indispensable in guiding the team towards the finish line.
"The benefits of using ftrack were obvious. Despite the usual workflow, workload, production tracking, and review capabilities, we also get easy access to all assets to quickly check how they look. When an animator needs a prop chart they can easily find it in ftrack and quickly watch their part of an animation."
A boon with Toon Boom
GS Animation has been a Toon Boom Authorized Training Center since 2016, as such, they have an experienced team of highly-trained artists with a successful pipeline in delivering high-quality animations.
ftrack was used for the whole project from start-to-finish with a pipeline based on Toon Boom Storyboard and Toon Boom Harmony. "We've used ftrack from the storyboarding stage to compositing," explains Wasilewski. "We use specialized templates for each project. Basia is a cut-out show so we created a custom template with specific tasks for each shot. Step-by-step we can approve the next stages of each shot. As the final effect is known, we don't have any surprises." Other key tasks that were tracked in the project included animation keys, animation clean-up, and FX.
ftrack has useful wizards that guide users when importing spreadsheet data from external sources. These import features have proved essential for GS Animation in integrating ftrack into their pipeline. "It is highly integrated. We use Toon Boom Storyboard to export CSV files with episode structures into ftrack, then we add the template to shots and can start the production."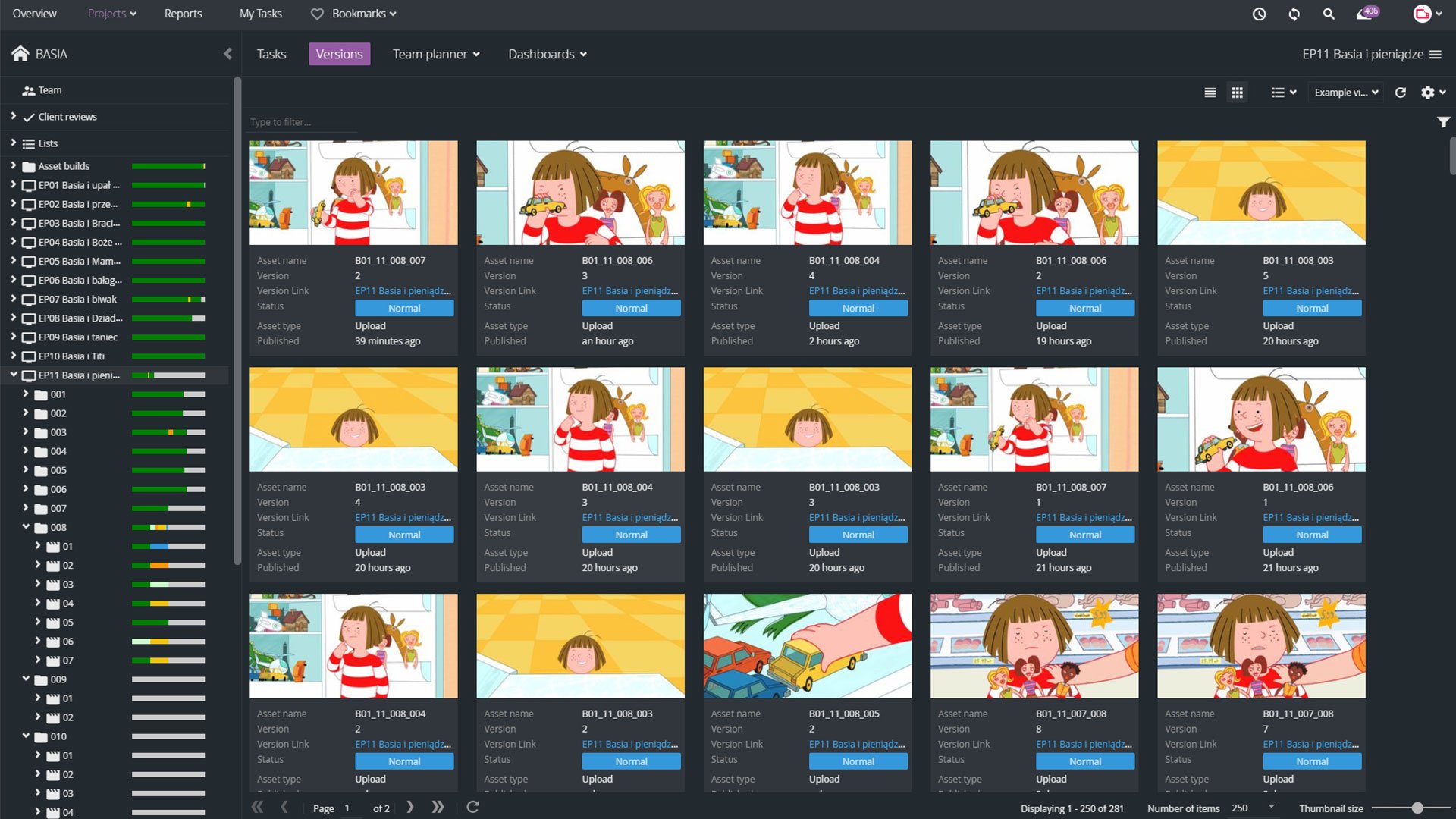 Journey to artistic clarity
The artistic look was originally created by the book's illustrator, Marianna Oklejak, and it played a pivotal role in guiding the end product. "Basia is based on bestselling books in Poland with distinctive visual style. We had to transform it into new media, add a cinematic and cartoony feel, yet keep the same style from the books. It was a difficult development process," explained Wasilewski.
"We turned into many wrong paths on our way but we finally succeeded. ftrack was a platform where we reviewed all artwork. With review sessions, it was easier to invite the book illustrator and she helped to supervise the process." Using the client review portal inside ftrack, GS Animation can be confident knowing that all feedback provided by Oklejak is in context for the creative team to align their work with her vision, ensuring everyone is on the same page.
The early success of the animated series has earned GS Animation the main prize at the International Animated Film Festival ANIMATOR in the episodic TV category and also saw the first five episodes of Basia projected on to the silver screen in 40 cities in Poland.
Marcin adds that the team's favorite features in ftrack include the intuitive interface making it easier for artists to use, especially with drag and drop features and the recently updated dark color theme. He estimates "efficiency is double with ftrack" and plans to make use of Actions in the future as they look to add further improvements to their pipeline. "ftrack helped a lot, without ftrack these projects wouldn't be possible to control."
More Customer Success Stories