Following its acquisition by Epic Games, Cubic Motion is striding towards significant advances in real-time performance capture. We spoke to Mike Jones, Director of Production, to learn a little more about these advances, to learn how ftrack Studio supports projects like Half-Life: Alyx, and to discuss the company's transition to working from home in response to COVID-19.
Digital humans present the most complex endeavor in computer graphics today. The challenge lies in the animation: our physical emotions are subtle, yet any attempt to mimic them digitally reveals a depth of complexity that's enormously difficult to replicate. Efforts to do so (without tumbling down the uncanny valley) tend to incur prohibitive costs, both financial and temporal.
Nevertheless, Cubic Motion has spent the last decade doing the seemingly impossible: increasing the quality of facial animation while reducing the costs required to achieve it.
The last five years alone saw the company deliver a series of increasingly impressive innovations, each of which revealing a reduction in the time it takes for real-time facial capture goes from set to screen while maintaining the fidelity of the original performance. That's thanks in part to Cubic Motion's remarkable technology Persona, which enables immediate character animation in real-time engines such as Unreal Engine 4.
It's Persona, along with Cubic Motion's exceptional animation services and a series of increasingly-impressive contributions to triple-A video game titles (God of War, Horizon Zero Dawn, and Call of Duty, to name a few) that led to the company's acquisition by Epic Games in early 2020.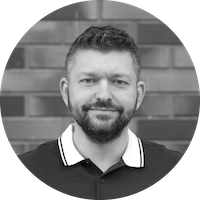 Mike Jones
Director of Production, Cubic Motion
"ftrack Studio offers the flexibility we require at Cubic Motion."
ftrack Studio and Cubic Motion
Cubic Motion's team of engineers, designers, and PhD computer vision scientists deliver some 40-50 projects a year, and things can get busy. The company reached a point where it required a flexible tracking solution – one that would give structure to Cubic Motion's productions while also guiding each project through its unique and shifting pipeline. A catch-all solution wouldn't do.
That's where ftrack Studio enters the Cubic Motion story.
"We use ftrack Studio for all production projects that go through Cubic Motion," begins Mike Jones, Cubic Motion's Director of Production. "A couple of recent personal favorites are Marvel's Spider-Man by Insomniac Games, and Half-Life: Alyx by Valve."
ftrack Studio's flexibility, shored up by its robust API, was decisive in Cubic Motion's selection of the platform: "Not all of our projects and client needs fit neatly into a 'standard' pipeline. It was essential in selecting a project management solution that we could utilize its API to flex to the diverse requirements of our clients.
"ftrack Studio offers just the level of flexibility we require," Jones continues. "The platform enables us to develop processes that get project data into the system quickly and reliably, regardless of the client. That was previously very labor-intensive, with a high level of user error potential. Not so with ftrack Studio."
Boosting creativity with ftrack's API
Previously, working with multiple systems meant collating varied and separate data streams from different projects – a manual and time-consuming process prone to error.
"Now, using ftrack Studio, we have the metrics and data we need for the projects in one place," says Jones. "That's a massive boost for us. We not only have individual project visibility but also an overview of multiple projects, which enables correct scheduling and resource allocation across the studio."
In addition to this, Cubic Motion uses ftrack Studio's API to add automated steps into its workflow, along with integrity checks between these steps.
"Doing so not only frees our team up to do more creative work and speeds up our pipeline, but it also helps ensure that the data is in the correct 'state' for all steps. We can catch errors in production as and when they happen, rather than finding out later down the line when the harm is much more challenging to reverse."
Cubic Motion also harnesses ftrack's API to create custom reports on the data held within ftrack Studio. "We've developed custom reports on our project information, which has drastically reduced previous overheads.
"For example, we set up a custom dashboard for each level of artist at Cubic Motion, limiting them to the information relevant to them, and therefore making their view less cluttered. As mentioned, a bit of custom dev on top of that enables the artists to fire off their tasks from within ftrack Studio, further reducing the number of process steps they need to perform.
"Again, that allows our artists to concentrate on the creative side of their job rather than getting bogged down in the admin."
Going remote with review
Another benefit of ftrack Studio became all the more apparent during the COVID-19 pandemic.
Like other studios all around the world, Cubic Motion found itself in the unprecedented position of needing to transition from an office-based workflow to a remote model in response to government-mandated lockdowns, and all within the space of a few days.
"With everybody working remotely, keeping the team engaged and informed was an essential aspect of ensuring the continued and smooth running of the company and its projects," says Jones. "ftrack Studio helped to make that happen
"Firstly, as a cloud-based system, ftrack Studio made it easy to shift to a working-from-home model while operating and servicing our client base without any noticeable transition period. We just packed up from work, went home, and logged on. Everything was there waiting for us."
Still, while the software was there, the lack of person-to-person connection and ability to discuss and collaborate on work over a desk remained an initial worry. Thankfully, it was one ftrack Studio was able to alleviate.
"No longer being able to sit at someone's desk to do a review was a concern," says Jones. "However, the ability to review using ftrack's cineSync integration proved vital in enabling us to continue working as we used to.
"Combining that approach with the notes attached to each shot means there is no need for a huge number of emails, despite working remotely. All feedback and relevant information is available in a clean and structured manner via ftrack Studio."
The face of the future
Cubic Motion is now one of the leading – if not the leading – provider of automated, performance-driven facial animation for the global games market. As the company continues to pave over the uncanny valley while simultaneously increasing the speed of capture, its applications beyond games are many and varied. One area ripe for expansion is higher-quality feature film pre-viz: Persona can speak to character performance earlier in the film's production pipeline than ever before.
And now, working hand-in-hand with 3Lateral – another Epic Games acquisition – Cubic Motion is primed to push the boundaries of digital human technology even further, "bringing more realism and immersion to all forms of visual entertainment," as said by studio CEO Dr. Gareth Edwards.
It's all for the taking. But wherever Cubic Motion goes next, ftrack is proud to do its part in simplifying and streamlining the production process that takes it there.
More customer success stories