Eight VFX was founded in 2004 – the goal; to position the studio at the impact point of creativity, technology, and storytelling. Over the years it has developed stunning content from this hypocenter, evoking stirring images powered by the latest advances in hardware and software.
It's a true story of success, with the team alternating between high-end commercial projects with the world's biggest stars, to projects such as Netflix Original Beasts of No Nation, VR experiential productions, 3D animation and more. A product of this success, in 2016 Eight VFX found itself in the position – and requirement – to expand. In order to manage the influx of work and give each project full creative attention, the studio grew by a massive 50% in 2016, establishing new offices in the key locations of New York, Paris and Los Angeles.
Damien Bataille and Erik Carlson proved key in this rapid and tremendous growth. Erik Carlson joined as a Pipeline Developer in January 2013 and was responsible for the technical development of in-house tools and Python scripts to automate tasks with the use of ftrack.
Bataille joined Eight VFX as CG Supervisor and Head of VFX in January 2015, it was his responsibility with the technical knowledge of Carlson by his side to ensure that each new location – as well as Eight VFX as an overall entity – ran a bespoke pipeline that enabled artists to channel creativity with as little technological hindrance as possible.
Management and pipeline was a vital first step. If Eight VFX was to run multiple projects across studios, then getting projects past with finish-line without logistical turmoil was key. That's where ftrack came in…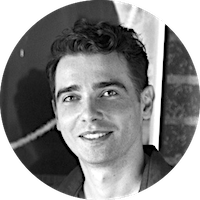 Damien Bataille
Head of VFX, Eight VFX
"ftrack removes the possibility for anyone to be "lost" on a project and accelerates the everything we do."
Rebuilding a pipeline from scratch
Eight VFX does not lock artists into just one piece of software– after all, different tools are tailored to different jobs. Depending on the shot or project, Maya, Houdini, Cinema 4D, Nuke, After Effects, ZBrush, 3ds Max, Mudbox, Photoshop, Deadline and many more might come into play.
Bataille had an unorthodox plan for wrangling each of these diverse toolsets into the Eight VFX workflow: "Back in 2014, the guys at Eight VFX called me and asked me if I was interested in working with them on this project. The goal for them was to grow more, get bigger projects and feature movies projects," begins Bataille. "Because of my past experience, I had what you might call some 'crazy' and 'modern' ideas of how to create a pipeline from scratch with ftrack."
Having started out in his career as a 3D Artist, Bataille has encountered "a lot of pipeline" setups in his time. Working from his varied experiences, he wanted to create solutions that would make life easier for the artists at Eight VFX both technically and logistically. That meant creating an artist-friendly pipeline from scratch.
"At a lot of studios, each tool has custom integration into a pipeline," he explains. "I wanted to try something completely different and smarter – one interface for every need."
Using a single user interface common to all software solutions solved two problems:
Development would be fast, as Bataille only needed to code and manage one application
It would be easy for artists to learn, as they would only need to comprehend a single interface, and wouldn't need to spend time adapting to a complex workflow
However, the initiative also came with a sundry list of challenges that had to first be overcome: "This was not a simple task – I needed to think about how to create a pipeline from scratch that would be easy for the artists to learn and easy for the production team to use, but also be quick and flexible to develop upon," says Bataille. "It was a very complex project, but implementing ftrack was a huge step in the right direction."
The Eight VFX Tool
This new interface was dubbed the 'Eight VFX Tool' – a single, simple and easy channel to all of Eight VFX's technology solutions.
"Our first challenge was to choose what shape this new pipeline would take, and what tools to utilize," explains Bataille. "Project management was an important part of the process. Having tested a few different solutions, I found that the open API of ftrack was the easiest and clearest between all other solutions. As resources and time were limited, a straightforward API was the certainly the smartest choice. It enabled us to develop quickly and efficiently, without losing track of where we were in the process – not to mention the fact that it was open source, allowing us to develop and implement faster."
Another reason for Eight VFX's choice of ftrack was the ready availability of documentation, video tutorials, open-source components and other resources. Using these resources, Erik Carlson implemented ftrack into the Eight VFX Tool.
The first question to answer was: What tasks do I have?
ftrack's robust and adaptable API made the answer simple: Bataille could use this to easily push task list data to an artist from ftrack straight to the Eight VFX Tool.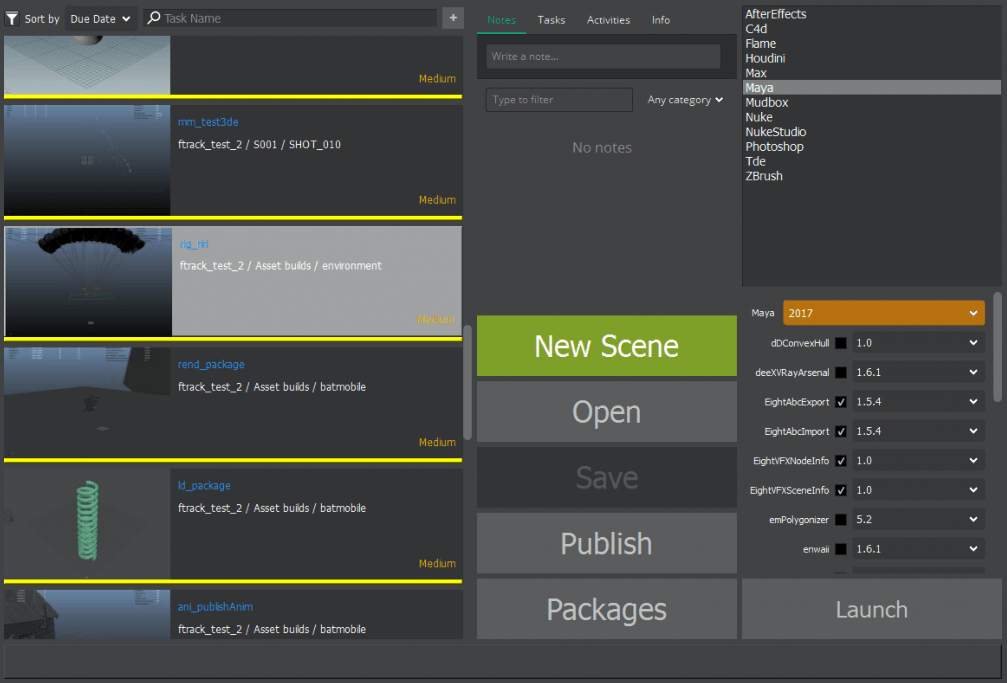 Once this part of the process had been established, the second step was: What do I do with the task once I have it?
Looking across the multiple creative software titles available – especially Maya, Photoshop, and Nuke – Bataille could see many of the tools had key commands such as 'create new scene, 'save scene' and 'open scene'. These buttons were therefore quickly introduced into the Eight VFX Tool UI.
Bataille worked to identify further commonalities, centralizing the plugins on a single server in the Eight VFX Tool – each software title is installed locally with environments generated on the fly.
"Using the Eight VFX Tool, artists can create/open/save scenes multiple times at once – it's not at all difficult to use, and it's very powerful!" explains Bataille. "The artist has the ability to work with whatever software that they want, without having to deal with a different UI each time!
"For example, after an artist sends Deadline jobs to render – whether on the local render farm or over the cloud – they can publish multiple renders to ftrack, in few clicks, all from the same interface. The amount of time that saves over the course of a day can be absolutely invaluable to a creative working in a busy studio environment."
Constant collaboration
At Eight VFX, as with any modern creative studio, multiple projects are often underway at any one point. Supervisors will often commence work on a project before launching into another, meaning overlap is common.
ftrack's versatile features mean that supervisors can quickly drop in via the Eight VFX Tool, check where they are on the project, and choose next steps accordingly. The team can also quickly receive internal feedback on work in progress via ftrack's review functionality.
"Feedback between supervisor and team is vital on any creative project if the vision is to remain intact throughout the process," says Bataille. "This is where ftrack helps a lot – the coordinator can create a review session specially for the supervisor."
Via ftrack's interface, Eight VFX supervisors can check in on work in progress by following a simple link. Everyone involved in the project can add comments, draw retakes directly onto the render, and collaborate in total realtime.
With studios straddling both sides of the Atlantic, and one resting on the shores of the Pacific, this functionality is key. Eight VFX can take multiple projects to the finish line, creatively unified.
Scaling to the future
With the Eight VFX Tool to hand, and ftrack's browser-based architecture enabling artists to navigate work in progress across three studios, the studio is primed for success. And thanks to ftrack's deep customisability, Eight VFX is primed for even more innovation in future.
Indeed, the recent expansion has enabled Eight VFX to take on bigger and more complex projects, and the team has recently worked on productions for brands like Ford, Pepsi, Fox Sports and Leroy Martin.
"Globally, ftrack helps us a lot to track projects and all data for these projects – it removes the possibility for everyone to be "lost" on a project and accelerates the management," says Bataille. "What's more, the simplicity of ftrack's API offers us an integrated pipeline without the need for a heavy development team. We can continue to experiment, explore, and find new ways for Eight VFX to tackle today's complex post-production landscape.
"Our efforts and innovations resulted in a new type of pipeline, and a new method of production management," he concludes. "ftrack was key to getting Eight VFX to where we are today."
More Customer Success Stories