The Rosario Dawson-starring VR series BattleScar is an impressive example of what's possible within the realms of interactive storytelling. We caught up with its creator, the Lyons-based Fauns, to find out how ftrack Studio helped piece together this Sundance- and Tribeca-selected venture into new narrative spaces.
Not far from the Swiss border in France's Auvergne-Rhône-Alpes region rests the city of Lyon. It's in this city that the great Saône river meets that of the Rhône. The two rivers merge and mingle before the Rhône takes the waters into its current and down to the shores of Marseilles.
Fauns, a growing animation studio located in the heart of Lyon, is a similar focal point for two powerful energies. But here, it's the forces of storytelling and technology that join and flow – and the results are spectacular.
"We've always loved to tell stories – and particularly immersive stories," begins Raphael Penasa, the coffee-fueled CEO and executive producer at Fauns. "Over the years, we became increasingly interested in the new and emerging technologies that could help to enhance the stories we told; things like 360 video, augmented reality, and virtual reality.
"We felt that these platforms offered ways to join storytelling and technology and to tell a narrative that we could not explore in traditional media. It's a beautiful blend of traditional and technical – a new media not competing with cinema, but complementary to it. We found it to be an inspiring space."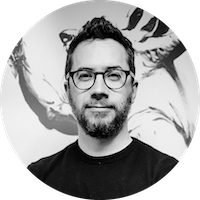 Raphael Penasa
CEO & Creative Producer, Fauns
"We exclusively rely on ftrack Studio once production on a project starts."
And work in it they have. Fauns projects include the 360-degree video experience Caravaggio: In Tenebris, which immerses viewers in the dark chiaroscuro of the Italian painter's realist works. VR project The Blossom Crown, meanwhile, perches viewers on a giant's shoulder, while subtly exploring the relationship between colossus and passenger.
One of Fauns' most ambitious projects, however, is that of BattleScar: a Unity-developed and Sundance selected series that tells the story of two youths in the 80s NY punk scene. BattleScar is a project as ambitious as it is impressive. It's also the perfect illustration of technology and story flowing as one in a new kind of narrative experience.
Helping to guide that creative current was ftrack Studio, the channel through which this swell of imagination ran.
Punk's not dead
A co-production with french studio Atlas V, BattleScar comprises three episodes told entirely in VR. Its story focuses on Debbie and Lupe (voiced by Rosario Dawson), two girls whose strange friendship erupts into one of the world's first punk rock outfits.
"BattleScar is the biggest challenge we've taken on since we started working in VR some five years ago," says Penasa. "It was all a question of perspective. We worked closely with the directors, Martín Allais and Nico Casavecchia, to find new ways to circulate in the space around the user and play with their senses. That meant building a whole new narrative vocabulary specific to this medium – and that necessitated the creation of new tools – all while staying within the production budget."
The series is now over – episode one released at the end of 2017, and episodes two and three were brought to completion in the spring and summer of 2019. And to cap things off, the experience was selected at the 2019 Venice, Tribeca, and Sundance film festivals, to name a few.
It's been a thrilling ride for Fauns – and one that was, in part, helped along by ftrack Studio.
ftrack calling
"We were a small company for many years," says Penasa. "When it came time to scale up and make some significant changes, it became quickly apparent that our previous tracking solutions would not suit our new needs.
"And those needs were many! We wanted to improve long-term scheduling, to overhaul our review process, to rethink our approach to tracking (and analyzing) hours, and so much more. We needed to introduce a single tool into our workflow that would cover all of those needs, and we found it in ftrack Studio."
ftrack Studio fit the bill at Fauns for three core reasons. The first was a surface-level benefit: ftrack Studio's clean and uncluttered UI.
"We spend a lot of time in ftrack, so the last thing we need is a cluttered or confusing UI," says Penasa. "ftrack was great in this regard. It's easy to get to grips with and offers simple, accessible tools like the Kanban-style task boards. Straight away, ftrack Studio brought clarity to our work."
Going backstage
The second reason for Fauns' ftrack Studio adoption was of a deeper, more technical nature. The team needed a platform that worked out of the box, but also one that they could also customize with a layer of specialized tools unique to the Fauns studio workflow.
"ftrack's Python API was a big plus in that regard," says Penasa. "The flexibility it affords means we can tweak ftrack Studio towards our very particular VR workflow. That's impressive because not two studios are the same. What ftrack has done in blending surface simplicity with infinite variety addresses that issue in a very sophisticated way. And it's saved us at Fauns a significant amount of time."
The third and final reason for Fauns' selection criteria was less to do with technology and more to do with the people that make it. "We need to know that the platform we use as the spine of our project management will continually evolve to meet our needs," says Penasa. "We're thankful to say that we're fully confident ftrack Studio is continuously evolving thanks to the work of its development team.
"Both the developers and ftrack support team are very accessible, reactive, and communicative. They immediately help with our needs and never leave us out on the lurch, wondering how to achieve something. They've also built a great community around the official forum, the public roadmap on Trello (where we can propose and vote for features), and Slack. It's easy to find answers to our questions and to be confident that someone is not only listening to our requests but improving the product based upon them. That's critical at Fauns. We can't speak highly enough of the ftrack team."
A flowing pipeline
Like the waters of the Saône and Rhône in Lyon, technical and creative challenges often blend into one when working in VR. Aesthetic considerations quickly become submerged in technological concerns, as the freedom afforded by new perspectives demands new assets and new environmental details to build out space.
New filmmaking techniques need new creative approaches to support them, and this necessity can make VR a complex and sometimes taxing process. For Fauns, ftrack Studio alleviates much of that stress.
"We exclusively rely on ftrack Studio once production on a project starts; task allocation, notes, follow-up, and many other aspects of production are carried out entirely within ftrack," says Penasa. "On BattleScar, the status column showed us everything happening on the project – or specific parts of it – at a glimpse. That made breaking up the project and spreading out the work across our schedule a much simpler process. And, if something came up that we didn't expect, it was easy to reschedule and fit it into the flow of the production."
The ability to track hours in ftrack Studio worked also helped Fauns to level resources and ensure all departments were neither under- or over-scheduled.
"Keeping an eye on bids versus hours worked allowed us to keep BattleScar going at pace," says Penasa. "We could anticipate potential problems and keep production from falling behind schedule, as we could see if things were about to slow down, or if we needed to redirect our efforts or scale up if we faced challenges on a specific sequence."
Connecting through review
Client review in ftrack also made a considerable impact on BattleScar, given the production's global approach.
"Before ftrack Studio, receiving feedback was an issue at Fauns," says Penasa. "Working across multiple time zones and collaborating across geographical distances can make creative discussions difficult. Furthermore, communication becomes scattered when you're working with emails, attached documents, phone calls, various chat apps, and even SMS – all of which clients used to interact with us. We had to manually take all of this feedback and log it in one central location. We needed to simplify this process."
Fauns turned to ftrack Studio's media review solution, and things quickly changed for the better.
"We now only use ftrack Studio client review when we need feedback or approval, on any work whatsoever," says Penasa. "This provides a single communication channel for all feedback, alongside many other advantages. For instance, we can set a time limit on feedback (using the client review expiration date), which ensures we get a response in time.
"It's also easy to gather all feedback from a review session and move it into ftrack Studio's production tracking capability. In doing so, we know the whole team has seen the feedback and understands it. And that means we know that what needs to happen next will happen."
Punk supergroup
The Saône and Rhône, Deby and Lupe, and people with other people: BattleScar is all about the joining of forces. And that's precisely why ftrack Studio exists: to bring creative people closer.
"The Fauns team today is always the same group of people, whether we're working on real-time projects or more traditional projects. We're able to achieve that unity thanks to ftrack Studio," says Penasa. "Our pipeline and our ftrack implementation are robust enough for us to work together, whatever challenges a project might present. We can even guarantee the production of final images based on concept art alone because we know we have that unified team, united by a platform that keeps us reliably informed of capability."
And the result is projects like BattleScar – a new type of entertainment experience for a new generation.
"We humbly believe that BattleScar's unique narrative approach fully reflects what's possible within the nature of VR," says Penasa. "It's a story about punk, but also about passion, energy, and, ultimately, what can happen when people come together."
Improve studio productivity
Find out how ftrack Studio can optimize resources and open up new avenues for creative exploration.
More customer success stories