Over the last 10 years, Filmmore has established itself as one of the most prolific visual effects studios and digital labs in Europe, expanding from its original home in Amsterdam into Brussels and Flanders as well. Part of what makes the studio distinctive is its focus on long-form work: they work solely on feature films, documentaries, and television dramas.
Another part of what makes the team especially noteworthy is their huge roster of clients and an ever-significant pile of active projects. Filmmore tackles visual effects, editorial work, and color grading, including things like retouching shots for TV episodes, matte painting, full CG shots, and plenty of 2D compositing work for movies.
In fact, when we spoke with Filmmore VFX supervisor – Hans van Helden, they had 23 active projects listed in ftrack. Twenty-three! For a core VFX team of 15 employees and an expandable armada of freelance artists, that's a tall task—but it's exactly what ftrack was made for.
While the project management platform is also ideal for helping a studio focus on one large project, it performs just as well helping a team juggle numerous tasks across a wide spectrum of projects.
Hans van Helden
VFX Supervisor, Filmmore
"Since using ftrack review, the turnaround time for receiving client feedback has been drastically reduced at Filmmore."
More and more
Filmmore prides itself on having the talent and capabilities to take on all manner of projects. And with the Dutch and Belgian film incentives available to studios, the studio are working increasingly on international co-productions. For example, highlights include a CG robot for UK science fiction film The Beyond, by director Hasraf Dulull – as well as Houdini simulated snow storms for the American/Lithuanian co-production Ashes in the Snow. Filmmore also created CG ships for Zama, one of Latin America's most awaited and ambitious films co-produced by Augustin and Pedro Almodóvar.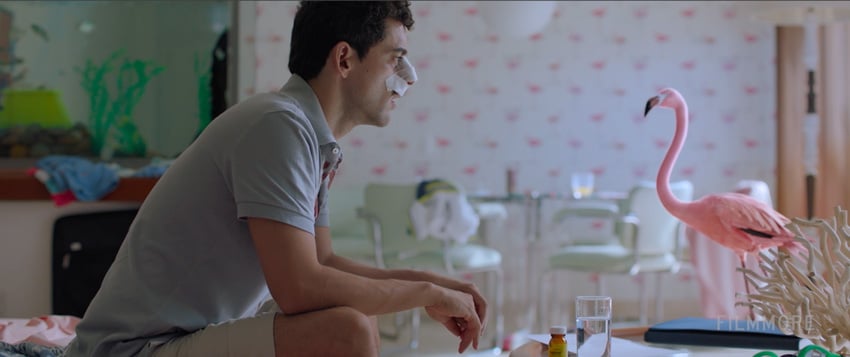 "Without ftrack, it would be impossible for us to keep track of and manage all of this work – especially the TV drama projects, which demand extreme flexibility and efficiency due to their very tight schedules," says van Helden.
"We often only have a couple of days between picture lock and delivery deadline."
"For feature films, there is also a growing need for flexibility with clients moving schedules last minute, or even switching whole projects from our Amsterdam office to our Brussels office (or vice versa) due to changes in their budget obligations," he adds. "We pride ourselves in offering that flexibility while still being able to meet tight deadlines."
Van Helden's own experience with ftrack goes back a long way: back before it was a commercial platform, ftrack began life as Fido's in-house tool, and he used it as a freelance VFX supervisor for the studio. Not long after he helped establish Filmmore Brussels in 2010, he guided the studio to become the first to beta test ftrack, and they've used it in full production since it was installed.
The software has come a long way since then, as have Filmmore's tracking abilities: Before ftrack was installed, Filmmore Amsterdam previously used Microsoft Excel and a whiteboard to stay atop its workload with the addition of a seperate planning and time reporting application. Shortly after ftrack was up and running in the new Brussels studio, they brought it over to the Amsterdam studio to handle all aspects of production management.
"Our lives became much easier," says van Helden of ftrack's implementation. "Not only because ftrack gave us a better overview of projects, but also because of the added efficiency in our data pipeline due to ftrack's open source API."
The artists are ready to work on whatever is thrown their way, this allows management to easily move talent around when a project is ramping up or coming up close on a deadline.
"It all starts with the fact that our artists do not have to worry about all the different project specifications," says van Helden.
"Their Nuke comps or Maya scenes are set up for them by a script that retrieves all information from ftrack; from color space and aspect ratio to resolution and the amount of handles. And when they are finished with their task, it is ftrack that provides their system and our render manager with the info on what to do with the output—all the way up to the specific preview renders for the editor."
That's great for the artists, but VFX supervisors see a huge benefit in ftrack as well. They get an active look at how far along each team members is on their tasks, and they can review tasks quickly once complete and leave comments or drawn annotations.
"Each task has a type (roto, key, animation, lighting, etc.), making it easy to assign specific tasks to certain artists," van Helden explains. "And since it is easy to see how many tasks each artist has left and how fast they will burn through these assigned tasks, it gives us a good understanding of the workload for the following days/weeks, and shows us early on if we need to hire additional artists to finish certain tasks in time."
"We have different teams working on different shows, but if there is a sudden deadline for a certain sequence or show, we can quickly put our full team on it by reassigning the tasks in ftrack and setting these tasks to the highest priority level," he continues.
"These newly-assigned tasks will pop up at the top of each artist's task board. We're not only using the priorities in case of emergency; by using the different priority levels smartly, we can speed up or slow down individual projects to fit the individual schedules nicely."
Van Helden says that Insights is his personal favorite ftrack feature: by analyzing the graphs, he can not only check the current status of a project but also consider what's directly ahead and what's next after that.
By tapping into all of the information gathered by ftrack across years of projects, Van Helden can tweak and refine the studio's bidding process to make Filmmore even more competitive with prospective clients.
Flexible with ftrack
As a studio, Filmmore finds client review to be significantly improved through their use of ftrack. It streamlines and speeds up the process for approvals, whether the client is half the world away or just not available for a face-to-face meeting.
"The client review tool speeds up the process and our clients love it," van Helden affirms. "There is no more need to arrange regular review screenings or to send out QuickTime videos and explain to a director how to use FTP. We not only use it for our international clients, but also for local clients that are too busy to come over."
"Since using ftrack review, the turnaround time for receiving client feedback has been drastically reduced—and the feedback is more clear due to the possibility for directors to annotate straight onto the shot," he adds. "The feedback is linked to a version in ftrack, leaving a very nice history of viewable versions of a task or shot, alongside the corresponding (internal and) client feedback."
Managing multiple workflows
For certain projects, Filmmore uses the Academy Color Encoding System (ACES) which requires a seperate workflow. Juggling different workflows side-by-side across different projects has been made easy with ftrack. "Knowing the colorspace of each project, and our render manager checking the specific specs in ftrack for each shot that is submitted makes working with both workflows very manageable" says van Helden.
That kind of reliable flexibility allows a studio to juggle nearly two dozen projects at once, all while transitioning between workflows and helping clients navigate the complicated web that is location-based production incentives. But that's how a studio like Filmmore thrives: by being smart, working hard, and using comprehensive, intuitive management software like ftrack to help keep them atop the workflow.
It's clearly working for Filmmore, as van Helden says that all three studios are growing and attracting larger, international projects. We're excited to see what's coming next!
More Customer Success Stories