Homefront: The Revolution's opening sequence takes viewers on a journey through alternate history, revealing a timeline in which North Korea rises to global domination. We spoke to Fire Without Smoke about how ftrack's remote workflows helped create the sequence – and how it helped to bring together a team that never once met in the same room.
The rise of Apple is as well known as any fairy tale. Two bright young men developed the home computer concept from their garage, created a company, and went on to dominate the smartphone and tablet markets over the following decades.
Homefront: The Revolution puts a twist on that tale: in this action-packed first-person shooter, these events take place on the shores of North Korea, and the world domination that occurs is much more literal.
In the game's opening cinematic we see a compact version of the doomed alternate timeline. Apple's rise is replaced by that of the Apex Corporation, whose ascent to world domination culminates in both the company and the Korean People's Army taking over the United States.
The story is told via a series of beautiful yet terrifying tableaus, each diorama revealed as the camera slowly backs out and the chronology powers forwards. And while it's intended to get players pumped for the Homefront experience itself, the cinematic is an incredibly impressive piece of work on its own, telling a visually interesting and complex 50-year story in just two minutes of carefully framed shots.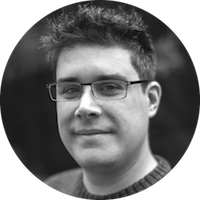 Hugo Guerra
Co-director and VFX supervisor, Fire Without Smoke
"Our team was scattered throughout the world. We never met or were sitting together. ftrack became fundamental for all official communication."
London agency Fire Without Smoke was responsible for the sequence. The core team of just three worked closely alongside publisher Deep Silver and developer Dambuster Studios to bring the lore to life in a blend of live-action footage and CG augmentations.
The team was able to tackle the project with support from ftrack, which kept a scattered squad of remote artists in harmony despite the distances between them.
Revolution realized
Fire Without Smoke spent almost two years working on Homefront: The Revolution alongside the game's creators, handling all elements of the marketing campaign, from trailers and websites to key art and more. But for the opening cinematic, the team did more than just represent what the game makers had already concocted – they helped develop the premise and presentation itself.
In just a few shots, we see the whole tale unfold: scrappy young engineers working in a messy garage; the unveiling of a glossy tablet at a glittering event; the move to weapons and warfare that ultimately led to America's occupation.
Unsurprisingly, the creation of this highly detailed imagery was a huge undertaking – Fire Without Smoke spent seven months on the cinematic alone, from initial concept to final signoff.
Co-director and VFX supervisor Hugo Guerra, co-director Will O'Connor and executive creative director Will Cole were on the project for the entire span, with five additional artists coming on as the show went into full production. "It was quite a special project," says Guerra. "We needed to blend live-action footage and CG elements in a totally seamless way. For that we needed to utilize a variety of techniques, including the use of full motion control cameras."
Guerra and team spent a day shooting at the famed Stiller Studios in Sweden. "It's one of the most advanced motion control studios in the world," says Guerra. "They have an accuracy of millimeters, and for everything you film over there, they have a full pipeline so you don't have to track anything."
Fire Without Smoke created a complete animatic in advance, not only to gain approvals from the client, but also to ensure that they could minimize the shooting schedule: with the animatic they were able to keep it to just one day of shooting at Stiller.
Once completed, Stiller provided the team with NUKE and Maya scripts and plugins, as well as a full-model 1:1 replica of the set and camera rig. From there, Guerra and his team spent the last few months of production adding painstaking detail to the footage, ensuring that it packed all the punch evident in the final short.
From London to New Zealand
Given the work required to marry live-action and CG footage, while developing the cinematic from scratch, it's no surprise that Fire Without Smoke came to rely on a wide range of ftrack's capabilities.
Guerra and O'Connor used the management platform to organize the project's many moving parts; divide and track assignments; keep an eye on the budget; and maintain a record of all feedback, both internally and from the client.
This functionality proved vital, given that Fire Without Smoke seven members were never all in the same room at any given time. Guerra built the team primarily of freelance artists whom he had worked alongside while at The Mill, and they were based all over – from South London to Germany and New Zealand. ftrack allowed Guerra to work with the people he knew and trusted, regardless of location.
"Our team was scattered throughout the world, but I knew I wanted to work with them – these are people that I've worked with for years," he affirms. "We never, at any moment during the project, all met or were sitting together. So, of course, ftrack became fundamental for all official communication."
Staying on ftrack
Guerra is well versed in the problems that can arise when attempting to manage a complex, detail-intensive project using tools that aren't built for the job.
"From my point of view, using Google Docs and spreadsheets is a recipe for disaster," he asserts. "It has the potential for human error, and there are limitations in how much you can share, not to mention security issues."
ftrack was therefore essential to Guerra, who had indeed been using the solution since his time working at The Mill. While Fire Without Smoke didn't use asset tracking for this particular project, given that the small team that had just one 3D artist overseeing that aspect, they did rely heavily on the NUKE Studio plugin to ensure that their pipeline was smartly connected throughout.
Guerra especially appreciated the ability to send work-in-progress footage to clients for review through ftrack's "professional-looking" portal, which let the production leave feedback and detailed notes.
"I really love that, and I think it's fundamental," he says. "Before, I would have sent a WeTransfer link and waited for an email. This is so much quicker! Our executive creative director Will Cole used ftrack's review and feedback tools a great deal. It was an absolutely fundamental element of the production, enabling Will to give feedback to the various teams around the world. He couldn't have achieved what he did without ftrack.
"For me, it's also nice to have something that looks like it was built specifically for us, even though it actually isn't," he continues. "From the client's point of view, they probably think it was built just for us, which is really nice."
Still on Fire
Without ftrack, Fire Without Smoke might have hit several issues: the majority of the artists weren't local to the studio, and with a small team, everyone's input and understanding was crucial throughout production. But with ftrack, Guerra and his team could work effortlessly wherever they were, helping to realize the dazzling vision of the cinematic.
"I would have never been able to do this project because in the past, given that we were never in the same room," he admits. "Although I trusted the people and knew them very well, having a full record of every single piece of feedback was invaluable.
"Also, if I was traveling or asleep, or if my matte painter was in a different time zone, he just needed to scroll through the feedback and he would know exactly what happened the full day," he adds.
Fire Without Smoke remains in high demand in the games industry, recently completing work for huge franchises like The Division and Hitman and debuting footage for Ubisoft's next big open-world game, Steep. With ftrack on its side, the team will undoubtedly continue producing these kinds of memorable mini-masterpieces that make big, bold games even better.
More customer success stories