Lexhag tackled 100 shots for this new prime time E4 series with a small boutique team. Here's how ftrack ensured everyone collaborated efficiently and ultimately delivered high-quality work, on time and on budget.
Space travel and extra-terrestrials can provide the basis for amusing adventures, but much of the best and more enduring science fiction work has something to say about our current world. Perhaps that's why Channel 4's The Aliens has resonated so strongly with viewers.
Taking place in a modern-day unnamed british town, the six-episode series explores a world in which aliens crash-landed 40 years ago, but were promptly walled off into a confined city called Troy – a filthy and decaying area that pales in comparison to the humans' living habitat.
The Aliens deals with issues of racism and resentment of migrants, turning a mirror on societal concerns. Yet at the same time it's a rollicking rollercoaster ride packed with risqué humor and action.
Hasraf 'HaZ' Dulull
VFX Producer, Lexhag
"I don't think we would have been able to deliver Aliens if we didn't have a database like ftrack."
It's a fantastic idea, setting a tone that's at once provocative, realistic, and entertaining. In order to build out this world, The Aliens also required deft visual effects work. For that, Channel 4 and Clerkenwell Films turned to Lexhag, a London-based boutique studio that prides itself on "art-directed post-production and visual effects". Troy and its alien inhabitants needed to be gritty and grounded, and Lexhag was up to the challenge – with some assistance from ftrack.
Given the tight budgets and production timelines of episodic television, VFX supervisor Jonathan Harris' and VFX Producer Hasraf 'HaZ' Dulull's small team needed to be consistently on-point and ready to adapt to any curveballs along the way. By utilizing ftrack's robust and easy-to-use project management platform, Lexhag was able to fully realize the vision for this sizzling new series.
Otherworldly visitors
One thing you should know going into The Aliens: if you're expecting little green men, prepare to be surprised. The titular beings look just like humans, but with distinguishing elements that can't be seen at a glance. That sort of approach helps impart the allegory while also making the show a little different your average sci-fi fare.
"It's very grounded in reality – it's sci-fi, but it's not your typical sci-fi show," explains Hasraf "HaZ" Dulull, VFX producer on The Aliens. Dulull was originally slated to help out on the show for a brief stretch, but found himself attracted to the promise of a new kind of sci-fi aesthetic. "We knew that this show was going to be quite groundbreaking for television. It's doing things that are quite bold and daring with the storylines, as well as having a slight adult nature."
Dulull describes the giant wall that separates London and Troy as "a centralized character throughout the entire series," given that it's seen frequently throughout the show. Implementing the massive digital structure into live-action shots required a great deal of attention to detail, not to mention some on-set advisement from Harris. "It has to be done right and it has to be done seamlessly, so people believe it's really in there," asserts Harris.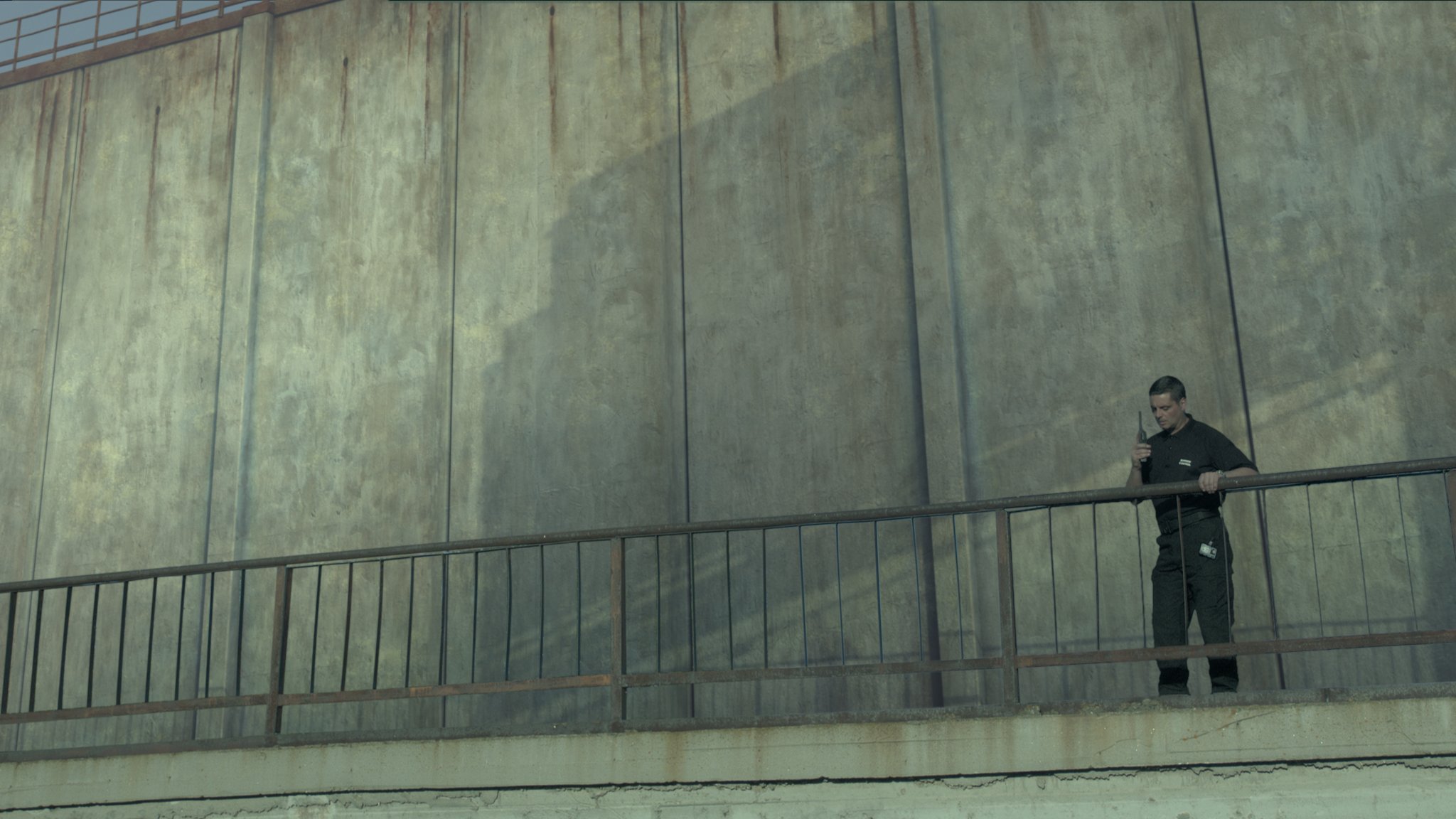 Creating a believable Troy, meanwhile, meant creating a 40-year-old London by removing the structural and societal progress that would have come after. "It's a shantytown filled with constant, unfamiliar threats; a dilapidated, old English town," says Harris. "One thing we were really after was this sense of chaos and decay, but we didn't want it to be overly post-apocalyptic."
Lexhag also tackled tasks like removing wires and adding muzzle flashes to weapon fire, and for one scene even needed to tone down an especially gory scene for compliance requests.
Harris and Dulull both praise Clerkenwell Films for being open to Lexhag putting its own stamp on the work. "They gave us a lot of freedom to come up with ideas, and to us that's quite a rarity in television," admits Dulull. "I think that's one of the reasons why we gave it 110% and were able to push our resources to make it work."
Focused with ftrack
The Lexhag team shifted in size between six and 12 people while tackling more than 100 shots for The Aliens, but the crew remained relatively small for the most part: that's the reality of an episodic TV budget and pitching as a boutique agency; and a reality that requires nimble thinking to get everything done well and on time.
"Even though this TV series looks like a feature film, and the stuff that we're doing is quite high-end, the team actually is quite small because we're working with television budgets and schedules," says Dulull. "One of the things that we have to remember is we have to think outside the box when we're doing these sort of shots. We don't have six months to do a massive CG takeover of a city."
Luckily, ftrack is the perfect platform to help teams tackle tricky projects, as its management tools make it easy for producers and artists to work seamlessly and in a centralized location. With all shots, versions, and notes on a shared web platform accessible from anywhere, Lexhag was able to guide the project to completion while impressing the client and staying within both budget and deadlines.
Lexhag, which has used ftrack for about two years now across a variety of productions, tapped into the software as soon as their bid for The Aliens was accepted. They created sequences and shots, and then assigned tasks to artists, with client notes and various versions of shots uploaded along the way. With everything contained and organized in one location, the producers could get actionable information at a glance.
"Every major detail of the show is in ftrack. Nothing should be on emails. That helps me from a production point of view," affirms Dulull.
Constant connection
For Harris, one of ftrack's most beneficial features is the ability to see versions within minutes of them being uploaded.
"I get a notification and I can play the artists' work within five minutes of it being posted, regardless of where I am," he says. "If I'm out on a job, on the train, or at home, I can give feedback very quickly, which prevents the downtime caused by people waiting. It's very cool to log onto the Internet and see your whole project taking shape."
Dulull, meanwhile, says that ftrack offers a sense of relief, as he can check on the status of the production at any time without having to bother someone else: "If I didn't have ftrack, with all of the versions that I can look at, I'd be constantly phoning up Jonathan or coordinators to ask, 'Hey, how are we doing on the show?'
"With ftrack I can do that in a non-disruptive way. I can log on, look at the shots and see the creative feedback that Jonathan has given to the artists. Straight away you can see that everything is under control, and exactly where you stand in the project. For a boutique studio, that's a massive help," he explains.
"When you're small and budgets are tight, you've got to be as nimble and flexible as possible, and ftrack really helps with that," adds Harris.
While ftrack gives producers and supervisors a bird's-eye view of a project, Lexhag's artists also rely on the platform for their day-to-day work, whether it's seeing their active assignments, viewing the progress of a shot, or reading notes from Harris or a client.
Aside from small tweaks, Lexhag mainly uses ftrack's out-of-the-box integration with other tools such as NUKE and Deadline, and is pleased with how nicely it plays with its existing pipeline. However, they hope to do custom work in future, implementing their accounting packages and other 3D software.
All told, ftrack is a crucial part of the Lexhag routine, and essential for avoiding a mess of external communication. "Without ftrack, it would have been a complete nightmare, with a ton of emails going everywhere and causing more confusion than clarity," says Dulull.
Aliens and beyond
Lexhag credits ftrack with playing an important role on The Aliens, enabling the lean, talented team to tackle a large number of complex shots – not to mention while juggling multiple other projects at the same time.
"I can sleep better at night knowing that I've only got one place to look for that data," says Dulull. "To be able to keep on top of all of those shows, especially with The Aliens being quite heavy, was invaluable. I don't think we would have been able to deliver Aliens if we didn't have a database like ftrack."
Initial reception to The Aliens has been hugely positive and there are surely more stories to be told in this world. For its part, Lexhag is working on several other projects, including a show called The Living and the Dead for the BBC. Dulull says it's a very different show from The Aliens in terms of subject matter, but that it leverages the same kind of strengths that the studio has become known for.
"Like Channel 4, the BBC needs seamless visual effects, and I think that's what one of the things we excel at as a team at Lexhag: doing those seamless visual effects that serve the story rather than being nothing more than eye candy. ftrack will continue to be an important part of ensuring that sense of cohesion in our future projects."
More customer success stories