Dominican arch-vis company LMCad discusses client feedback cycles with ftrack Review, and how the platform keeps its two studios competitive, innovative, and creative in an often demanding market.
LMCad is a full-service architectural visualization company based in the Dominican Republic. The studio's team of experts uses technical, creative, and production skills to turn architectural ideas into visual conceptions a client can consider, discuss, and ultimately develop.
And it's a lot of work. With locations in Santo Domingo and Punta Cana, LMCad's offices span the South-East coast, and briefs come thick and fast. LMCad recently worked with multiple developers on large-scale second-home usage projects in Vista Cana and Cana Rock, for example, running an impressive 25 images through its pipeline every day.
"Arch-viz is a challenging market," begins Lennín Mireles, LMCad's CEO. "The everlasting challenge is quality: the market demands consistently first-class work and increasingly more hyper-realistic images. The necessity for innovation heightens the challenge: at LMCad, we're always seeking new technology and finding new ways for developers and master brokers to showcase projects in more 'wow-worthy' ways.
"Recently, a new challenge was added to the list: COVID-19, and the need to address high quality and innovation with a completely remote team.
"Thankfully, ftrack Review provides support across all of these challenges – and more."
Lennín Mireles
CEO, LMCad
"ftrack Review presents no barriers: our clients just launch the software and visualize their creative ideas."
Streamlining the feedback cycle
"High-quality" rarely stems from version one; gorgeous imagery arrives via an iterative process, where tweaks, additions, and a collaborative effort from both creative and client progress the image to a perfect final form. Depending on the strategy employed, the process can be either complex and confusing, or seamless and effortless.
"We perform reviews on test images with clients every day, but with email alone, the process can be tricky," says Lennín. "Tracking the sheer number of emails becomes a task all in itself. Sometimes one person provides feedback missed by another, or clashes of opinion derail a thread, or critical data gets lost, all of which is disastrous to what is already a fragile process."
Other constraints place further demands on the review process: "At LMCad, we limit the number of revisions for each rendered image; otherwise, creative back-and-forth continues endlessly. Therefore, the conversations we have must be clear, concise, and succinct if we're to be effective within tight deadlines."
ftrack Review is the solution to each of these problems: "The team can view each image's progress in real-time without getting lost in the noise of an email thread. Everything is available in context, which is vital if we're to stick to our highly organized schedule."
No headaches, no nonsense
The impact of COVID-19 added an extra layer of difficulty to LMCad's review process. Lockdown procedures saw the team scattered outwards from the two studio locations, no longer able to perform quick over-the-desk discussions around creative work.
The communicative capability of ftrack Review helped to overcome the issue.
"One of ftrack Review's biggest strengths is the facilitation of clear team communication over distance, not just with the client but with one another," says Lennín. "With ftrack Review, we aren't jumping from email to IM to phone discussions: all team members have a clear destination for each project's progress via ftrack Review's real-time interface. The team can work from anywhere without falling behind.
For Lennín, the process works seamlessly due to the simplicity of the product: "We work with clients who aren't always proficient with technical tools, which can be a cause for frustration. Explaining new tools to clients can often cause a headache. Not so with ftrack Review: clients can dive into a feedback session via their browser quick and easy, then annotate their feedback.
"ftrack Review presents no barriers: our clients just launch the software and visualize their creative ideas."
Improving review
Twenty-five images run through the LMCad pipe every day, meaning a lot of time spent in review, tweaking images, and ensuring the output meets clients' expectations and demands. ftrack Review is an integral part of the process.
"ftrack Review significantly reduces the time spent reviewing with clients on every deliverable," says Lennín. "For any studio with the same kind of throughput as LMCad, a solution like ftrack Review is a total necessity."
Try ftrack Review today and discover how high-quality media review can simplify and speed up client feedback.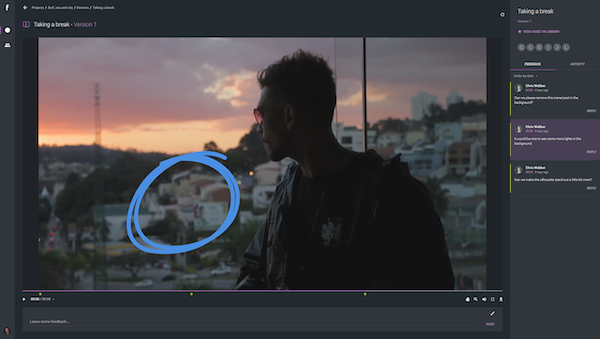 More customer success stories