Project Night Raiders
Distributor Elevation Pictures
Locations Canada, New Zealand
Producers Ainsley Gardiner and Paul Barkin reveal how cineSync helped them collaborate with Danis Goulet and Taika Waititi for the upcoming sci-fi thriller, Night Raiders, all while in lockdown on opposite sides of the planet.
New Zealand-born producer Ainsley Gardiner is well-known for championing fair representation in the film industry. Over her 25 years in the industry, Ainsley has sought equality across all aspects of filmmaking. Her efforts reached a head in 2004 when Ainsley established Whenua Films with actor Cliff Curtis—a production company born of a desire to elevate filmmakers who share her Māori descent. Ainsley's second venture, Miss Conception Films, was formed with a similar mission—this time to produce films made both for and by women.
Night Raiders marries both of Ainsley's career prerogatives. Produced by Ainsley and directed by Danis Goulet, a Canadian of Cree descent, Night Raiders is an upcoming sci-fi set in a dystopian, post-war America, where children are property of the state, which trains them to fight. The film follows an indigenous mother who joins an underground band of vigilantes—her quest: to rescue her daughter from a federal institution.
Ainsley Gardiner
Producer
"cineSync adds that extra dimension of human-to-human connectivity."
The film—which stars Amanda Plummer, Elle-Maija Tailfeathers, and Alex Tarrant—is executive produced by Oscar-winner Taika Waititi; a long-time collaborator of Ainsley's and colleague on previous projects BOY and Eagle vs Shark. Paul Barkin also produces alongside Ainsley. Paul is President at Toronto's Alcina Pictures and an advocate of emerging talent, joining Night Raiders after two decades producing critically acclaimed features such as Berlinale Panorama Opener The Tracey Fragments and The Colony.
Below, we speak to Paul and Ainsley about Night Raiders, what it took to collaborate internationally on Danis's debut during a global lockdown, and the role remote work continues to have as they push the feature through post.
A passion project on pause
"Danis is a first-time filmmaker and Night Raiders is an incredibly ambitious first film," begins Paul, reflecting on the film's inception. "Tara Woodbury, my producing partner on Night Raiders, developed the script with Danis and was passionate about getting this incredible film made.".
"At the time, there was a groundswell of support towards indigenous filmmaking in Canada. Danis had shown immense talent with her short films over the years, so the timing of it all—with support and resource from our industry—was primed to tell this epic tale."
Production kicked into high gear, with principal photography locked and edit almost finished. Then something entirely unprecedented happened: a once-in-a-hundred-years pandemic. COVID-19 ground international film production to a halt. The impact on Night Raiders, however, was relatively minimal.
"We were fortunate in the sense that, by December 2019, we were at the end of our edit and we'd completed 99% of the film," says Paul. "We had just soft-locked the picture when Toronto went into lockdown in mid-March."
Although the shoot was largely locked, however, a big question mark remained: what to do about post-production? Night Raiders had numerous shots requiring creation by a global team of artists; artists who needed to connect and collaborate on visuals without entering the same room. The team faced a puzzle wanting a quick solution.
Enter cineSync
Thankfully, there was cineSync.
"cineSync came at the right time, to re-inspire our team through these trying months," reveals Ainsley. "With cineSync, much of the work, including sound design, score composition, VFX and final editing, has been able to continue."
Using a combination of cineSync's collaboration platform and conference calls on Zoom, Ainsley and Paul ensured a relatively seamless production flow. Indeed, Dani was able to keep directing Night Raiders from Canada, without needing to travel to her New Zealand-based music, sound, and VFX teams.
The Night Raiders production team running a creative discussion via Zoom.
"Normally that personal interface between the creative teams and the director is such a huge part of building a shared vision," says Ainsley. "What was exciting about involving cineSync in Night Raiders was that not only were we all face to face (in the cyber world, at least) but we were watching the film collectively, rather than individually and then feeding back. Film is designed to be a shared experience, so cineSync influence was invigorating for our creatives."
For Ainsley, this personal engagement is as essential to the creative process as technically capable tools. In the production of Night Raiders' visual effects, she felt cineSync brought both this reliability and creativity together in one neat package: "Vision, communication, and partnership are the cornerstone of a great project, and the creative energy of people is so visceral and vital. It's heart-warming to know that, in some way, you can achieve it even when budget, schedule, or Covid-19 doesn't allow you to be in the same room.
"Co-productions between countries are not new, of course, but in a pandemic, cineSync added that extra dimension of human-to-human connectivity," Ainsley concludes. "That connection made the more challenging aspects of distance diminish, and the fun parts rise to the surface."
Night Raiders is due for release in 2021 via Elevation Pictures. The film had its world premiere as part of this year's Berlinale.
Connect your team with real-time creative sync: everyone sees the same frame at the same time.
Try cineSync for free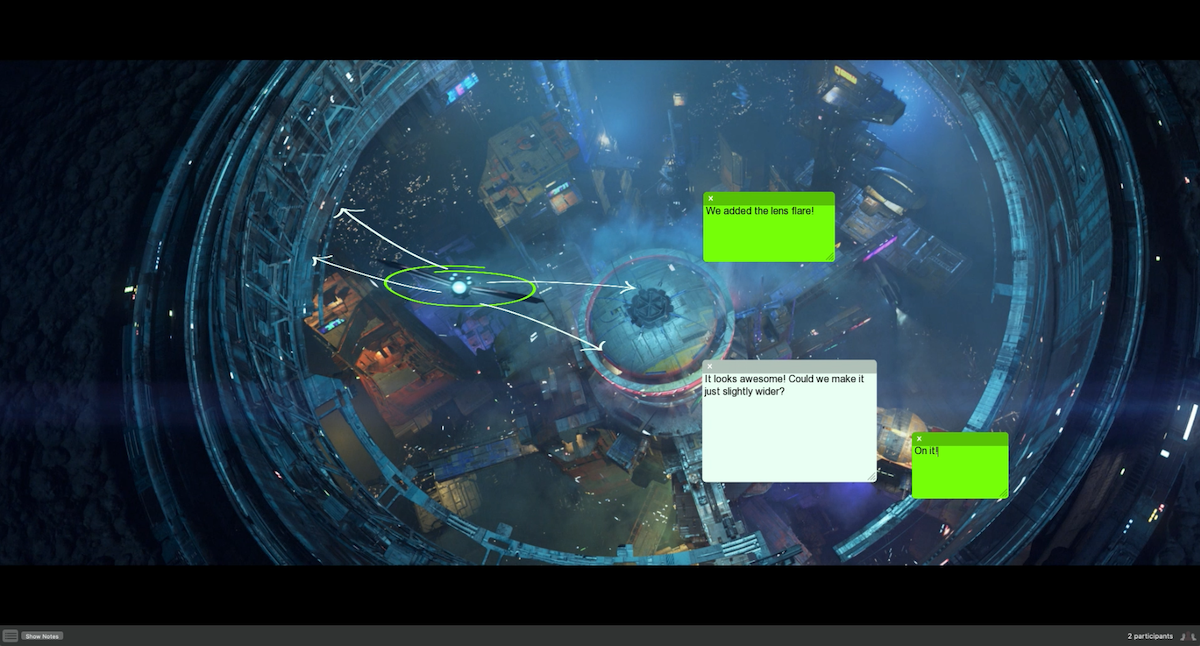 More customer success stories