23lunes – formerly Post23 – reveal how they created an action-packed CF commerical for Danone Actimel, bringing cartoon heroes from the packaging to life in full 3D animation. And all with a little help from ftrack.
Note: since first publishing this story in 2015, Post23 has since rebranded as 23lunes.
Kids' minds seem to race at a million miles per second, so catching their attention with something like yogurt – even a delicious, fruit-flavored drink version – is surely challenging. But in Europe, Danone has been able to spice up its Actimel for Kids brand with the introduction of Team Actimel, a trio of super-powered heroes that fight aliens and injustice.
Seeking a studio to bring the cartoonish heroes from the packaging to the small screen in an action-packed CG commercial, Danone Actimel agency Vinizius Y&R Barcelona approached Post23. Founded by the owners of Onpost and 23lunes, which were founded in 2004, Post23 is a relatively young company, having been founded in 2013. Despite this, Post23 has already developed an impressive resume of work, including numerous other adverts and even a sequence in the big-budget Hollywood blockbuster, Ender's Game.
Post23 isn't a huge outfit at just dozen employees, but even for a small team, ftrack provides the tools to manage a project of any size. On a project like the Danone Actimel ad, where tight deadlines are part and parcel of the work, ftrack is nothing less than essential in guiding the team to the finish line.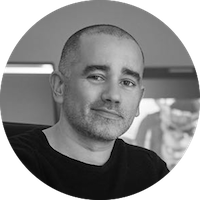 Jordi Garcia
Director and Digital FX Supervisor, 23lunes
"With ftrack, there's a very pleasant feeling of having things under control. I think you can go pretty far with a bicycle, but you'll go further and faster with a good motorbike."
Team Actimel, activate!
"What I think makes us different is our love for character animation, our FX department, and the constant search for a new look in every project we work on," says Jordi Garcia, director and digital FX supervisor at Post23. "What we always try is to give something new visually, to try to make it pop out from everything else out there."
That's definitely the case with the Danone commercial, in which Team Actimel look as if they've just leapt from a feature-length, action-packed CG film. They're beautifully rendered and pop out of the frame, as Garcia suggests – and although the on-screen time is rather brief, it makes a lasting impact. Post23 has now handled multiple Team Actimel clips, each one delivering a tense new showdown that plays out across a matter of seconds.
"We like to treat each commercial project like the Actimel trailer as if it were a small movie trailer, delivering that same kind of satisfying impact," says Garcia. This approach to each project has become something of a calling card for the relatively young studio – a crucial element to its output, given that it helps give Post23 reach and exposure outside its Spanish homeland, which doesn't host a great variety of the kind of work they strive to perform.
"We are very interested in game cinematic and feature films, but in Spain there's not much market for the type of work we are aiming for, so we're working hard to open our market to other countries which have strong video game and feature film industries," Garcia explains.
While Post23's commitment to character animation and high-impact effects is admirable, it's also difficult to accomplish on a tight schedule – and commercials aren't exactly known for their sprawling production timelines. With just six weeks to bring its latest Team Actimel commercial to life, the team decided to use ftrack for the first time. It provided a crucial boost that allowed Post23 to elevate its work even further while staying atop the tight timeframe.
A new kind of focus
Prior to ftrack, Post23 relied on a manual organization system, but as the team has expanded, the studio felt like it needed a helping hand from some serious project management software. Even with just 12 members on the team, ftrack proved to be an ideal and smartly scalable system.
"As we were growing, we felt we needed a flexible project management system to help us keep order and consistency on our project – the more people you have, the greater the mess," admits Garcia.
"With the previous 'system,' you rely on each artist's will to be organized; but as everybody knows, even if you act with the best of your intentions, everybody has his own logic system and the mess will happen anyway. In the end, you need an automated solution like ftrack to take care of the organisation side of things, while letting the artists do their creative work."
Post23's leads had used other project management tools in the past, but never fully integrated Maya or NUKE into these systems. "That doesn't count as a real project management experience!" claims Garcia. With ftrack, however, Post23 grabbed the bull by the horns, fully implementing it into their pipeline.
"Even without custom integration, it's relatively easy to implement into a small studio – it's fast, adaptable and accessible," Garcia affirms. "Even if your studio is four or five people, your pipeline will achieve a much higher level of efficiency with a project management system like ftrack. It's a tool that maybe you don't think that you need at the beginning – but once you use it, there's no turning back."
Embracing project management
Although the newest Team Actimel commercial was Post23's first experience with ftrack, the team thoroughly explored its functionality, finding the results were immediate and significant.
"The Maya integration was a great breakthrough for us for its simplicity and learning curve – it made it very very simple for all of our artists to get to work in just a few hours," Garcia explains. "As a director, ftrack helped me to stay on top of everything that was happening in the project without needing to constantly check up on what everyone was doing.
"On the Team Acitmel commercial, it was also crucial for all departments to be aware of what everybody else was doing at the studio at the time – we needed to be absolutely sure everyone on the team was working in the same direction and with the same vision," he continues. "With that in mind, we also had NUKE integrated into ftrack, so we could track all shots and to be continuously updated of all new renders that we were delivering, minimizing human error on a level we've never achieved before."
While ftrack provided an immediate boost right out of the gate, Post23 knew that it wanted to use the software for the long haul, and that custom development would help integrate ftrack even further within its pipeline. To do so, the studio engaged Efesto Lab to handle a number of custom enhancements that helped make ftrack an even better fit for its ongoing needs.
"From the very moment we ordered ftrack, we had in mind several custom tools that we wanted to develop to improve our workflow. The guys at Efesto did great work to make it happen," says Garcia. "Together, we created several tools including an alembic import and export tool, which saved us lots of time in the animation and rendering stage. We also created an improved playblast tool, which publishes a custom preview video containing all of the data we need to deliver to the client, including versions and progression of the shot. It made things much easier overall."
More to come
And that won't be the end of Post23's custom work on ftrack, as the team plans to further integrate Deadline, its render management tool of choice, as well as link in Houdini so the FX department can tap into the general pipeline. "We are newbies in the ftrack world, but we have lots of ideas waiting to be coded in the next months," says Garcia.
While Post23 had plenty of success with manual tracking in the past, the move to ftrack has made the studio more efficient and precise than ever before, allowing the small team to act like a much larger one – and tackle bigger and more complex projects as a result.
"With ftrack, there's a very pleasant feeling of having things under control that is difficult to have with the 'by default' way of work," says Garcia, before dropping a very apt comparison: "I think you can go pretty far with a bicycle, but you'll go further and faster with a good motorbike."
More customer success stories