Any car bearing the legendary Porsche sigil immediately stands out from the crowd. A graceful amalgamation of elegant chassis and streamlined engineering give Porsches a mesmeric sense of rhythm – not to mention endowing them with a strong undercurrent of irresistible desirability
Creating an advertisement as slick and captivating as the vehicle it represents is therefore no easy task. All credit to Berlin-based creative post-production studio Storz & Escherich for producing a commercial as striking and memorable as the iconic brand. In order to create the commercial, the studio, founded in 2008 by principals Matthias Storz and Roy Escherich, utilized all of its talents as a creative post-production company at the intersection of moving image, design, experiential content, and digital work.
Working with Bakery Films and Kemper Kommunikation, the team pitched an innovative concept synonymous with the design of the Porsche 911 Carrera Black Edition: reveal the outline of the vehicle using a simulated effect of pitch-black ink dispersing into limpid water.
The results are stunning: the sinuous ink stretching and folding within the contours of the Porsche, immediately selling the fluid, supple and flowing nature of the car without a word needing to be said.
The beauty of the end product belies the complexity of its creation. The short required a blend of filmed footage and CGI animation, as well as a uniquely intimate collaboration between compositors and 3D animators. This demanded a management platform that could keep up with the project's needs: ftrack was there to help.
Roy Escherich
Managing Partner, Storz & Escherich
"ftrack helps us focus on what we do best: the work. It allows us to deliver above and beyond, pushing the envelope of what's possible."
Porsche perfection
Since its inception, Storz & Escherich has tackled a wide array of projects for very large suitors, including Coca-Cola, Lexus, Siemens, Audi, and many more. So, when Bakery Films sought a boundary-pushing studio to tackle the challenge of presenting the Porsche 911 Carrera Black Edition to the public, Storz & Escherich felt like a natural fit.
"We believe in good, hard work," begins Storz. "We combine this with our passion for the craft and creativity of CG to deliver truly great work. Using this approach, our style frames and ideas for the execution of the commercial successfully convinced Porsche to go with our team."
According to Storz, the commercial – titled 'Timeless Black' – is inspired by the immutable grace of a midnight-black Porsche 911. "This inspired us to create a visual mix of abstraction and materialization – all in complete compositional harmony with a dramatic, epic edge," says Storz. "It all starts with an explosion of a drop of black ink, which transforms into that magical piece of iconic design: the black Porsche 911."
As witnessed in the video, the results are spellbinding: the syrupy liquid unfurls and expands, gradually unearthing the iconic outline of the Carrera Black Edition. It's not a traditional car commercial, but then again, a Porsche isn't a common ride. The ad perfectly suits the brilliance of the subject: in both cases, it's nearly impossible to look away.
Storz & Escherich's idea held true from concept to execution with little modification. However, actually creating the effects required a great deal of experimentation and back and forth between various groups in the team, who used both real footage and CG augmentation to achieve the final effect.
Much of the footage of the black ink pulsing through the water was shot on set and then returned to the studio, where Storz & Escherich's artists could build upon the filmed results with simulated liquid animation.
"We created a complex mask for every shot of ink, and layered as many shots as possible to achieve a variety exiting movements," explains Storz. "We then added CG elements to the real footage of the car and combined them with animated car parts and ink shots.
"The process of the edit was not a classic one," he continues. "We had to work in backward and forward steps to get a perfectly authentic rhythm between animation of the car parts and the movement of the ink."

Always on track
A familial culture is core to any studio, but at Storz & Escherich a close, collective approach forms the backbone on each and every project. Or, as Escherich puts it: "We're hard-wired for collaboration."
ftrack is certainly attuned to that methodology. Its tools enable the Storz & Escherich team to stay connected throughout each stage of the creative process, the team working from one central archive despite its disparate nature.
Having used ftrack for well over a year across many projects, Escherich is confident that it's the right solution for the problems presented by the creative process, particularly due to its accessibility: "ftrack makes project management across the board easier and more efficient. It saves time, drives effectiveness, and allows seamless collaboration across all people involved."
You just plug and play. It's perfect."

Fluid communication
Prior to adopting ftrack, Storz & Escherich used an assortment of internal and external tools that, despite their varied functionality, couldn't provide a complete solution for full project and team management.
Now that the entire team is connected via ftrack's web-based platform, it's easier to communicate on all fronts and ensure projects are rallied behind the same creative targets.
"ftrack fulfills a range of requirements from the artist side and the production and management division," says Escherich. "We highly appreciate having such an efficient form of communication on each and every shot. With ftrack, collaboration becomes more structured and there is no space for misunderstanding – both within the team as well as when working with clients or external suppliers.
"The web-based platform also allows the producers to manage workflow even when they're out of office; that means being able to work 24/7," he continues. "This is paramount when working to tight timelines, on highly collaborative creative processes, with clients in different time zones around the globe."
In order to superpower its functionality, Storz & Escherich has implemented custom actions throughout its ftrack integrations. The studio has also developed its own Deadline plugin for ftrack upload; a task cache database; and integration into file dialogs for 3ds Max and NUKE. The team also plans to tap into ftrack's API to make further custom tweaks to their pipeline, including connecting to FileMaker and integrating with After Effects and Cinema 4D, enabling a much smoother process throughout each sequence and shot.
Much more in Storz
By keeping the team in touch both with each other and with the guiding creative principles of the Porsche project, Storz & Escherich delivered a commercial that bears all the hallmarks of a successful project: professionalism, artistic innovation, and a subtle yet palpable sense of accomplishment.
"ftrack helps us focus on what we do best: the work," says Storz. "It allows us to deliver above and beyond, pushing the envelope of what's possible. With ftrack, the organization and management of the project is so efficient, because there's nothing for people to misread."
'Timeless Black' certainly showcases Storz & Escherich's incredible talent, but the team continues to aim higher, promising the best is yet to come. "We plan to continue delivering increasingly superior work, continue finding new ways to innovate, and continue combining the unusual and the unseen," concludes Storz. "Mostly we intend to continue enjoying our work – and ftrack will play a big part in that."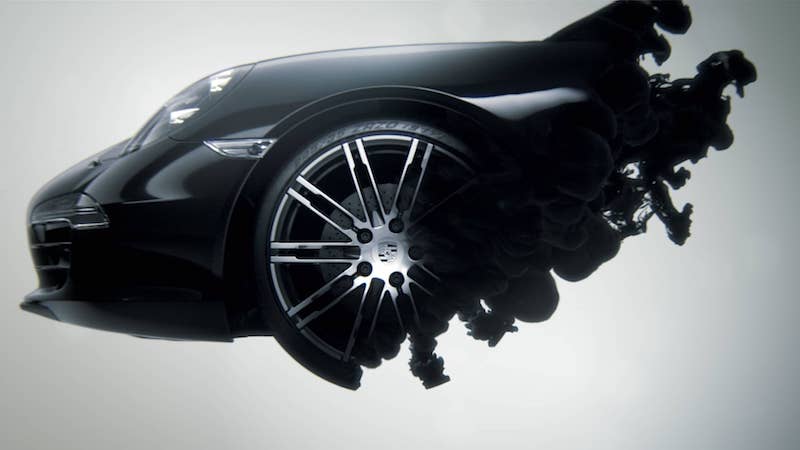 More Customer Success Stories