Company London College of Communication, University Arts London
Website  arts.ac.uk
Location London, UK
When COVID-19 hit the UK in March 2020 and labs and lecture halls closed, the MA in 3D Computer Animation at London's College of Communication had to adapt. Below, Course Leader Luke Bridger reveals how master's students learned to collaborate remotely with peers and lecturers around the globe via ftrack Review, the same platform used by creative studios to provide feedback and approval on powerhouse projects.
University Arts London is well-recognized as a world leader when it comes to nurturing the next generation of creative talent. As Europe's largest specialist university for art and design, the school has propelled many alumni to world-leading status in the creative industry: from Steve McQueen to Charles Saatchi and Anthony Dod Mantle.
The University comprises six colleges, one of which being the London College of Communication (LCC). The LCC typically accommodates a community of 5,000 students who attend some 60 practical courses on-site, including the LCC's master's degree in 3D Computer Animation.
When COVID-19 forced LLC's lecture theatres and labs to close, however, everything changed. 3D Computer Animation Course Leader Luke Bridger faced a unique challenge: how to quickly transition the 3D Computer Animation program from the lecture hall to an entirely remote model.
The solution was ftrack Review. Using ftrack Review's browser-based and synchronized video review and approval capability, Luke was able to maintain education, feedback, and support between lecturers and students around the globe, and continue to reinforce LCC's practical approach to the development of industry-ready creatives.
Luke Bridger
Course Leader
MA 3D Computer Animation, LCC
"Using ftrack Review meant we could continue at a pace even faster than before lockdown."
A fast track to the industry
LCC's MA in 3D Computer Animation prioritizes what matters most in today's era of constant creative evolution: versatility.
Over 15 months, students learn how to conform traditional animation techniques to the latest technologies, including real-time animation and immersive storytelling across augmented and virtual reality, all within an industry-standard pipeline.
Collaborative work also forms an integral part of the course philosophy. Students regularly liaise with external professionals and other students from courses within LCC, including MA Games Design, MA Visual Effects and MA Animation to reflect the reality of professional 3D animation practice in the film, television, games and interactive industries.
"The 3D Computer Animation course prepares students to be industry-ready by the time they have the degree," says Luke.
With a background working in animation for London VFX giant Cinesite, Luke brings years of experience to his teaching and a deep understanding of the skills required to succeed in the industry.
"One of the key factors in a successful practical preparation is teaching pipeline and the process of production," Luke explains. "This thinking is why ftrack has been a significant component in the 3D Computer Animation master's course, and why the platform continues to be crucial in our student's understanding of how they will work when involved in high-production projects."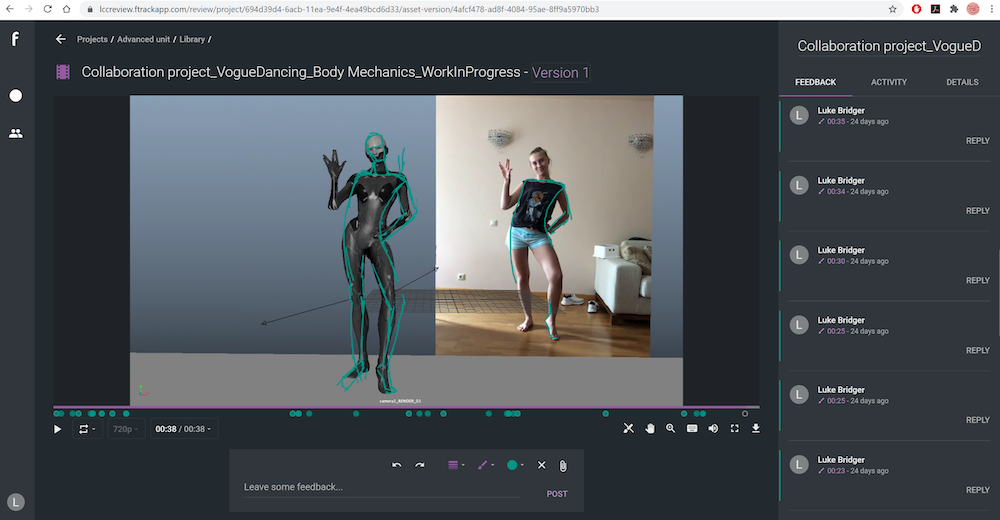 Going remote
ftrack's project management and production tracking solution, ftrack Studio, is already deployed as standard at LCC. LCC students use ftrack Studio to collaborate on and progress projects, ensuring all moving pieces are methodically and carefully tracked, as they would in a real production setting.
The COVID-19 pandemic and enforced nationwide lockdowns reinforced the need for ftrack Studio's cloud-based workflows. As LCC students started to work remote, they needed to collaborate from a distance. As time went on, however, Luke came to realize ftrack Review's browser-based and easily accessed review set-up could also play an essential role in the University's educational product suite.
"The impact of Covid-19 meant we had to move entirely online," remembers Luke. "Many of our 3D Computer Animation students returned to their home countries. Within months of the university closing, all students were working remotely on their home laptops with only essential software and limited hardware power."
Adding ftrack Review to every MA student's toolset meant that, despite these challenges, remote collaboration and project assessment could at least progress with as little friction as face-to-face lectures and tutorials.
"We already were using ftrack studio for feedback in the University. We added ftrack Review, however, as all work can be critiqued entirely online with no extra software needed and with inbuilt illustrative tools. It made the process so easy.
"With ftrack Review, students are now able to obtain feedback from wherever they are in the world, and we can all collaborate directly from our browsers," Luke explains. "Students also obtain practical experience using this industry-standard project collaboration platform; they were experiencing the same work-from-home experience as the pros!"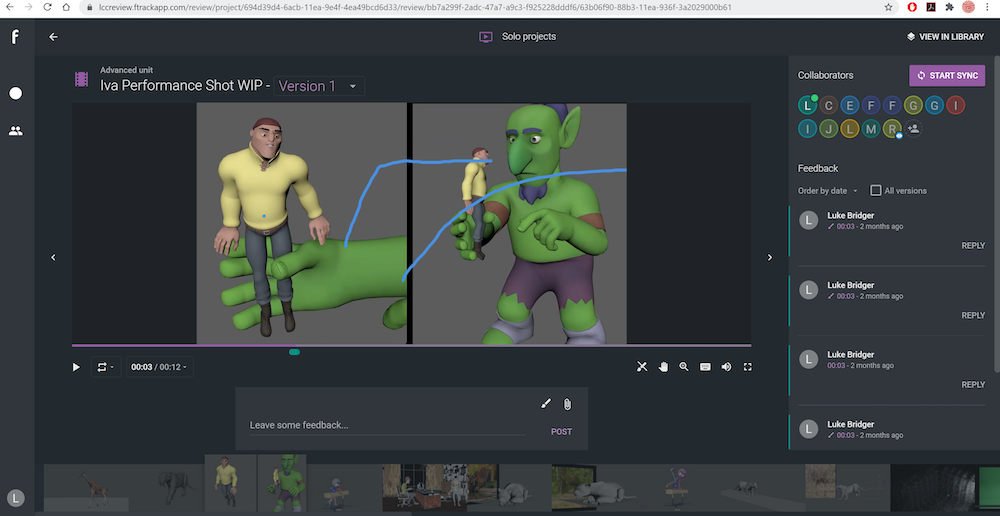 Real-time reviews
When an MA student at LCC submits shots for assessment, lecturers and other students now use ftrack Review to provide feedback. Collaborators can add frame-accurate sketches and annotations to footage to illustrate areas for improvement with pixel-perfect accuracy. When it comes to understanding feedback and the work required to take things through to the next iteration, there are no mixed messages, misunderstandings, or mistakes.
"Students submit the shots they would like feedback on via ftrack Review, after which other students and myself can draw on the footage frame-by-frame to illustrate areas for improvement, along with adding notes that further clarify the necessary changes. The student works on these changes and uploads a new version. The process will then repeat.
"What's come in really helpful is ftrack Review's synchronized review mode," adds Luke. "When I can have a call with a student using synchronized review, they can see my changes in real-time, on their screen. I can do so without having to screen share. Screen sharing usually has some lag or distortion, but you don't get this with ftrack Review."
Luke continues: "With synchronized review, I can draw on student work live, as I talk, to illustrate points otherwise difficult to convey outside of the classroom. The students can not only hear but see my thought process throughout the review, and that's as effective as being in the same room."
According to Luke, the use of ftrack Review has caused student productivity to soar. "With ftrack Review, we could continue teaching at a pace even faster than before lockdown.
"ftrack has always been crucial at LCC in helping students understand how they will ultimately work and collaborate when involved in big production projects," Luke concludes. "I have already been recommending it to other teaching staff and will be continuing to do so, especially now. With both ftrack Studio and ftrack Review in our arsenal, we've been able to adapt to our new remote lives with ease. The platform has been utterly invaluable in a post-COVID world."
Bring your classroom online
Try ftrack Review for free and see how it can help to bring your educational experience from classroom to computer screen.
Try Review for free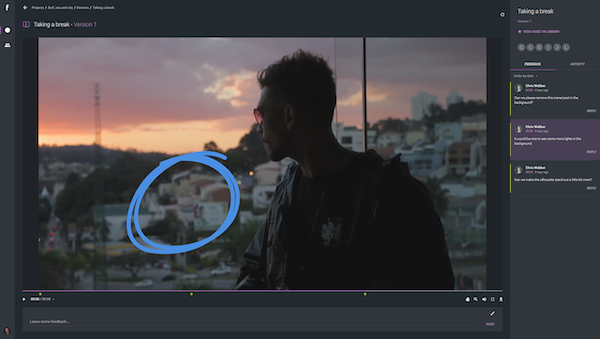 More customer success stories