cineSync 5 launches the next generation of media review
Introducing cineSync 5, the next step in media review. cineSync 5 is built on the legacy of industry-leading cineSync, reimagined to meet the evolving demands of creative review and approval.
STOCKHOLM (19 April 2022) – – ftrack, the developer of Academy Award-winning media review and team collaboration solutions for the creative industries, has today launched cineSync 5, the next generation of media review. cineSync 5 is available today as a free extension for all cineSync 4 Pro users.
"We're excited to share cineSync 5 with our cineSync Pro users so they can get a first taste of the future of cineSync," says Rory McGregor, product manager of cineSync. "We've improved performance, added new features and workflows, updated our sync servers, and redesigned the UI. With these new features, we're ushering in a new generation for cineSync—one that will make our users' collaborative workflows more productive than ever before."
cineSync 5 is built on the legacy of industry-leading cineSync, now reimagined and rebuilt from the ground up to meet the evolving demands of creative review and approval. cineSync 5 streamlines the media review process and supports more collaborative reviews—both local and remote—while still meeting the highest requirements across security and performance that cineSync users have come to expect over the last 17 years.
Some of the new features in cineSync 5 include:
A new infrastructure designed for today's workflows
A modern UI and faster, more responsive review
Local review without a license via cineSync Play
OTIO and OCIO v2 support
Frame/image sequence playback and OpenEXR support
Enhanced production tracking integrations with ftrack Studio and ShotGrid
Localization support
See the complete list of features in cineSync 5
"cineSync 5 is a significant upgrade on an application that's already the best in class," says Jake Morrison, VFX Supervisor, Thor Love & Thunder. "The killer news was the totally overhauled comparison tool with single-key access to shots, interactive and customizable wipe-line, and 0-100% cross-fades. Bonus points for being able to drag anywhere in the window to scrub back and forth with just a hotkey. I never knew I needed it, but now I use it all the time! Congrats to the cineSync team for an outstanding update to an already indispensable tool. They've clearly listened to their users—every new feature feels like it adds functionality. Grab it!"
cineSync was launched in 2005 and has since helped companies such as Netflix, HBO, DNEG and Warner Bros. revolutionize their creative feedback cycles. cineSync was awarded a Technical Achievement Award from the Academy of Motion Picture Arts and Sciences in 2011 and a Technology & Engineering Award from the Emmys in 2018. cineSync was acquired by ftrack in 2019 and is now part of ftrack's media review ecosystem, which includes the production tracking platform ftrack Studio and the interactive browser-based review solution ftrack Review.
ftrack is celebrating its 10th anniversary in 2022. To learn how ftrack is helping creatives meet the ever-increasing demands of creative workflows, please visit ftrack.com
–
About ftrack
ftrack, a Backlight business, is the creator of ftrack Studio, cineSync, and ftrack Review, the Emmy and Academy Award-winning production tracking, interactive media review, and team collaboration platforms for the creative industries. ftrack's solutions are designed for producers, supervisors, artists, and pipeline developers and make it easy to seamlessly and securely collaborate with anyone, anywhere. Both ftrack's products and company ethos are founded on the core belief that success results from great teamwork. ftrack has built a talented global team that works with honesty, flexibility, and inclusivity and seeks to build a future where process disappears behind progress. ftrack was founded in 2012 and acquired by Backlight in 2022. For more information, please visit ftrack.com
Contact: Chris McMahon, [email protected]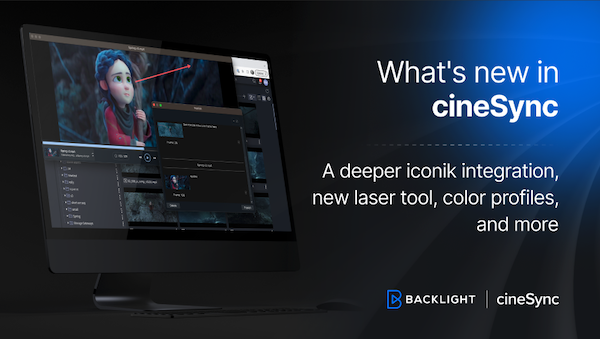 cineSync's latest update brings flexibility and precision to your cineSync experience, making it easier to connect your review sessions with media management and storage in iconik, introducing color profiles to…