What's new with Studio, Review, and cineSync
See all the latest, including the new cineSync x iconik integration for media management, powerful new project management and security features in ftrack, and more.
FTRACK STUDIO
Secure project management
Boost your production efficiency with the confidence your projects remain secure.
Redesigned sidebar
A new look and three modes as part of a grand redesign of Studio.
A new-look scheduler
Gain more project insight with a modernized view.
More image resolutions
Studio's encoder now supports an expanded range of image resolutions.
New API features
Elevate data analysis and customize the info you share with teams.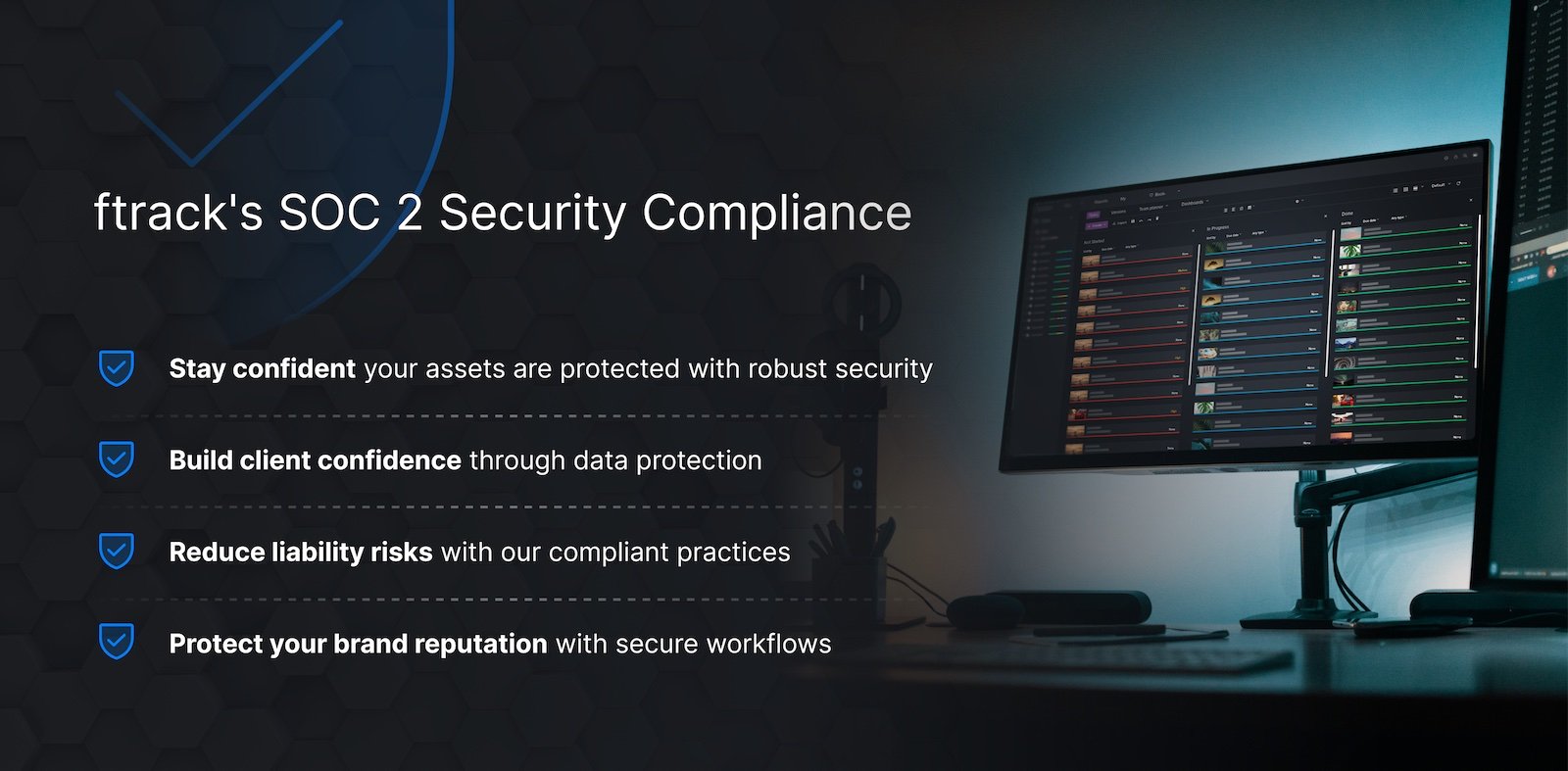 ftrack achieves SOC 2 Security compliance.
By achieving SOC 2 compliance, we're proving our commitment to providing that layer of armor that keeps your ftrack Studio and ftrack Review projects safe. You can confidently put your full energy into operational excellence and delivering mind-blowing work for your clients, knowing you have ftrack's security program in your corner.
CINESYNC
cineSync 5 unveils new features
cineSync's latest update brings flexibility and precision to your cineSync experience, making it easier to connect your review sessions with media management and storage in iconik.
Iconik integration update
Switch between cloud and local storage for media review, via iconik.
Color profile support
Quickly toggle between different color configurations to see what works.
Support for OTIOZ
Read and play OTIOZ files without unzipping them first.
A new laser tool
Point out elements on media using temporary annotations.
"The latest updates to cineSync's color profile support have been a powerful addition to our review workflow. The flexibility offered by the new color profiles of both relative and absolute file support ensures our team of VFX supervisors and artists stay in sync with the latest LUTs and the ability to view every shot with full color accuracy and precision. cineSync continues to prove itself as an invaluable tool in our creative process.

Manmeet Singh

Senior VFX Supervisor, DigitalFilm Tree
FTRACK REVIEW
More efficiency in your reviews
We've added a host of new media review features to Studio and Review that will give a boost to your collaboration and feedback processes.
Presentation Mode
Pull all participants into a sync'd presentation session.
Sequence management
Dynamically reorder clips and effortlessly swap asset versions.
Review audio-only files
Upload, play, and review .wav and .mp3 files with ease.
Upload huge files!
Upload and review media files that exceed 5GB.
We've fine-tuned our review and approval process, introducing standout features like seamless 'Play All' sequence management, larger file uploads, and even audio-only file reviews – all to make your reviews feel like a walk in the park.
So whether you're working in VFX, animating worlds, creating music, designing dynamic soundscapes, or any other creative venture, we've got you covered!