We've added alphanumeric sorting to the Vertical Playlist. Alphanumeric sorting makes it easy to quickly re-order your playlists based on their shot number, version number, etc. (We also made a design tweak to the dropdown view in the sidebar to make it even easier to use.)
If you reload or leave a review and then return later down the line, be it within minutes, days, weeks, or months, your ftrack Review session will now remember your volume settings.
Previously, if you adjusted your review session volume to a lower setting and then left or reloaded the review, ftrack Review would reset the media volume to 100% – and that could result in some unexpectedly loud playback when returning to the review session and hitting play! Now, if you set the volume to 20%, the review volume will stay at 20%.
ftrack Review's default volume setting is now set to 80% rather than 100% to avoid any surprisingly loud noises when starting a review!
Peace of mind and efficiency are what characterize this update of ftrack Review. This version delivers new features for Pro users to help secure your content and copyrights while speeding up your reviews so you can get more productivity out of each day. 
Learn more about the update
Know that your copyright is protected and that you are the rightful owner of your content with the new ftrack Review Workspace Security features. Available for Review Pro accounts, these features enable you to confidentially manage the secure access to your review sessions and protect your media content from unauthorized use. With features like Link Sharing Disablement, Passphrase Requirement, or setting live Watermarking to all your review content, you can have peace of mind knowing that your media is secure.
If you are concerned about the security of your unreleased content, take advantage of the new watermarking feature in ftrack Review (Pro). It's a great measure you can take to protect your content from unauthorized access. You can easily add visible watermarks to your footage, which are unique to each participant, ensuring that it can be traced back to its origin if it is leaked or shared. With watermarking in ftrack review, you can have peace of mind while sharing your unreleased content with total confidence.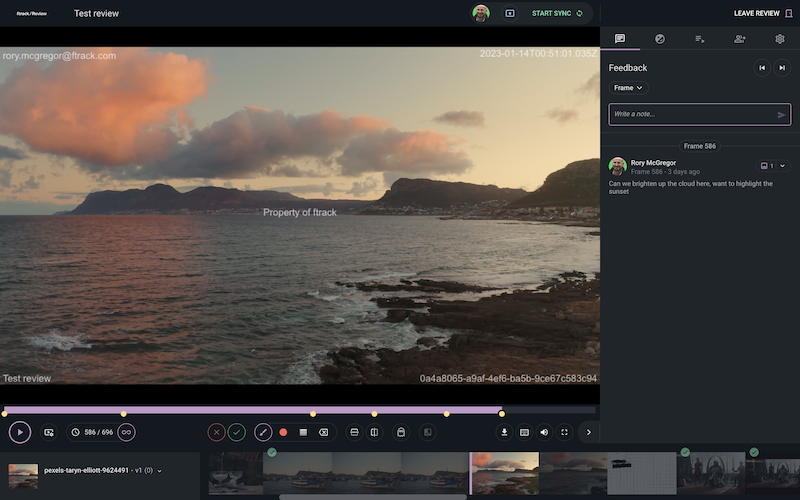 Speed up your reviews. ftrack Review's "Play All" improvements helps you get through long sequences faster. With this update, you can create sequences of 100+ shots and review them as an assembly edit or context cut. No more waiting for large sequences to load—you can now review your shots in seconds.
Presentation Mode is now available in ftrack Review for Review Pro accounts. Presentation Mode gives the review session owner complete control over the review. Turning on Presentation Mode automatically pulls all session participants into sync (including those who join after Presentation Mode has been enabled); however, everyone but the review owner will be passive observers only, rather than active participants. Participants can see the session owner controlling the review but will have no ability to control the interface themselves. (Although they can still change volume, go full screen, and approve/require changes.)
Learn more about the update
April 2022 – ftrack Review reimagined
We've redesigned and reimagined ftrack Review to make your review sessions more intuitive.
In ftrack Review's latest update, you can enjoy a newly updated, modern user interface designed for highly intuitive, user-friendly review sessions, alongside a greater focus on efficiency. Browser-based review in ftrack Review now supports more streamlined, fast, and responsive reviews with fewer clicks, even when reviewing large projects with lots of guests and notes. The update also offers new features for the power user, including tools to manage reviews from within the player interface.
Learn more about the update
ftrack Review now sports a larger media window to give your media pride of place. You can also minimize the sidebar if you'd like to run full-width review sessions and see things in more detail.
We've also updated ftrack Review's color scheme to introduce more clarity and give your review sessions a more modern feel.
You can now invert images and videos and compare versions to see what approaches work best.
There are a ton of new things happening behind the scenes in ftrack Review:
Drawing tools are enabled by default, so you can just dive in and draw.
Your drawings and sketches are now saved automatically to a frame without you needing to hit Post.
You can "Grab" annotated frames to capture their contents and add them to a note.
What is it? We've made some changes to the layout in ftrack Review to make the platform more intuitive:
Three new tabs added to the right-hand sidebar (Approvals, Settings, and Share this Review).
Asset information section moved from the top left to the bottom left as part of the updated horizontal playlist.
Review guests now have access to the Approvals and Playlists tabs in the sidebar. (Only logged-in users have access to the Settings and Share tabs.)
Choose whether or not to group related versions in the playlist.
Compare mode moved to a dedicated button on the toolbar.
Added on-screen zoom controls.
Added a new "mute all" function to control audio on video playback for all participants.
Please note: the link to Manage This Review has been removed as it is no longer required. You can now handle all review management via the Settings tab.
PDF output is still available. You can access PDF output via the Review card in the Project menu. Just select PDF via the "3-dot" menu on the upper-right of the card.
How does it change my experience?  These changes allow for much more control over the review from within the review interface. You can explore each in more detail using the tabs to the left. You can read the full release notes here.
Three new tabs are now available via the right-hand sidebar in your ftrack Review interface: Settings, Share this Review, and Approvals. Review guests now also have access to the Approvals and Playlist tabs in the sidebar, but only logged-in users have access to the Settings and Share tabs.
Settings: The Settings tab gives logged-in users access to functionality previously only accessible via the Manage Review section. Now you can update all review settings from inside the review without leaving the ftrack Review interface. Options include instantly activating/deactivating passphrase protection or media download permissions.
Sharing: From the Share tab, users can send email invites or share the review via a link, which can be copied to your clipboard with a single click.
Approvals: You can now find approval summaries for each asset in the Approvals tab.
ftrack Review now offers on-screen zoom controls, which allow users to easily control their zoom functionality. When using the zoom tool, the zoom level will display in the lower right of the player interface.
You can use the +/- buttons to zoom in or out and the reset button to return to 100%
You can also use zoom at any time without needing to select the zoom tool. Even with any other tool selected, you can still zoom using your mouse wheel or by using the zoom gesture on your trackpad. The same zoom controls will appear on the ftrack Review UI and will remain while zoomed in but will disappear automatically when the zoom resets to 100%.
There is now a Mute All function in the Review Participants/Sync area in the upper right of the ftrack Review player. This function allows logged-in users to quickly mute any live audio, which is useful when reviewing with a large group.
Please note: The Mute All button will appear in Sync reviews only; you won't see it if you're not in sync. The Mute All button will only affect other users in sync with you. Individual participants can still control their own volume if required.
ftrack Review is now available in Korean!
ftrack Review can now be used by Korean-speaking teams who don't feel comfortable using the English UI. ftrack Review presents no barriers between Korean-speaking users and understanding the software.
ftrack Review can also be used in Russian, Chinese, Spanish, Japanese, and English.
Copy a unique review link with one click and share it with an invitee! You can paste the link in IMs, calendar invites, Slack messages, or wherever else you wish. Sending a URL link is the simplest and quickest way to join a review. You can also add a passphrase to the review, so only those with the access code will be able to enter and comment on media after following the link. (You can still invite collaborators via email, should you wish to do so.)
Shareable review URLs are also available in ftrack Studio 4.6.8 for external client reviews, making it easy for invitees without an account to jump in.
Upload or import media from directly within a review session. You can upload multiple files at once—with progress indicators and the ability to cancel uploads if needed—or import assets from your existing library of previously uploaded media. Overall, it's super easy to update your review at any time.
ftrack Review's vertical playlist is available from the review session's bottom-right corner. The vertical playlist displays all media with full file names and allows media reordering via an easy drag-and-drop interface. You can also delete unnecessary files from within the playlist. The vertical playlist complements the existing horizontal playlist, so you can still use and manage your media files from there.
ftrack Review's project and review pages are super accessible. Projects and reviews can be created with just a few clicks, getting you into the review almost immediately so you can add your comments and feedback. You can also easily jump into existing projects and reviews with a single click.
ftrack Review's annotation tools are faster, more precise, and more responsive than ever before! With these updated tools it's easier than ever to sketch concepts and accurately communicate visual ideas.