ftrack reimagines ftrack Review
The new ftrack Review update introduces a new user interface, faster and more responsive reviews, and a more free-flowing user experience
STOCKHOLM (20 April 2022) – – ftrack, the developer of Academy Award-winning media review and team collaboration solutions for the creative industries, has launched a significant update to ftrack Review, the browser-based platform for interactive media review. ftrack Review's reimagined workflows are available to try today.
"We've listened to our customers' feedback over the months and have incorporated it into a new ftrack Review update that makes for a more responsive media review experience," says Rory McGregor, Product Manager of ftrack Review. "Users can now benefit from everything they enjoyed before—including centralized feedback cycles and interactive real-time review—but with the added advantage of a much more effortless workflow. We're excited to see what our users think as we build this next step toward our multi-faceted media review ecosystem at ftrack."
ftrack Review's update introduces a newly updated, modern user interface designed for highly intuitive, user-friendly review sessions, alongside a greater focus on efficiency. Browser-based review in ftrack Review now supports more streamlined and responsive reviews with fewer clicks, even when reviewing large projects with lots of guests and notes. The update also offers new features for the power user, including tools to manage reviews from within the player interface.
"The latest update to ftrack Review shows ftrack has listened to our needs and quickly implemented much-valued new features," says John Valentine, ftrack/Workflow Coordinator at Blue Zoo Animation Studio. "With a new, user-friendly UI, an intuitive design layout, and more emphasis on what's being reviewed, we at Blue Zoo are excited by what we've seen and what's coming next."
Some of the new features in ftrack Review include:
An all-new interface designed around the work
A newly designed feedback bar
Enhanced reviews—faster, more streamlined, and more responsive
New toolbar features like ghosting, flip and flop, and resolution selection
ftrack Review's new features will be implemented into ftrack Studio—ftrack's full production tracking, shot management, and media review platform—in the coming weeks.
See the complete list of features in ftrack Review's latest update
ftrack Review was launched in April 2019 and has helped companies such as Cinesite, NetEase Games, BYJU's, and PBS to streamline their creative feedback cycles. At the start of the COVID-19 pandemic in March 2020, ftrack Review was made free for a limited time to support creative workflows. ftrack Review is part of ftrack's media review ecosystem, which includes the production tracking platform ftrack Studio and the interactive desktop-based media review solution cineSync.
ftrack is celebrating its 10th anniversary in 2022. To learn how ftrack is helping creatives meet the ever-increasing demands of creative workflows, please visit ftrack.com
–
About ftrack
ftrack, a Backlight business, is the creator of ftrack Studio, cineSync, and ftrack Review, the Emmy and Academy Award-winning production tracking, interactive media review, and team collaboration platforms for the creative industries. ftrack's solutions are designed for producers, supervisors, artists, and pipeline developers and make it easy to seamlessly and securely collaborate with anyone, anywhere. Both ftrack's products and company ethos are founded on the core belief that success results from great teamwork. ftrack has built a talented global team that works with honesty, flexibility, and inclusivity and seeks to build a future where process disappears behind progress. ftrack was founded in 2012 and acquired by Backlight in 2022. For more information, please visit ftrack.com
Contact: Chris McMahon, [email protected]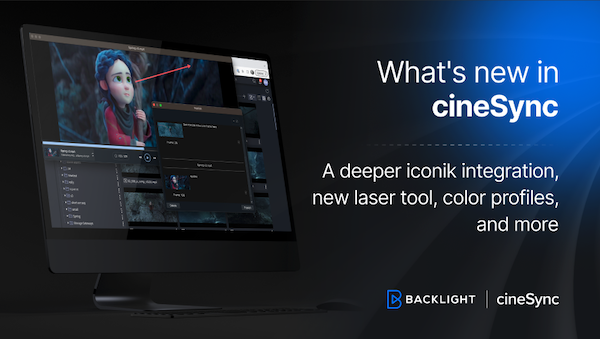 cineSync's latest update brings flexibility and precision to your cineSync experience, making it easier to connect your review sessions with media management and storage in iconik, introducing color profiles to…